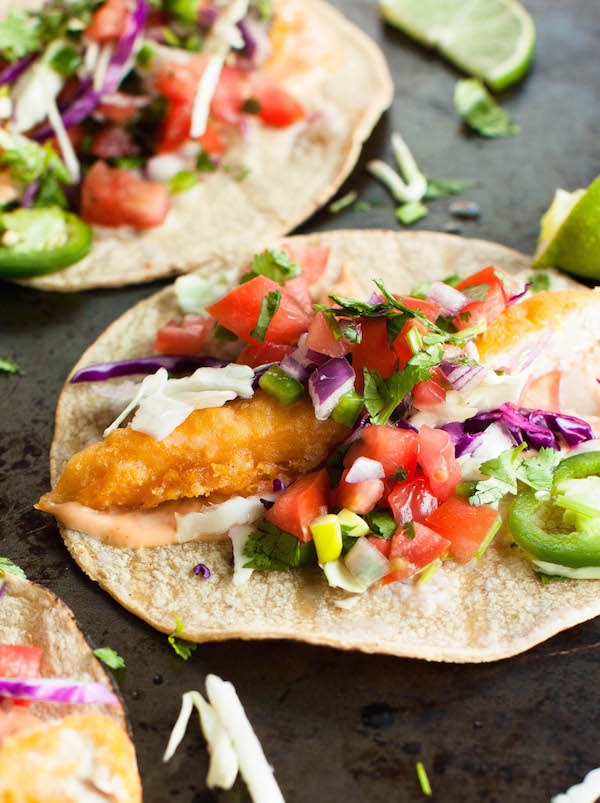 Everything you love about fish tacos, but vegan! I use breaded fishless filets for these tacos. They are perfectly crispy and taste like the ocean. These delicious vegan fish tacos have all the goodness, flavor, freshness, and crispiness of traditional fish tacos. Top your tacos with a fresh 5-minute pico de gallo and a creamy chipotle aioli. Yeah, next level!
How to make perfect vegan fish tacos
For the best vegan fish tacos you need 3 main elements:
Vegan fish: For ease, and because it really is great, I like making these tacos with the Gardein Fishless Filet. They're crispy, delicious, and easy to make in the oven. But you can really use any vegan fish product. If you want to avoid processed vegan meats, try making these with my spicy fried cauliflower, with some modifications to the recipe: skip the hot sauce, add 2 tsp dulse flakes, and add 1 tsp ume plum vinegar to the wet mixture. Oh, and you'll probably want to cut the cauliflower in smaller pieces.
Pico de gallo: Tacos aren't complete with something fresh and raw. Even a bit of cilantro will do the trick. But a fresh and spicy pico de gallo really makes these "fish" tacos taste like the real thing. Don't forget to use the freshest ripe tomatoes!
Chipotle aioli: Creamy chipotle aioli adds delicious spice, and really brings these tacos home. It's as satisfying as having guacamole, but more traditional to fish tacos. And it's so easy to make!
I add red and green cabbage for extra crunch. And make sure to use great tortillas. Mini corn tortillas, used for street tacos, are my favorite.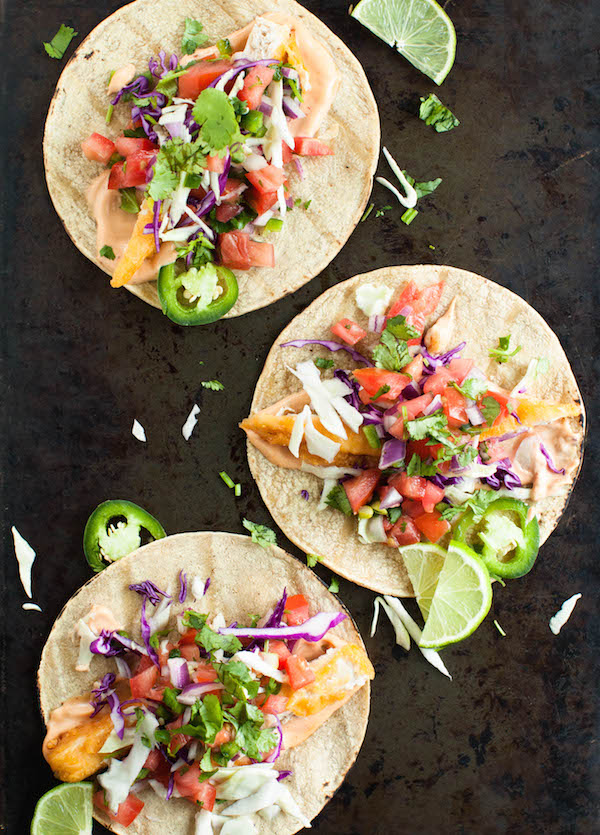 Love tacos? Try my other amazing vegan taco recipes!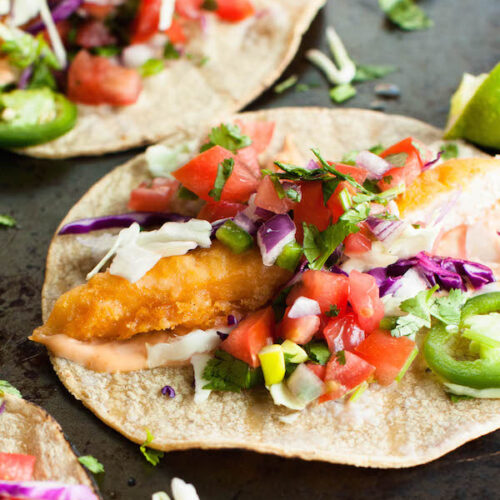 Classic Vegan Fish Tacos Vegan | Recipes for Meat Lovers
Gardein Fishless Filets capture the essence of seafood without harming animals! This is my favorite of their products, and tacos are my favorite way to use it!
Ingredients
1

package of Gardein Fishless Filets

1

medium tomato

finely chopped

3

tbsp

red onion

peeled and finely chopped

1/4

cup

roughly chopped cilantro

1

jalapeño

halved lengthwise, seeded and minced

2

limes

1 halved and 1 cut into wedges

sea salt

Freshly ground black pepper

1/2

cup

vegan mayonnaise

2

tablespoons

adobo sauce from a can of chipotle peppers

1

cup

shredded green cabbage

1

cup

shredded red cabbage

8 6-

inch

corn tortillas

warmed over open flame, in a skillet, or in the microwave
Instructions
Preheat oven to 425°, and line a baking sheet with parchment paper.

Place the Fishless Filets evenly onto the baking sheet, and bake for about 15 minutes, or until they are crispy and golden.

While the filets are in the oven, make the salsa and other fillings.

Into a mixing bowl add the tomato, onion, cilantro, jalapeño pepper, lime juice, salt, and pepper. Stir well and season with more salt or lime to taste.

In a small bowl combine the vegan mayo and adobo sauce. Stir until combined.

Warm the tortillas.

To assemble the tacos: Cut the Fishless Filets into strips. Spread some of the vegan chipotle mayo onto the bottom of the tortillas, and top with Fishless Filets, salsa, and cabbage. Serve with more cilantro, fresh jalapeño pepper, and lime juice.