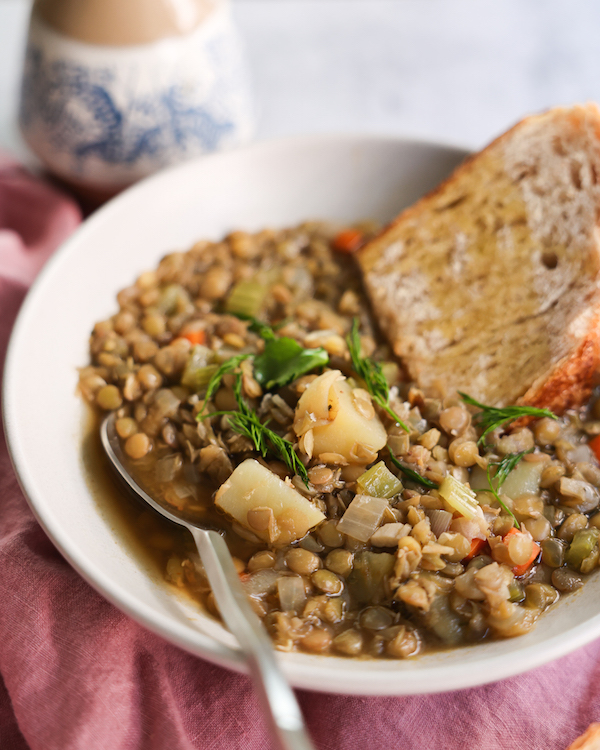 It's really starting to feel like National Lentil Month around here (is that a thing?). Last week you may have seen my round up of the best vegan lentil recipes, or my incredible lentil meatloaf recipe. Well, now I'd like to introduce you to my favorite vegan lentil soup. It's delicious, hearty, and super nutritious. At the same time, it's not overly complicated with dozens of ingredients. Just the basics, everything you need to make the perfect cure-all soup.

I created this recipe for my cookbook, Sweet Potato Soul, and called it my "Cure-All Lentil Soup". The idea was to create a vegan lentil soup recipe that feels as soul satisfying as my Nana's chicken. I kept the ingredients simple so that the richness of the lentils really stands out. I usually eat it with crusty toasted sourdough bread, and it's also really delicious with noodles––especially when you're in the mood for chicken noodle soup.
Watch the video to see how easy it is to make vegan lentil soup

Why you should eat more lentils
Lentils are:
Very nutritious
Versatile
Cheap
Available everywhere
I've said it before, and I'll say it again. Lentils are one of the best foods, and should be a part of any healthy diet––vegan or not. Lentils are a wonderful source of plant-based protein, fiber, folate, zinc, iron, and magnesium. Zinc is especially important for healthy immune function.
One of my favorite things about lentils is they don't need to be soaked overnight before cooking. Quickly sort them––checking for any rocks or other unwelcome debri––before cooking. Lentils take just 20-30 minutes to cook, which makes them perfect for week day meals.
Lentils are inexpensive and easy to find at any grocery store. If you're on a budget, but still want to eat well, lentils should grace your plate throughout the week.
I never get tired of lentils because they are so incredibly versatile. But for all of the fancy lentil recipes that I love, one of my very favorites is this humble vegan lentil soup.

How this vegan lentil soup is different
No tomatoes!
Soy sauce
Balsamic vinegar
I've noticed that the most popular vegan lentil soup recipes online have tomatoes. This one does not. I love tomatoes but often feel like I'm over relying on them. Tomatoes are used to add acid and umami to a dish. It's this combination of flavors that can really elevate the overall flavor profile of your soup. However, too often tomatoes overpower the recipe. Instead, I like to bring that balance of umami and acidity to my lentil soup by adding soy sauce, and a drizzle of vinegar. Soy sauce brings the savory umami flavor, and I like to use balsamic vinegar for acidity and subtle sweetness. If you like a smoky lentil soup, add 1-2 teaspoons of smoked paprika while it cooks!
If you'd like more lentil recipes, I highly recommend my Lentil Meatloaf and Better-Than-Chipotle Burrito Bowl with Lentil Walnut Taco Meat. Delicioso!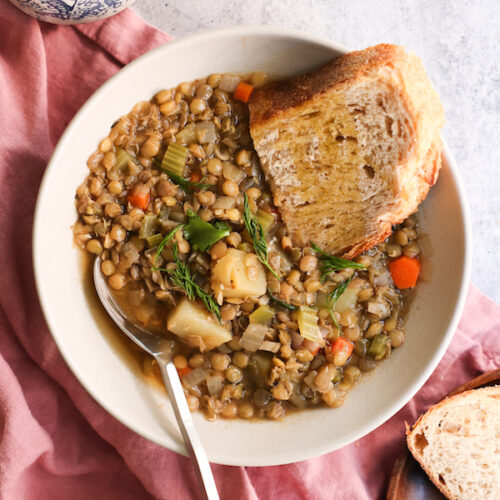 Cure-All Vegan Lentil Soup
Use green lentils, or other firm lentils for this soup. Red lentils will work, but the measurements aren't the same. If you are looking for a great red lentil recipe, try this
sweet potato red lentil curry
.
Ingredients
2

tbsp

extra virgin olive oil

1

cup

diced yellow onion

1

cup

diced celery

3

garlic cloves

minced

1

cup

diced carrots

1

unpeeled large yukon gold potato

cut into 1/2" cubes

1

cup

dried green lentils

sorted and rinsed

8

cups

water + 8 tsp vegan Better Than Bouillon paste

or 8 cups vegetable broth

1

tsp

fennel seeds

1

tsp

dried thyme

1

tsp

celery seeds

1/2

tsp

dried sage

1

bay leaf

1

tbsp

soy sauce

1

tsp

white pepper

salt to taste

parsley or other herbs for garnish

Sourdough bread

toasted for serving
Instructions
In a large heavy-bottomed pot, warm the oil over medium high heat.

Add the onion, celery, and garlic and sauté until the onion is translucent, about 3 minutes.

Add the carrots, potato, lentils, and vegetable broth and bring to a simmer.

Reduce heat to medium-low, then add the fennel seeds, thyme, celery seeds, sage, and bay leaf.

Simmer for about 30 minutes, or until the lentils and vegetables are tender.

Season the soup with the soy sauce and white pepper.

Season to taste with salt––you'll need to add more if you used unsalted or low-sodium vegetable broth, and less if you used the Better Than Bouillon paste.

Serve with toasted crusty bread, and fresh herbs.