How do  you make a delicious vegan meatloaf that has the perfect meaty texture and amazing plate-licking flavor? You use lentils. But lentils alone will create a mushy meatloaf, and that's no good. The secret to that meaty texture is mushrooms and walnuts, plus loads of diced and sauteed vegetables. This is the only vegan lentil meatloaf recipe you will ever need!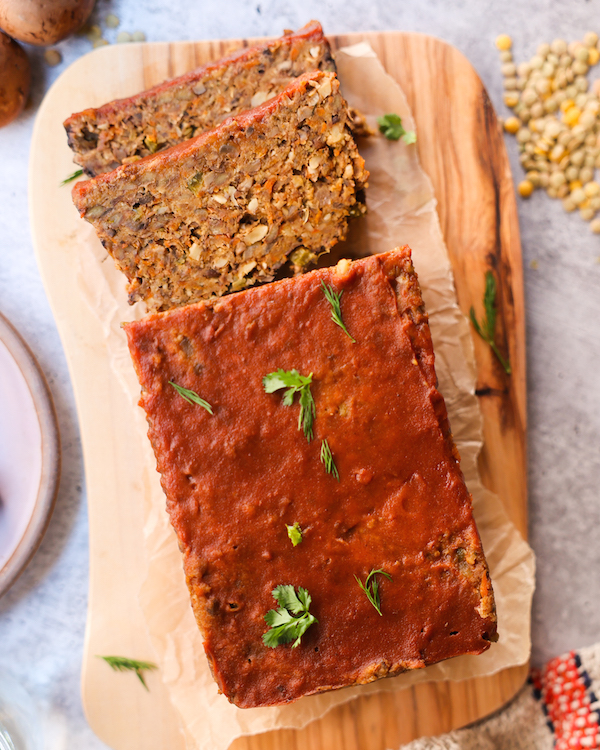 This vegan lentil meatloaf is one of the best things since sliced bread 😉 When I was a personal chef it was a client favorite, and it even made its way into my cookbook. This is the perfect recipe if you are looking for a vegan entree. It's great for the holidays––I always make it for Thanksgiving––but also great for a weeknight vegan dinner any time of year.
Of all the vegan meatloafs I've tried, this lentil meatloaf is the best. If you know my recipes, you know that I like to use wholesome ingredients, and very rarely use store-bought meat substitutes. For the most authentic meaty texture a vegan ground beef product like Sweet Earth, Beyond Meat, or Gardein would do. However, this lentil meatloaf is so much tastier and more satisfying.
How to make a vegan lentil meatloaf?
Step 1
To make this vegan meatloaf you start by sauteing minced onions, garlic, celery, and mushroom. Minced baby bella mushrooms are both juicy and meaty, and add flavor and a much appreciated succulence to the meatloaf.
Step 2
Add cooked green lentils to the vegetables, along with toasted minced walnuts, a flax "egg", and breadcrumbs.
Minced walnuts are a must for this lentil meatloaf. If you've tried my lentil walnut taco "meat" recipe, then you already know how much flavor, savoriness, and texture walnuts add.
While traditional meatloaf uses an egg to bind the ingredients, a flax "egg" is perfect for my vegan meatloaf recipe. To make a flax egg you simply combine ground flaxseed with water, and let it sit. After about 5 minutes it will have thickened and turned gelatinous, and can replace an egg in most recipes.
Step 3
Once the meatloaf ingredients are combined you transfer it to a loaf pan lined with parchment. I like to make a quick glaze of balsamic vinegar and ketchup, and spread that over the loaf before it goes into the oven. Bake for 30 minutes!
Does this vegan meatloaf freeze well?
This recipe is perfect for meal prep days and freezing long term. It keeps well in the fridge for up to 7 days, and will stay delicious in the freezer for up to 3 months. Feel free to double this recipe and make another loaf for later.
I recommend freezing it after it has been baked. Slice it before freezing to make thawing easier. Lastly, make sure to store it in a freezer safe bag.
What can I put in meatloaf instead of breadcrumbs?
If you are gluten intolerant, or just out of breadcrumbs, you can replace them with instant oats. If you only have old fashioned oats, give them a whirl in a blender to bread them up before adding. The texture isn't the same as breadcrumbs, but it will still be delicious. Gluten-free breadcrumbs will also work.
What's a good substitute for walnuts?
If you are allergic to walnuts, you can replace them with toasted sunflower seeds and/or pumpkin seeds. To achieve a meaty texture with these seeds, I recommend blending them in the food processor before adding to the recipe. The texture should be crumbly, but not a powder.
Have questions about the recipe? Please ask below. I hope you love it as much as I do. If you love lentils, or are looking for more reasons to love them, check out my roundup of amazing vegan lentil recipes!
The Best Vegan Lentil Meatloaf
Ingredients
1

cup

dried green lentils

sorted and rinsed or 2 1/2 cups cooked

3

tablespoons

ground flaxseed meal

2

tablespoons

grapeseed oil

1

cup

finely diced yellow onion

1

cup

finely diced celery

3

garlic cloves

minced

1

cup

shredded carrot

10

ounces

baby bella mushrooms

minced (about 2 cups)

1

teaspoon

dried thyme

1

teaspoon

fennel seeds

2

tablespoons

nutritional yeast

1

cup

finely chopped toasted walnuts

1

cup

bread crumbs

1 1/2

teaspoons

salt

plus more to taste

1

teaspoon

freshly ground black pepper

plus more to taste

Red chili flakes to taste

3

tbsp

balsamic vinegar

3

tbsp

organic ketchup
Instructions
Cook the lentils
In a medium saucepan, bring 2 1/2 cups water to a boil. Add the lentils, partially cover the pan with a lid, and cook until tender, 30 to 45 minutes, stirring halfway through. Drain and set aside.
Make the loaf
In a small bowl, stir together the flax seed meal and ½ cup water. Set it aside to thicken for at least 3 minutes.

In a large skillet, heat the oil over medium-high heat. Add the onion, celery, and garlic and sauté until the onion begins to soften, about 3 minutes.

Add the shredded carrot and mushrooms, sautéing until the mushrooms begin to soften and release their liquid, about 5 minutes.

Stir in the thyme and fennel seeds and continue to cook for 5 minutes.

Preheat the oven to 350°F. Line a loaf pan with parchment paper and set aside.

Once the mushrooms are soft, add the nutritional yeast, cooked lentils, flax mixture, walnuts, bread crumbs, salt, pepper, and chili flakes to the skillet. Stir well to combine all the ingredients.

Taste for seasoning and add more salt and pepper if desired.

The mixture should stick together, but if it doesn't, place about 1 cup of it into a food processor and pulse until it's a thick mush. Stir that back into the skillet.

Scoop the mixture into the prepared loaf pan and press firmly into the pan.

Make a quick glaze by mixing together the balsamic vinegar and ketchup in a bowl, then spread that evenly over the loaf.

Cover tightly with aluminum foil and bake for 30 minutes, or until the top of the loaf feels firm to the touch.

Let it cool for 10 to 20 minutes before slicing.