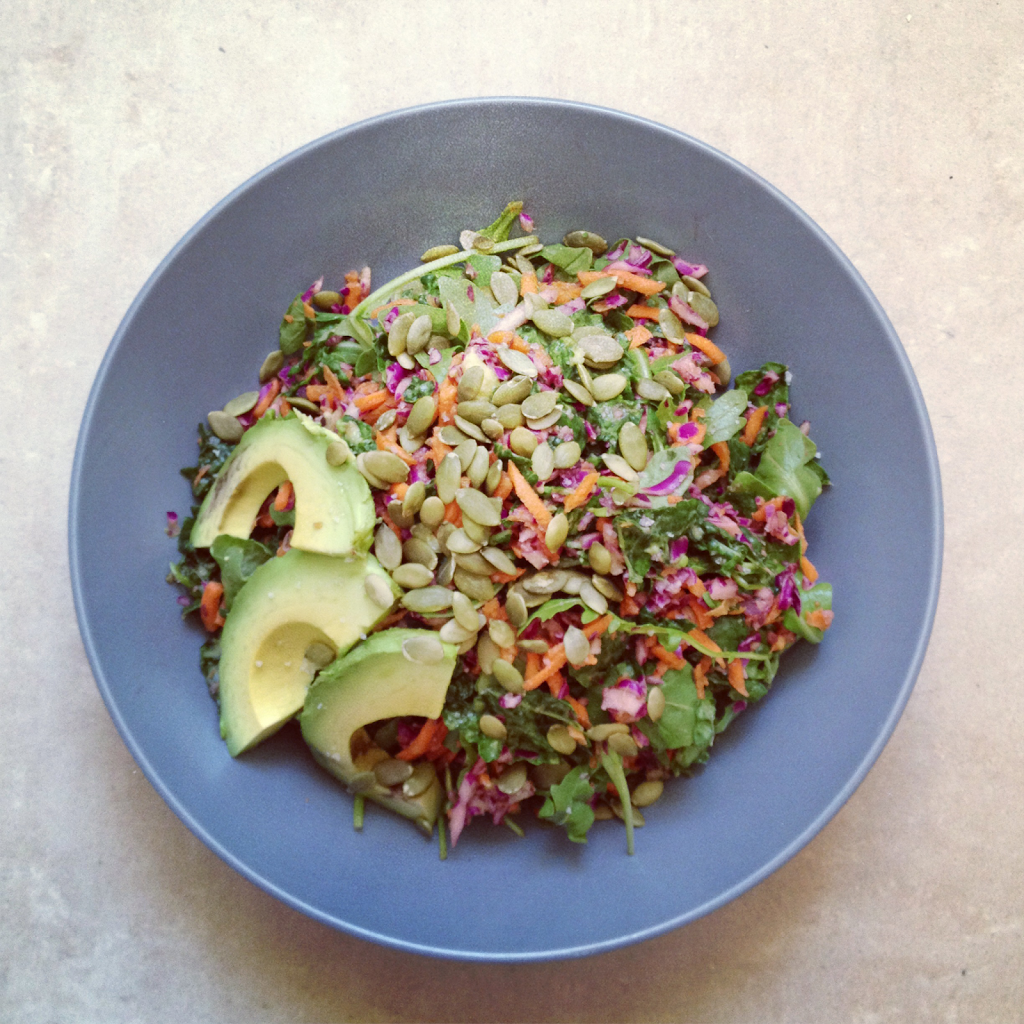 Sometimes I catch myself saying, "Oh my God! I haven't had any vegetables today!" Those who know I'm vegan might wonder what the heck I'm eating if not vegetables. Well, I'm eating all plants, surely, but when I think vegetables I'm thinking green, non-starchy ones. Not sweet potatoes. 🙁 If you're wondering how to eat more vegetables yourself, you're in the right place!
Sweet potatoes and other starchy vegetables are definitely healthy, but nothing compares to non-starchy veggies when it comes to nutrient density. The nutrient density of a food is simply the ratio of nutrients to calories. Vegetables like leafy greens, broccoli, brussels sprouts, carrots, etc, pack more beneficial nutrients per calorie than other foods. Foods that are high in calories and nutrients can still be healthy––like nuts and seeds. It's a spectrum, and the non-starchy vegetables (especially the green ones) are the the most nutrient-dense of all. Those are the ones we want to eat more of!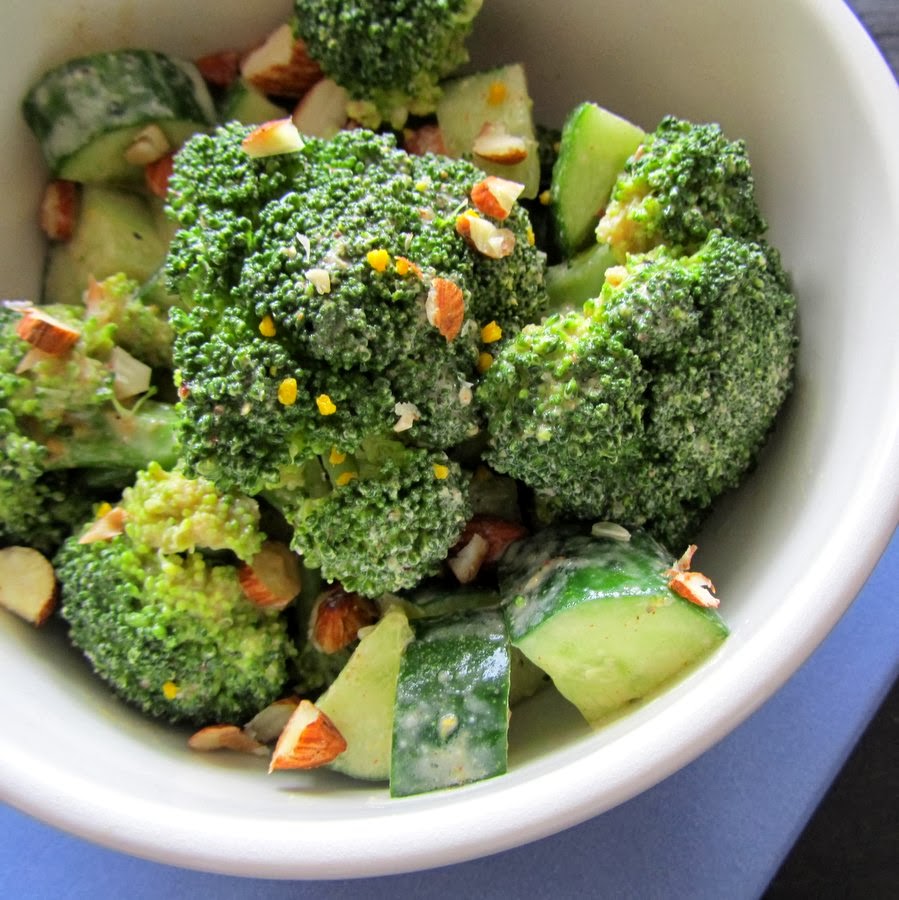 By eating more of these special superfood vegetables we can lower our risk of disease (cancer, heart disease, type II diabetes, degenerative diseases, premature aging, and more). These vegetables are full of antioxidants, essential & trace minerals (calcium, iron, magnesium, potassium, etc), vitamins, and fiber.
You already know how important it is to eat your vegetables, but maybe you're struggling to incorporate more into your diet. Let me give you some pointers for making non-starchy vegetables the basis of your diet. By doing so you'll boost your energy, immunity, and overall healthiness. I'm telling you this from my own experience 🙂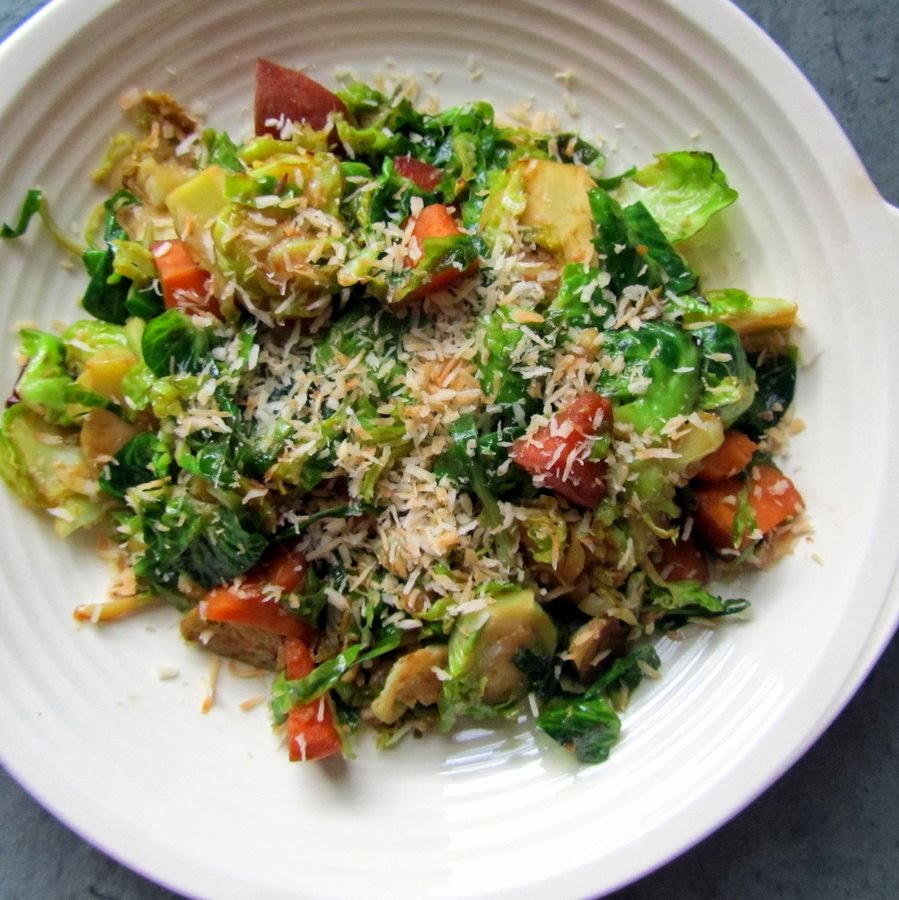 1. Make non-starchy vegetables the largest portion of your plate.
For example, if my plate was a pie chart, at least 50% would be covered with veggies. I'm crazy about roasted brussels sprouts, broccoli, and cauliflower this time of year. They're incredibly delicious, filling, and easy to make. To roast these veggies, slice them into bite-sized pieces, toss with oil (coconut, organic grape seed, olive), and roast at 400° for 15 minutes, 20 if you like them softer. (See below for more recipes!)
Worried about protein on your plate? Don't be! These amazing vegetables contain protein, and when they make up a good portion of your plate you'll get ample amounts. Per cup of broccoli you'll get 3 grams. Pair that with some lentils, and some quinoa, and you're good to go! Protein deficiency isn't something you should be worrying about on a veggie-ful diet.
2. Don't be intimidated. Start with what you know.
Whatever cooking technique you are familiar with––stir-frying, roasting, grilling, steaming, sautéing––cook vegetables that way. If you're comfortable making stir-fries, add more vegetables to them. Are you the salad queen? Make them even bigger. Like roasted asparagus? Eat more of it. Once you've successfully taken advantage of the cooking techniques you're already comfortable with, you can branch out.
3. Spice it up.
While I do love the natural flavor of vegetables, it's also nice to complement their inherent goodness with spices. Last night for dinner I steamed cauliflower (it's so fast & healthy) and made it delicious by adding a couple tablespoons of tahini and a sprinkle of Ethiopian berbere spice. I tossed that with lentils, leftover roasted carrots, and fresh parsley. Delicious, and crazy easy!
Keep your pantry stocked with your favorite spices. In mine you'll find curries, dried herbs, nutritional yeast (cheesy flavor fabulousness!), cumin, coriander, chili powder, cajun seasoning, Middle Eastern spices, and more. Sauces add flavor too. Try balsamic vinegar, tahini, miso, harissa, and healthy dressings.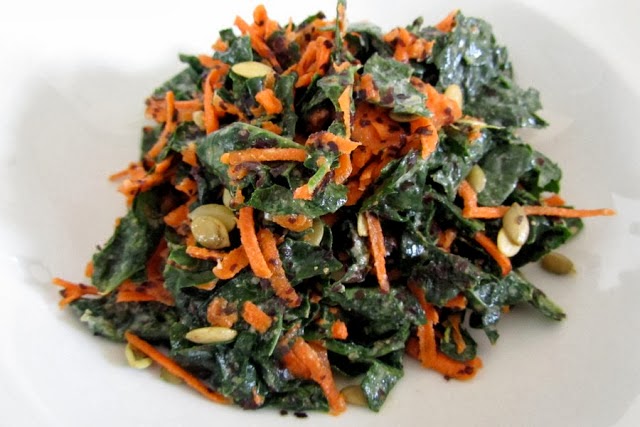 What tips do you have for eating more non-starchy vegetables everyday?
Need some recipes? Here you go…
Jenné's "Daily Salad"
Miso Tahini Broccoli Salad 
Collard Green Miso Soup
Kale & Dulse Salad
Bali Inspired Brussels Sprouts