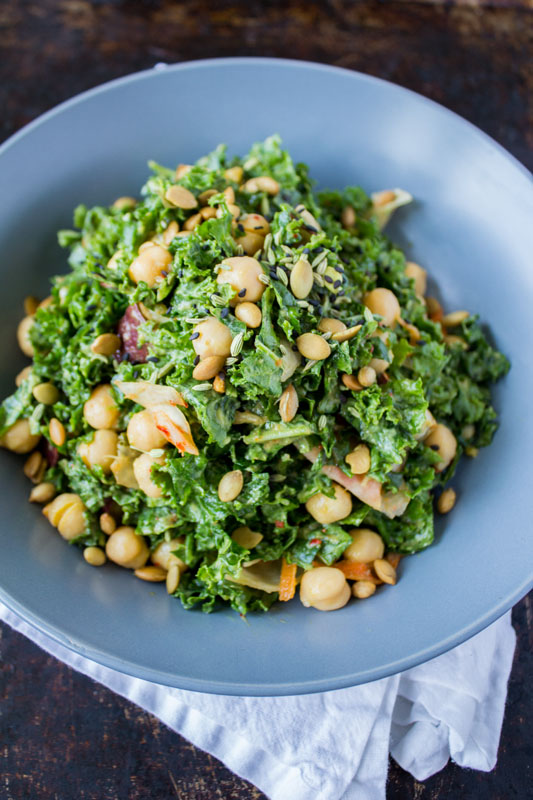 Kale salad has never been more delicious. This Kale Kimchi Salad is so amazing, you will want to lick the plate! Normal massaged kale can't compete with this amazing entree salad. And the crazy part is, it's easy to make!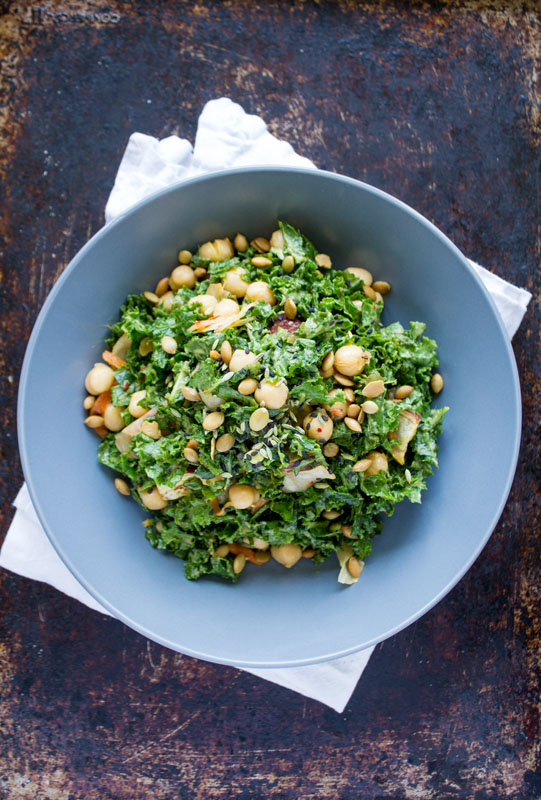 It's all in the ingredients
Kale: With the right dressing and plenty of massaging, anyone can love kale salad. Even my daughter, Baby J, does. Kale is high in calcium, betacarotene, protein, fiber,  vitamin C, vitamin K, and so much more, including many phytonutrients specific to kale and cruciferous vegetables. Massaging kale in a dressing not only makes it more appetizing, it allows your body to better digest and absorb the nutrients.
Kimchi: You know how I love probiotics for gut health, right? Well, one of my favorite probiotic rich foods is kimchi. Kimchi is a Korean dish similar to sauerkraut. It's also made from fermented cabbage, and often eaten as a side dish. Even if kimchi had no magical probiotic powers I would still eat it regularly. It is delicious! Kimchi adds so much flavor, texture, and color to food. The crunch and sourness are especially delightful in this salad. Some kimchi is made using fish or shrimp sauce, so make sure yours is vegan. At Whole Foods I recently saw kimchi (Ms.Kim brand) made with beef stock, so be careful!
Avocado: You'll notice this kale kimchi salad doesn't have a dressing. Instead I massage the kale with ripe avocado and lemon. Avocado is a great source of B vitamins, vitamin E, and lots more. It is my favorite wholesome fat. It helps to tenderize the kale leaves, and replaces oil in this salad.
Roasted sweet potato: Sweet potato gives this salad more flavor, bulk, color. I love how its sweetness pairs with the kimchi. Sweet potatoes are a great source of beta-carotene, vitamin C (who knew?!), vitamin E, and fiber.
Kimchi Kale Salad
Ingredients
1

sweet potato

cubed

1

tbsp

avocado or olive oil

1/2

tsp

sea salt

+ more to taste

5

cup

kale, chopped

curly kale is my favorite for this recipe

1

ripe avocado

2

tbsp

freshly squeezed lemon juice

1/2

cup

vegan kimchi

1

cup

cooked chickpeas

or try crispy chickpeas

3

tbsp

toasted pumpkin seeds

1

tsp

fennel seeds
Instructions
Preheat oven to 375° and line a baking sheet with parchment paper.

Toss the cubed sweet potatoes with the oil and 1/4 tsp salt, then spread them evenly on the baking sheet. Bake for 35 minutes, until tender.

Place the chopped kale into a large mixing bowl.

Add half the avocado (cubed), followed by the lemon juice, and remaining sea salt.

Using your hands, massage the avocado into the kale until the greens are tender (about 2 minutes).

Add the kimchi, chickpeas, sweet potato, and seeds.

Season to taste with more sea salt, and enjoy!
Check out these other amazing entree salads!