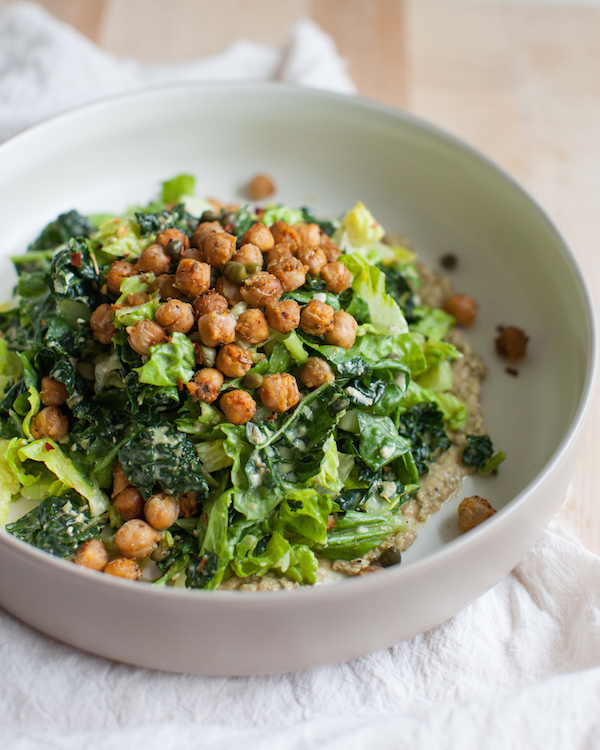 If you want to start craving salads, you ned to make this vegan caesar salad. I'm telling you; it's delicious! There is no better way to eat raw kale than massaged with this creamy sunflower seed caesar dressing, tossed with crispy romaine lettuce, and topped with spiced crispy chickpeas. Whether or not you're a fan of non-vegan caesars, you'll love this cleaner, fresher, tastier version of this classic salad.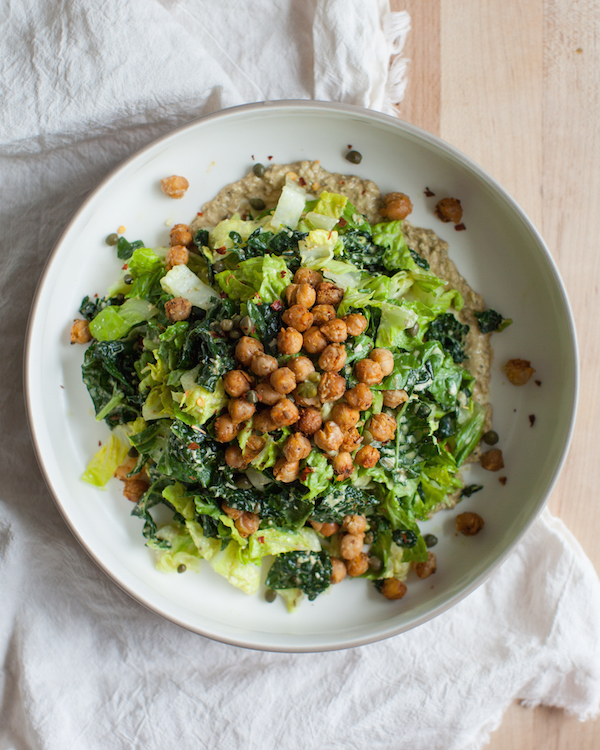 Of all the recipes in my cookbook, Sweet Potato Soul, this is one that I'm most proud of. It's not that easy to pull of a vegan caesar salad. Most of the ones I've tried are too bland, too wet, and too boring. Plus, so many are made with cashew as the creamy base, which I'm allergic too. I set out to create a caesar that is more delicious and nourishing than the original, and I definitely succeeded. I make this vegan caesar salad recipe often because it's a great way to eat kale, and it works as an entree salad––especially when topped with spiced crispy chickpeas or crunch cornbread croutons (like the recipe in my cookbook).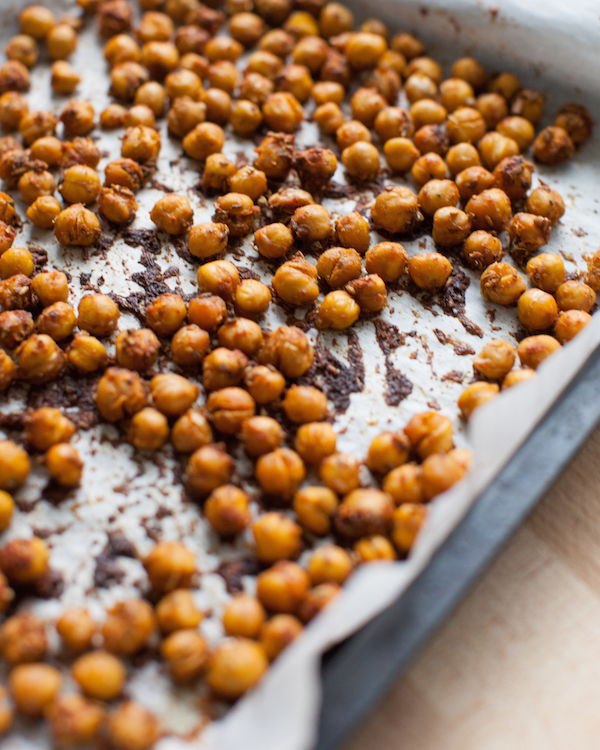 To make the dressing you will need a blender. After the sunflower seeds are soaked overnight, or at least 6 hours, they blend with the other ingredients to make a rich and creamy sauce that you'll want to eat with a spoon. My favorite blender is the KitchenAid Pro Line blender, but any high speed blender will work. Even if you can't get it as creamy as possible, this dressing is still absolutely delicious, and the texture adds to the finished dish. I know this because when I made it to take these photos, my daughter was asleep. I was afraid to turn the blender onto it's highest setting, so my dressing was a bit chunky, and I still LOVED it!
I'm on my way to the farmer's market this morning to pick up the kale and romaine lettuce to make this today!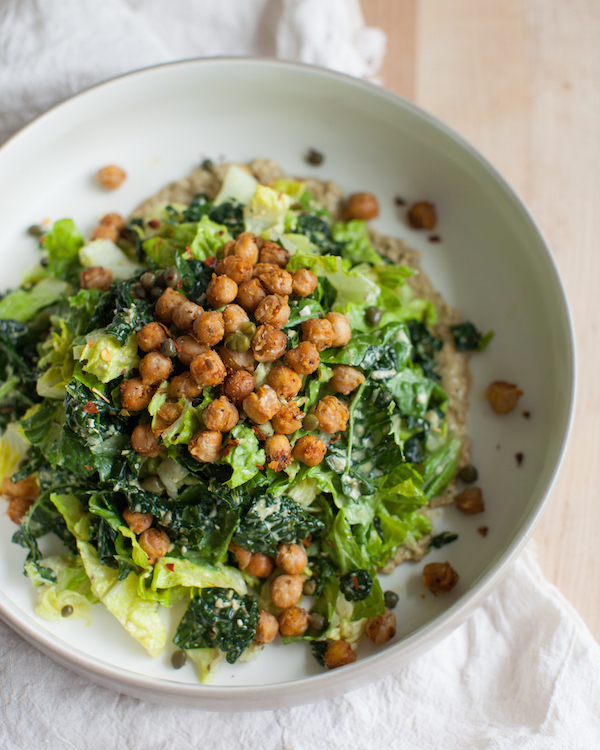 PIN this recipe to save it for later!
The Best Vegan Caesar Salad
Buy
my cookbook
to get the original recipe which includes cornbread croutons and smoky tempeh bacon!
Ingredients
1 bunch of kale, stems removed, and leaved sliced into ¼-1/2" ribbons
1 bunch romaine lettuce, sliced into ¼-1/2" ribbons
2 cups spiced crispy chickpeas (recipe below)
Caesar Dressing
½ cup raw sunflower seeds, soaked overnight and drained
1 large garlic clove
3 tbsp nutritional yeast
2 tbsp capers, drained and rinsed
4 tsp vegan Worchestershire sauce
2 tbsp freshly squeezed lemon juice
1 tbsp tamari soy sauce
2 tsp dijon mustard
2 tsp freshly ground black pepper
¼ cup water
2 tbsp extra virgin olive oil
Instructions
Place the sliced kale in a large salad bowl. Keep the romaine separate for now.
Make the dressing: Place the sunflower seeds, garlic, nutritional yeast, capers, vegan Worchestershire sauce, lemon juice, tamari, mustard, and pepper in a blender and add ¼ cup water.
Blend until creamy, then slowly pour in the oil while the blender is still running and blend until smooth.
Using your clean hands, massage about half the dressing into the kale until it is tender, about 2 minutes.
Add the romaine lettuce and a couple more spoonfuls of dressing and toss to coat.
Top with crispy chickpeas and serve!
Spiced Crispy Chickpeas
Double, triple, or quadruple this recipe if you want! However, the crispy chickpeas are best the day you prepare them, especially when hot. Reheat any leftovers in the oven at 350° for about 10 minutes.
Ingredients
2 14-oz cans chickpeas, drained and rinsed
1 tbsp extra virgin olive oil
1 tsp dry oregano
1 tsp nutritional yeast
1 tsp garlic powder
1 tsp cumin seeds
1 tsp smoked paprika
½ tsp sea salt
½ tsp black pepper
Instructions
Preheat oven to 425°, and line a baking sheet with parchment paper or a silicone baking mat.
Place chickpeas in a bowl, or directly onto the baking sheet.
Drizzle the oil over the chickpeas and toss.
Then sprinkle the remaining ingredients over the chickpeas and toss well to coat.
Spread them evenly onto the baking sheet and roast for about 20 minutes, or until crispy.
Want to eat more salad? Check out my blog post on
how to make a salad amazing!