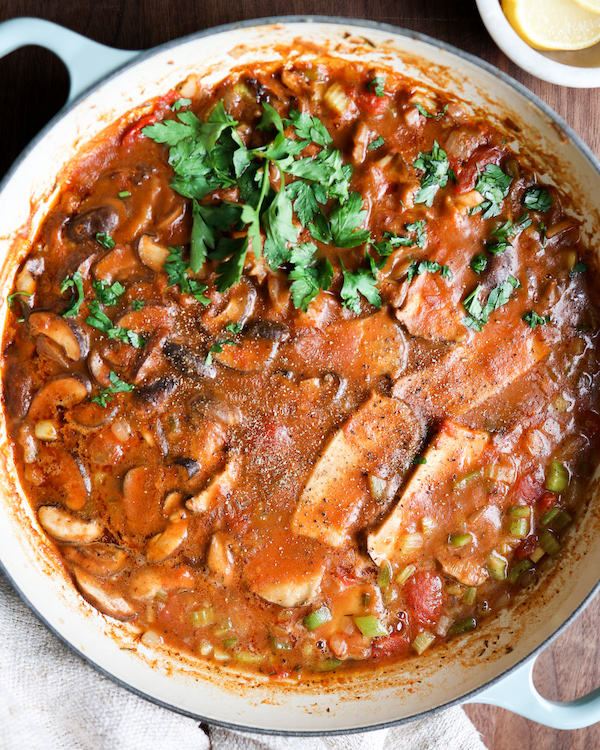 Of all my recipes, this vegan mushroom etouffee is in the top 5 for all time favorites! It is rich, flavorful, full of meaty texture, and hearty. I love making this for special occasions like Thanksgiving or Christmas dinner to wow my non-vegan guests. But this étouffée is easy enough to make any day of the week! 
I first published this recipe in my cookbook, Sweet Potato Soul. I grew up eating étouffée made with Zatarain's spice mix, and for some reason I've always missed it. Perhaps because it was one of only a few dishes my mom would cook. Or maybe because étouffée served over steamed white rice is the ultimate savory comfort food. Whatever the reason for my attachment, I  knew when I wrote a cookbook I'd have to veganize this childhood favorite. 
What is etouffee?
If you've never tried my recipe, etouffee is about to become one of your favorite meals. In French the word étouffée means smothered. Étouffée is a luscious roux-based stew traditionally made with shellfish––most often crawfish or shrimp. It's a staple in both Cajun and Creole cuisine, but folks as far away as Georgia––like me––also love it 🙂 I make my étouffée with a "blond roux" to give it a subtle nutty flavor and a silky broth. Other cooks may make it with a dark or brown roux for a stronger flavor. 

Making the roux
When I first learned how to cook Creole food I was intimidated by the roux. I was worried I'd burn the flour and end up with a bitter mess. But it turns out, a blond roux, like the one needed for this recipe, is very easy to make. Just don't walk away and forget about it!
To make a roux you heat vegan butter or oil in a skillet. Once hot, an equal amount of white flour is added to the fat. The flour quickly toasts, turns golden brown, and makes your kitchen smell amazing. This golden goodness will add more flavor to your étouffée and add body to the gravy. You cannot make étouffée without it. 
For a gluten-free version, use chickpea flour or rice flour. I have also heard that an all-purpose gluten free flour blend could work, but I haven't tried this myself.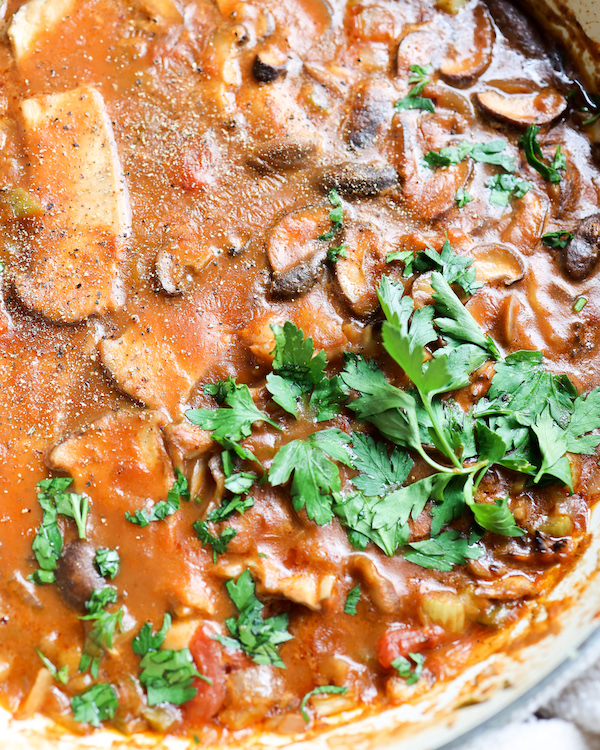 The star ingredients of this Étouffée
The roux is a requirement, but it isn't the only superstar ingredient! 
Mushrooms: Mushrooms are the best replacement for shellfish in étouffée. They have an amazing texture and fabulous flavor. Use a variety of "fancy" shrooms, rather than baby bella and portobello. I recommend using a mix of oyster, king oyster, and maittake mushrooms. Any fancy mushrooms will do.

Holy trinity: In Creole and Cajun cooking most savory dishes start with The Holy Trinity––onion, green bell pepper, and celery. These aromatics are sautéed right after making the roux, and give this dish so much flavor. 

Old Bay and Dulse: To give vegan étouffée the essence of the ocean,

Old Bay seasoning

and dulse seaweed are a must. Old Bay is salty, spicy, and somehow seafood-y. Dulse is a very briny sea vegetable. Use

dulse flakes

in this recipe. 

Creole seasoning: I make my own creole seasoning using the recipe in my cookbook. If you want to buy one at the store, I recommend

Tony Chachere's Original Creole Seasoning

. 
Yummy Étouffée Pairings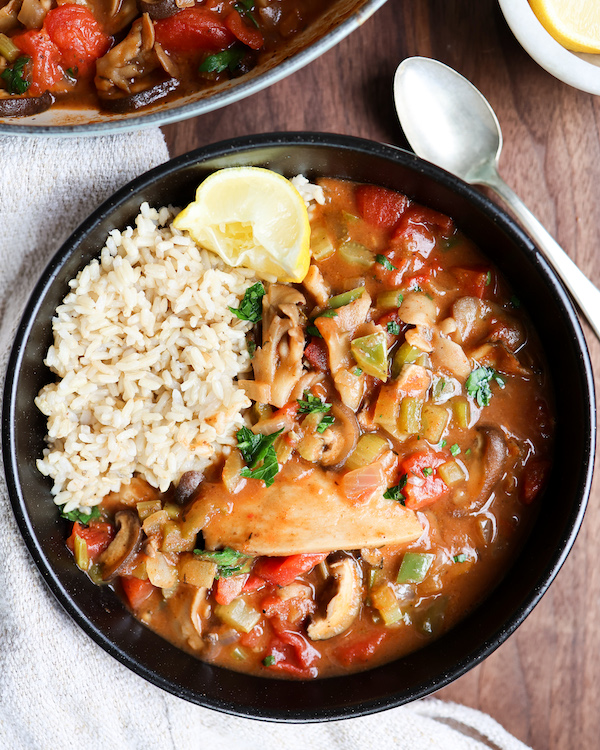 Oyster Mushroom Étouffée
Classic Creole Étouffée made vegan with tender meaty mushrooms.
Ingredients
3

tablespoons

grapeseed or coconut oil

3

tablespoons

unbleached all-purpose flour

1

small yellow onion

diced

2

garlic cloves

minced

1

small green bell pepper

diced

2

celery stalks

diced (about 1 cup)

1/2

teaspoon

salt

1/2

14-ounce can diced tomatoes (about 1 cup)

2-1/2

cups

water plus 1 vegetable bouillon cube

1

bay leaf

1

teaspoon

dulse seaweed flakes

1

tablespoon

Creole Seasoning

3

teaspoons

Old Bay seasoning

plus more to taste

1

pound

fresh oyster mushrooms

roughly chopped (about 2 cups), or an assortment of mushrooms

2

cups

cooked brown rice

1

lemon

1/2

cup

chopped fresh parsley

for serving
Instructions
Preheat large dutch oven or heavy-bottomed pot over medium heat.

Add oil, then sprinkle in flour when oil is hot. (Test the oil by dropping a pinch of flour in the oil; if it simmers, it is hot enough.) Toast flour in the oil, stirring for a few minutes until it turns golden brown.

Add onion, garlic, bell pepper, celery and salt and stir. Saute on medium heat until onion is translucent, about 3 minutes.

Add diced tomatoes, stock, bay leaf, dulse, Creole seasoning and Old Bay seasoning. Stir well and bring the pot to a simmer.

Add mushrooms and continue to simmer for 20 minutes until they become tender.

Taste and adjust seasoning. Serve over rice with a squeeze of lemon juice and garnished with parsley.