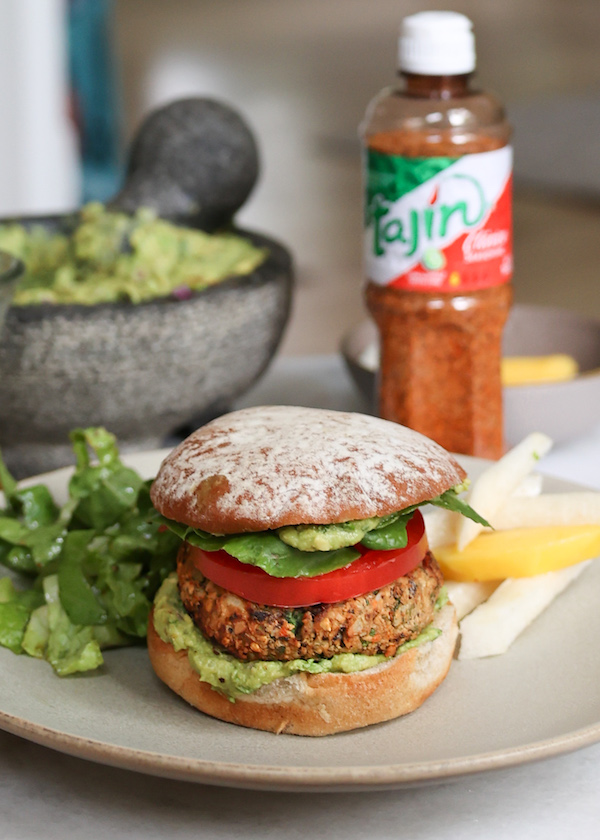 Once you take the first bite of this amazing Spicy Black Bean Burger with Tajín, your life will be changed. Everyone loves a good burger. But what can you do to make sure it's not only delicious, but healthy and jaw-dropping fantastic? Easy answer, Tajín Black bean burgers. They're vegan and gluten free! Black bean burgers are full of  fiber, protein, B vitamins, and minerals––like iron and zinc. Keep reading for a Spicy Black Bean Burger recipe that checks all the boxes.

Spiced to Perfection
Seasoning is a make or break for any food. It's a way to put power in your hands and make something as creative and unique as your tastebuds. The theory is true: Tajín does taste good on everything! But it's not the only spice and savory ingredients  in these Spicy Black Bean Burgers.
Tajín
Made from a blend of mild chili peppers, lime, and salt, Tajín is a popular condiment made in Jalisco, Mexico. Tajín is a seasoning that adds a bit of spice, enough for anyone to handle and enhance some of your favorite foods. It's versatile to the point that it can not only be used in this recipe, but it's excellent in even your favorite salad or on the rim of your favorite cocktail glass. Look for it at your favorite grocery store or online.
Pumpkin seeds
Pumpkin seeds, aka pepitas, are rich in manganese, vitamin K, and zinc. In  this recipe they provide extra texture and flavor to the bean patty; and of course, nutrients. Having a small serving of pumpkin seeds as part of a daily healthy diet will provide you with:
Protein
Healthy fats
Fiber
 Zinc
Other effective nutrients.
Oat bran
If you're looking for a fiber to help lower your cholesterol, oat bran provides that for you. I love a creamy bowl of oat bran porridge, and it's a star ingredient in my incredibly yummy Sweet Potato Oat Bran Muffins. It helps hold these black bean burgers together without needing an egg, and balances out the texture.
Cumin powder
Cumin is a staple spice in many cultures around the world. This rich and earthy spice pairs well with everything from cinnamon (hello, Moroccan Tagine), to chili peppers. Combining the cumin with the Tajín adds a delicious pop of flavor to your Spicy Black Bean Burgers. Cumin also provides benefits for the body and digestive system such as:
An increase in antioxidant intake
Promotes digestion
Provides iron
Reduce food-borne illnesses
Veggies
Honey, I don't have to tell you why you should be eating more vegetables. These black bean burgers are made with onions, garlic, red bell pepper, and cilantro. Use a food processor to mince the veggies and make the best texture for your burger: not chunky, but not too smooth. Top the finished burger with more veggies, and serve with a side of them too. Sweet potatoes, anyone?

Ideal for Vegan Newbies & Veterans
If you're looking to go vegan or try some new vegan recipes, this burger is a perfect way to introduce yourself to the vegan lifestyle. Enjoying these black bean burgers as an alternative to meat burgers is a great way to start adding whole foods to your diet. Even using oats and seeds as part of your ingredients is beneficial to add more nutrients and fiber to your diet. Other ingredients included are accessible sources of flavoring and spices found at your local produce store. These will still give you those mouth-watering flavors you seek in any burger!
Whether you crave it for lunch, dinner or want to be introduced to something new, you can never go wrong with this Black Bean Burger with Tajín. If you're looking for something to enjoy that includes plenty of spice and whole food ingredients, look no further. This recipe will not only leave you satisfied, but ready to explore more vegan recipes!
How to Make A Spicy Black Bean Burger
Blend ingredients in a food processor. You'll notice I don't blend them all together at once, but do them in small batches of different ingredients. Each batch creates a unique texture. When it's all combined, you'll have a vegan burger with a stellar texture. Here's a link to my favorite food processor.
Form into patties. Tight patties, so they don't fall apart. If your batter is too wet, add more oat bran (1/4 cup should be enough), or let your batter sit in the fridge for 30 minutes to firm. That should make them more manageable.
Cook them in the oven, air fryer, pan fry in a skillet, or grill to perfection!
How to Serve
My preferred sauce for these vegan black bean burgers is a classic guacamole. Give me all that flavor and creamy goodness!
Serve the burger on a yummy toasted vegan bun. And top with guacamole, a tomato slice, and romaine lettuce.
Jicama and mango slices! Toss in my tangy vinaigrette (recipe below), for an incredible treat.
Don't sleep on the side salad. A crunchy and tart salad made with romaine lettuce, pepitas, and, yes, a Tajín vinaigrette, is the perfect side to this burger.
Check out these other Extraordinary Vegan Burger Recipes
Spicy Black Bean Burger with Tajín 
Delicious and easy to make spicy black bean burgers. These burgers have the best texture and so much flavor. They're full of high protein and fiber-rich ingredients. Perfect any day of the week and year.
Ingredients
½

red bell pepper roughly chopped

½

red onion roughly chopped

1

cup

pumpkin seeds

2

cloves

garlic

2

tbsp

Tajín Clasico

2

tsp

cumin powder

or seeds

t

tsp

cayenne pepper

*adjust to your desired spiciness

1 ½

tsp

sea salt

1 14-

oz

can black beans

unsalted

1

cup

fresh cilantro chopped

½

cup

quick cooking oats or oat bran

4

vegan burger buns
Toppings
4

romaine lettuce leaves

1

ripe tomato, sliced

1/2

cup

guacamole

* add some Tajín to your guac 😉

1

avocado

optional
Tajín Vinaigrette
2

tbsp

fresh lime juice

from about 1 lime

2

tbsp

apple cider vinegar

1

tbsp

dijon mustard

2

tsp

maple syrup or agave

1-2

tsp

Tajín Clasico

1/2

tsp

cumin powder

or cumin seeds

1/3

cup

extra virgin olive oil
Instructions
Add the red pepper and onion to the food processor, and pulse until minced. Pour into the large mixing bowl.

Add the pumpkin seeds, garlic cloves, Tajín, cumin, and sea salt to the food processor, and blend until it has combined into a grainy mixture. Pour into the large bowl with the onion and pepper.

Add the beans and cilantro to the processor, and blend until almost smooth (a few chunks of bean is okay). Pour into the large bowl.

Pour your oats into the mixing bowl with the other ingredients, and stir well to combine.

Form into tight palm-sized patties, and place each into an airfryer, or baking sheet. Air fry at 350°for 10 minutes. If baking, bake at 350° for 25 minutes. If they stick to the parchment paper, bake 5-10 minutes more.
Tajín Vinaigrette
Place the ingredients into a jar

Tighten the lid and shake until emulsified and creamy.

Pour over jicama and mango slices, and toss romaine lettuce with the dressing. Serve with the spicy black bean burgers.