This Caribbean-inspired Vegan Bento Box Meal Prep is my best meal plan yet! It's perfect for any time of year, totally delicious, easy to make, freezable, and includes a sweet treat!
Unless you have someone else cooking for you, or you can spend hours cooking everyday, meal prepping is the best way to maintain a healthy diet. Since becoming a mom one of my biggest challenges hasn't been eating the right foods, it has been eating enough food. I snack and graze, and often don't have the time or energy to prepare myself a wholesome meal. By dinnertime, I'm ravenous!
Luckily, the solution is simple: meal prep! So as often as I can, I get into the kitchen and prepare a number of dishes that I can eat for days. This week I prepared a simple yet delicious meal prep that is inspired by the delicious tropical flavors of the Caribbean: coconut rice, curried pumpkin seeds, a coconut cilantro pesto, grilled tofu, and tender black beans. Together or mixed-and-matched these dishes can make a hearty Buddha bowl, tasty tacos, a filling wrap, an entree salad, or even a tropical sandwich. By mixing and matching a few simple dishes, I make sure it doesn't feel like I'm eating the same thing every day.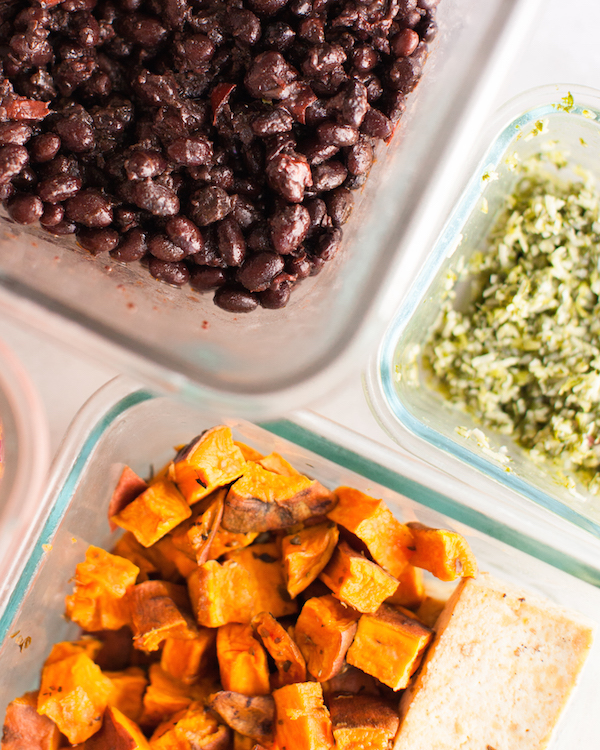 You could even supplement this simple vegan Bento Box Meal Prep with a couple of stews (try this tempeh tikka masala), or veggie burgers (like my sweet potato burgers, or beet black bean burgers). Or make yourself some yummy Mexican rice to make the meal prep last even longer.
Most of these dishes freeze well––with the exception of the roasted sweet potatoes, tofu, and cabbage-–so feel free to double (or triple) the recipes to make more to freeze. Frozen meals are another key to successful healthy eating.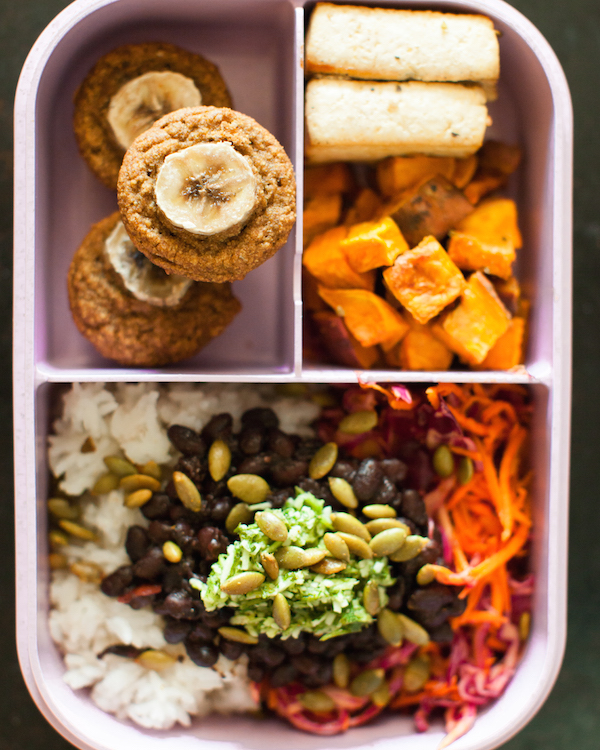 The curried pepitas (pumpkin seeds) and the coconut cilantro pesto are absolutely delicious on anything. Even if you're not making the whole meal prep, these two are a must for easy snacking, and flavor to any meal. Plus they're both super duper easy to make.
Click here for a PDF version of this Vegan Bento Box Meal Prep + combination ideas and a shopping list! Sign up for my newsletter if you'd like more free meal prep guides. I send them every week!