T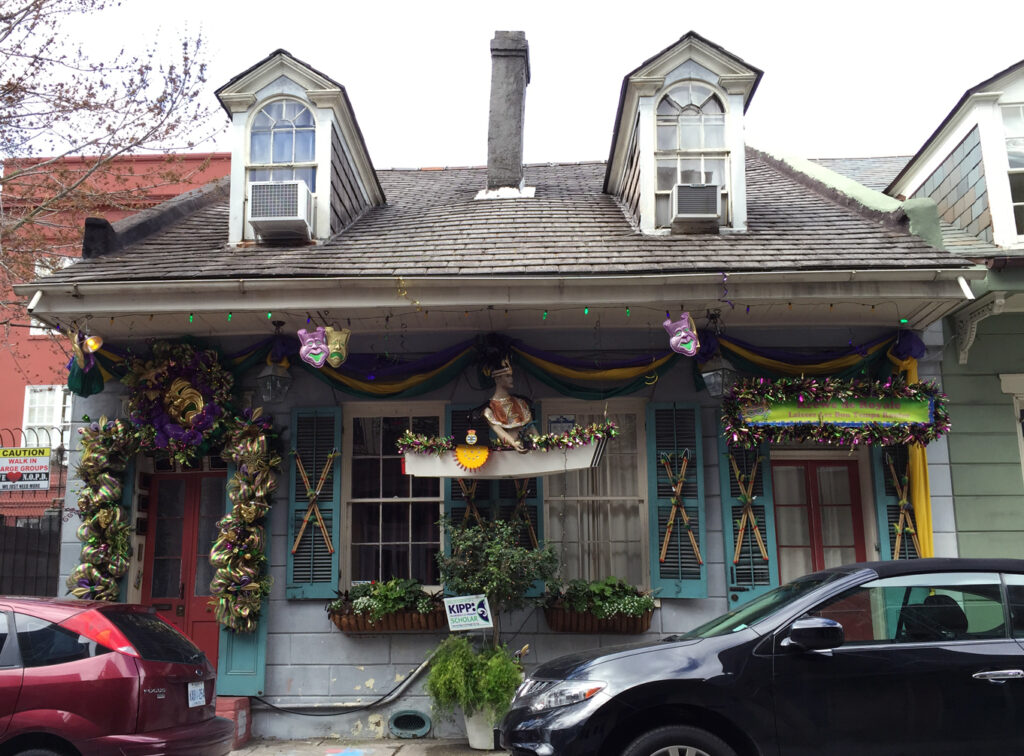 New Orleans is one of the few cities I've visited that feels like home the moment my feet touch the ground. If I believed in past lives, I would think that I had lived there before. I am a Claiborne, and lord knows there's a lot of Claiborne blood in those parts.
I'm in love with so many aspects of New Orleans—the accents of the natives, the many types of music, the food, the homes from Bywater to Uptown, the French Quarter, the heat and humidity, the spooky fog that creeps in at night, the history, and the visible invisible that is the soul of that city.
On my last trip (earlier this month) I was just returning to the states after my journey in Japan. The culture shock in Japan was real, but the culture shock of being back in the South, especially in Louisiana, after 2 weeks in Japan, was really really real! People move differently down there. They look different, they sound different, and they just plain act different. Compared to the consciousness of Japan, NOLA has a "realness" more akin to the streets of NYC. I love every bit of it.
Below I'm going to share with you my favorite things to do in NOLA. If you love the city, like I do, you'll gladly be enraptured by its languid pace. If you feel like you need a little bit more excitement, walk a lot. The streets of NOLA are filled with interesting people doing wild things. Enjoy!
Explore the Bywater
The Bywater is a "hip" neighborhood located in the upper ninth ward below Marigny. This part of town is known for housing the many volunteers who flocked to the city to assist in the post-Katrina clean up effort. Though its streets aren't lined with Spanish Moss and stately mansions, the smaller homes in this neighborhood are colorful, beautiful, and full of character and pride. I stayed in this hood in an Airbnb that my friend found. It's definitely a good place to stay if you're a budget traveler. If not, then I'd recommend staying in the French Quarter or Garden district, but make sure you venture out to Bywater at least once!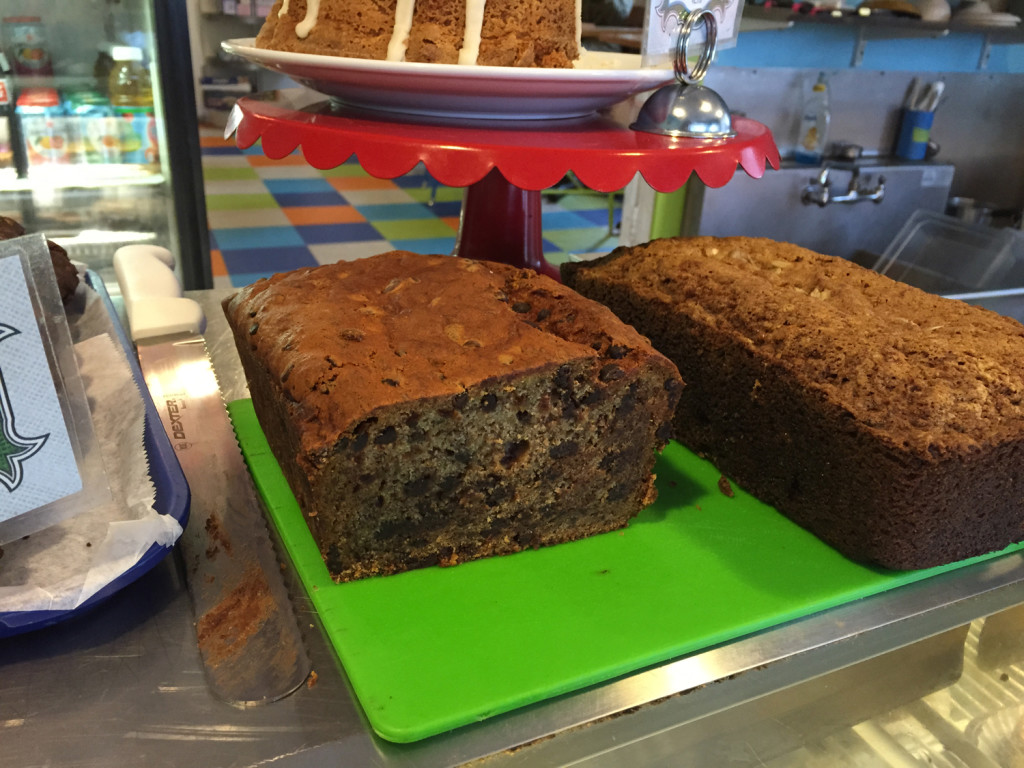 Shake Sugary
If you feel a sweet tooth coming on, run as quickly as you can to Shake Sugary in the Bywater. This partly-vegan bakery knows how to satisfy your cravings.
On my first visit I took a Magic Bar to go. It was indeed magical…and decadent, nutty, chocolatey, sweet, and slightly salty—the perfect combination. I didn't even manage to get a good picture of it because I was too busy stuffing into my mouth. Since the bakery was just a block away from where we were staying, we stopped by on our way to the airport for breakfast and plane treats. I was impressed by their delicious and savory baked samosa, and blown away by their vegan banana bread. If you're on a diet, this is not the place you want to spend a lot of time at. If you don't mind treating yourself on your vacation, then Shake Sugary is your spot!
Satsuma Café
For hearty vegan breakfasts I headed to Satsuma in the Bywater. This neighborhood cafe isn't vegan, but like many NOLA restaurants offers a decent selection of vegan nourishment. They also serve great coffee and fresh juices. The food isn't amazing, but it's good. For a quick and healthier vegan breakfast in the Bywater I'm a fan.
Pizza Delicious
The name says it all! Like the restaurants I listed above, Pizza Delicious is not all vegan. However, they've got a vegan pizza topped with marinara, pesto, spinach, peppers, and onions that is sure to knock your socks off! Their vegan eggplant and kale pasta is equally delicious! Pizza Delicious has outdoor and indoor seating, and seems to get pretty busy on the weekends. People of all ages pour into this local spot for oven-fired goodness. You should too!
BJ's in Bywater
My friend and I went to smokey BJ's on a Monday night. The crowd was mostly young with a peppering of older black folks to give it a little more character, and the drinks were cheap (especially compared to what I'm used to in NYC). I didn't like the fact that this place allows smoking inside, nor did I like that I had to really work to get the bartender to accommodate my fancy New York drink request (a cocktail made with bubbly). However, once the band got to playing, and the people started to dance it was all alright. I danced with a local black man around my parents' age who told me about his experience in Hurricane Katrina. How he, and everyone around him, lost everything they owned. Yet they didn't lose their soul, or their New Orleans essence. He reminded me of my dad, a man whose beautiful spirit pours out through his smile, and the twinkle in his eyes.
And let me not forgot to mention the band that was playing that night at BJ's. It was a 6 piece rhythm & blues band (not your average R&B though; definitely more along the lines of blues) called King James & The Special Men. I admit I didn't dance much that night, but when I did it was funky. If they ever play in NYC I will go to their show!
HiHo for DJ Soul Sister
We arrived in NOLA on a Saturday night, and after exploring the streets of the Bywater and Marigny for some time—plus popping in for drinks at a bar called Allways that was hosting a burlesque show—we ended up at HiHo where DJ Soul Sister was spinning real records on the turntables. We danced to her soul, disco, and funk until we were sweaty and invigorated. Then we left around 1, and later heard that the party doesn't really get started until 2am. Next time I'm in NOLA on a Saturday night, you'll know where to find me between 2-4am. Come prepared to move.
Sculpture Garden
Let's mix up all of this talk of late-night dance parties with some essential daytime fun for the art lover. The New Orleans open-air Sydney and Welda Besthoff Sculpture Garden is located next to NOMA, the city's museum of modern art, in City Park. Ride bikes up Esplanade until you run right into the park, and along the way be careful not to crash while gawking at the mansions and majestic trees that encase the road in their green glory.
Once you've made it to City Park you can spend a few hours exploring, journey into NOMA, or head straight into the Sculpture Garden. I wasn't sure how interested I would be in this attraction, but I'm so glad we went. There are fascinating sculptures from artists around the world, each with a story as deep and complex as the city they reside in. My favorites were "Karma" by Do Ho Suh, and the Mother and Child by Fernando Botero. It's definitely an experience not to be missed if you're visiting NOLA in the more temperate months.
Garden District
My favorite parts of New Orleans are the French Quarter and the Garden District. The architecture of both areas is a powerful reminder that this city is very old, and with a very different history than the rest of the United States. European design and aesthetic abound, and the colors invite in the essence of the tropics. Take a walking or bike tour through the streets of the Garden District to experience the antebellum mansions, and ghostly cemeteries.
I love the clothing and furniture shopping along Magazine Street up past Irish Channel. Though the area is calmer than the French Quarter, Magazine Street is a great place to grab a drink and people-watch. There aren't many vegan restaurants in the area, but venture up to Magazine and Marengo for Superfood Bar (details below).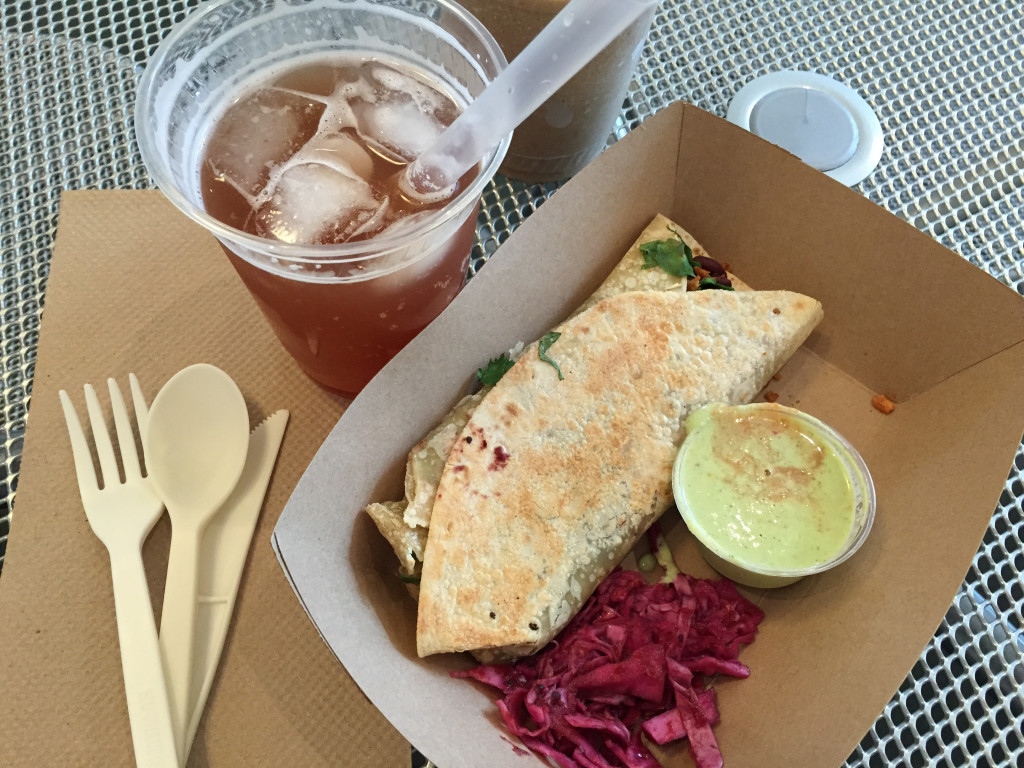 Superfood Bar
This yummy vegan restaurant claims to be the first vegan outpost in the city, which I think is pretty cool. They serve an assortment of cooked and raw wraps, salads, soups, and desserts, plus highly rated smoothies and juices. I ordered their Vietnamese inspired wrap, and a house-made kombucha. That along with the coco-coconut smoothie the co-owner gave us was thoroughly filling. Actually, I couldn't finish the kombucha and saved it for DIY cocktails that night. The food was delicious, and clearly very clean and healthy. I loved how my wrap was toasted to give it a crunch, something I'll have to try at home.
I found out about this restaurant using the Happy Cow app, an essential tool for finding vegan goodies all around the world.
Frenchmen Street
Music lovers should head to Frenchmen street for the best live music experiences in the city. Book a table at Snug Harbor for a more "refined" experience of soulful jazz, or hop between The Spotted Cat, Maison, Blue Nile, and every place in between. Or you could just hang out on the street (BYOB) and watch a group of young guys play swing jazz on the corner of Frenchmen and Chartres. Or do it all! Night after night after night!

Royal St. in the French Quarter
I discovered the Hemmerling gallery when I was in New Orleans last November. The black folk art in the window drew me in, and before I knew it I had been there for hours, allowing each painting to pull me in deeper to its tale. I left with 3 prints that day.
For blocks Royal street is lined with art galleries of all different sorts. Just across the street from the Hemmerling gallery is vegan artist Ally Burguieres' gallery. Bring the credit card!
Meals from the Heart Cafe's Pancakes
I have three words for you: Vegan Blueberry Pancakes.
Okay, do you need to know any more about Meals from the Heart Café? It's in the French Market, which is kind of a tourist trap, and a mother and son team owns it. Their food isn't all vegan, but they do serve the best pancakes I've ever had at a restaurant. It's definitely a meal from the heart.
Seed Restaurant
We vegans may not be able to enjoy the classic beignets at Café Du Monde, but Seed gives those a run for their money. Hot, sugary, and fluffy—they're really good. So good I think I must have eaten the photographic evidence! They also serve other NOLA staples like vegan po' boys and gumbo. All delicious!
I can't wait until I can visit New Orleans again. Of course I would love to experience Mardi Gras, and Jazz Festival, and to visit Congo Square in Louis Armstrong Park. NOLA has so much to offer! Of course it isn't perfect; you may break your neck tripping on a crack in the sidewalk, and you'll run into more drunks than you'd like to. Still, I'm in love with New Orleans and I miss it already.
Have you been to NOLA? What are your favorite things to do there?