There are very few things I love to eat more than avocado toast. It's one of the few millennial food trends that actually lives up to the hype. I mean, put avocado on almost anything and it's going to be fantastic! Of course avocado toast comes in many forms. This wild mushroom avocado toast has got to be my favorite! Topped with creamy avocado, meaty seared mushrooms, fresh herbs, sesame seeds, and orange zest: avocado toast doesn't get better than this!
How to Make Avocado Toast
The best avocado starts with great avocado and great bread. I usually use a really good sourdough from the farmer's market for mine. Sourdough bread adds so much more flavor to this yummy toast. When I don't have sourdough, I opt for Ezekiel bread. Whichever bread you use, toast it first.
The Perfect Avocado
As for the avocado, prioritize the best! Here in California I try to buy my avocados at the farmer's market. I know, I know, spoiled 🙂 Of course, regular grocery store hass avocados are perfectly fine. Just make sure they're perfectly ripe. To know if your avocado is ripe, gently press the bottom with your thumb. A firmness similar to the palm of your hand is perfect, or even a little more firm than that is fine. Sometimes the avocado will ripen at the top first, so it's important to test the bottom before deciding if it's ready to eat.
My M.O. is usually to buy a variety of ripe, almost ripe, and not-at-all-ripe so that they won't all be ready at the same time. If I want one to ripen in 24 hours, I stick it in a paper bag. If I have too many ripe avocados I place them in the fridge to keep them fresh for longer. I have never tried this, but I hear you can "ripen" hard avocados quickly by wrapping them in foil and sticking in the oven at 200° for up to an hour. Let me know if you've used this trick.
Make the Mushrooms Meaty
Now let's talk about those mushrooms! This is a mushroom avocado toast, so you need to choose the best mushrooms! My favorite mushrooms for this avocado toast are the meatiest ones. I love using a combination of oyster, maitake, shiitake, and shredded trumpet (aka king oyster) mushrooms. They all have their own unique flavor and texture, and they blend beautifully. To get my mushrooms really meaty and flavorful I place a heavy pot/lid/bacon press on top of them as they cook. I recently shared this technique in my vegan cooking secrets video, by the way. To find the best mushrooms visit your local Asian grocery store. Asian grocery stores usually have great prices and a wide variety of fresh mushrooms. You could even grow mushrooms at home easily using a kit. You might also find fabulous mushrooms at your local farmer's market. Here in Los Angeles my favorite mushrooms purveyor is LA FungHi.
Mushrooms are Super Healthy
In addition to having an amazing texture and taste, mushrooms––especially the ones I use for this mushroom avocado toast–– are super nutritious. They have unique bioactive compounds that may be helpful in protecting us from inflammation and cancer, while supporting a healthy immune system. In Chinese medicine some mushrooms, shiitake for example, are thought to promote longevity. Maitake mushrooms (aka hen of the woods), are considered medicinal mushrooms, and are known adaptogens. Adaptogens are substances that help the body regulate and come into balance. Maitake happen to be my favorite mushrooms for their taste and delicate texture. Mushrooms are also good sources of B vitamins, amino acids, and minerals. And a terrific source of flavor!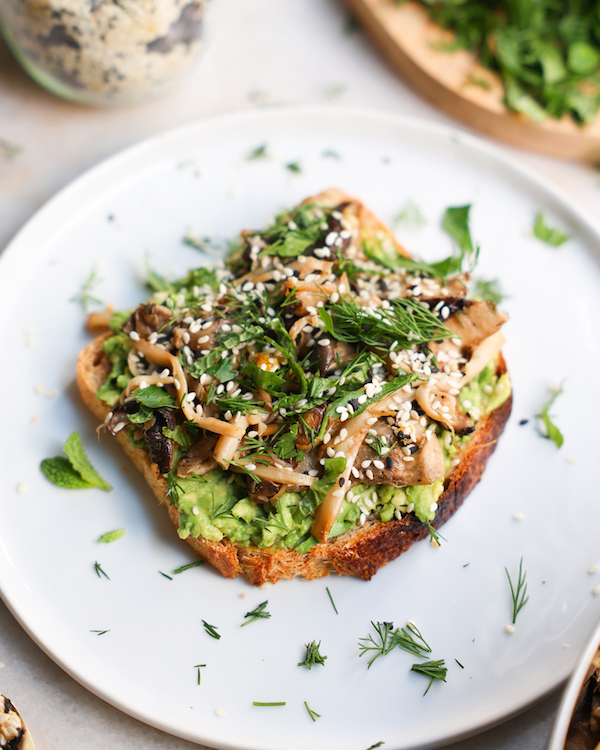 For more information about cooking mushrooms, check out my vegan cooking secrets video.
Check out these other Mushroom Recipes:
Wild Mushroom Avocado Toast
This recipe makes 2 slices of toast, but you will probably have mushrooms left over. Save them for your next slice of avocado toast. They'll stay fresh in the refrigerator for a few days.
Ingredients
2

tbsp

extra virgin olive oil

2

cloves

garlic

minced

10-15

oz

assorted mushrooms

tough stems removed, and chopped (if using trumpet mushrooms, try shredding them)

sea salt to taste

1

ripe avocado

2

slices

sourdough bread

toasted

1

tsp

sesame seeds

1

tsp

nori flakes or dulse seaweed flakes

1/2

tsp

orange zest

2

tbsp

fresh herbs

minced (dill, cilantro, mint, and/or parsley)

black pepper
Instructions
Warm olive oil in a skillet on medium-high heat.

Add the garlic and sauté until slightly golden. Careful not to burn it.

Reduce heat to medium, and add the mushrooms, and stir. Then sprinkle in a pinch of sea salt.

Once the mushrooms begin to release their liquid, place a heavy pan on top of them. You could also use a bacon press, a lid, or a plate.

Reduce the heat to medium-low, and cook for 5-8 minutes. Take a peek at the mushrooms halfway through to make sure they aren't burning. Sticking a little is okay and normal.

Stir the mushrooms to unstick them from the pan, and season to taste with more salt.

Toast your bread and top with mashed avocado.

Season the avocado with a little salt (optional), then top with the mushrooms.

Season with sesame seeds, seaweed flakes, orange zest, and fresh herbs.

Enjoy!