I've written the following blog post and created this Citrus Chocolate Truffle recipe as a MegaFood ambassador! I'm extremely happy to be working with this supplement company because they deliver vitamins and minerals with real foods to make their line of high quality health supportive products.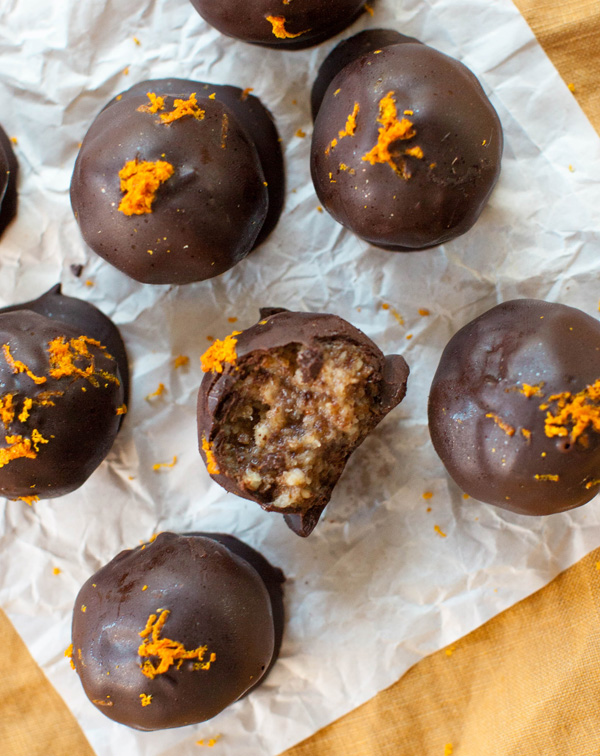 I've been making different variations on these healthy citrus chocolate truffles for years, and I think I may have just discovered my favorite combination. Beneath the dark chocolate layer is a sweet and nutty pecan and date ball blended with the Vitamin C nutrient booster powders from Megafood. The powder is made from actual citrus, so in addition to adding antioxidants, it also gives the filling a lovely citrusy flavor. And of course the whole truffle is topped with fragrant and flavorful orange zest!
Needless to say, these citrus chocolate truffles are delicious! And thanks to the filling—raw pecans, dates, and the vitamin C powder—they're actually healthy too. Just don't eat the whole batch at once; the chocolate does have sugar in it 😏
Healthy desserts like this are so easy to make, and really do help satisfy a sweet tooth. These citrus chocolate truffles are my favorite because I adore the combination of dark chocolate and orange zest, but you can be really creative with other ingredient additions. Next time I'd love to try making an autumn-inspired truffle with cinnamon, nutmeg, and dried apples in the filling. For Christmas I will make a gingerbread one.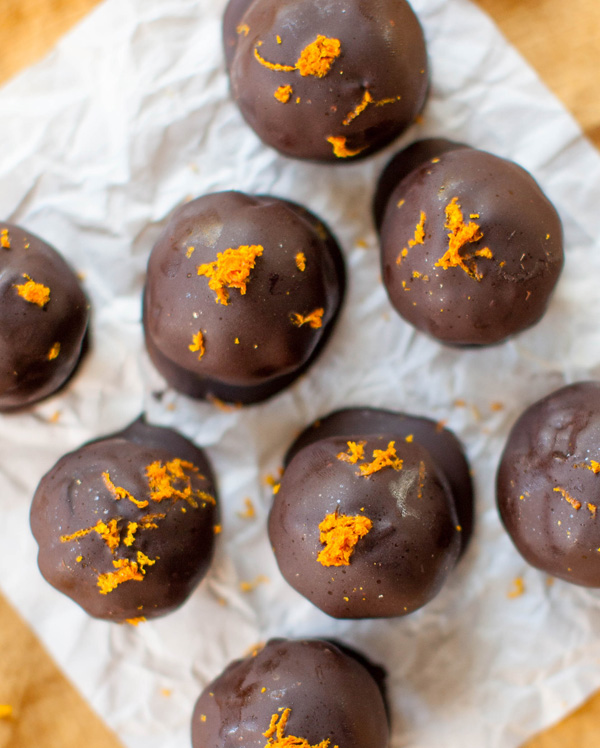 Citrus Chocolate Truffles
For nut-allergies, you can replace the pecans with pumpkin seeds, sunflower seeds, or coconut shreds.
Ingredients
¾

cup

raw or toasted pecans

½

cup

dates

Medjool dates work best, but any will work as long as they're sticky

1

teaspoon

Megafood Daily C Protect powder

https://megafood.com/store/en/booster-powders/daily-c-protect-nutrient-booster-powder/

½

cup

vegan dark chocolate chips or baking chocolate

1

fresh orange for zesting
Instructions
Place the pecans and dates into a food processor, and blend until the ingredients have become a medium-coarse meal. It should hold together tightly when formed.

Scoop a heaping tablespoon of the mixture into the palm of your hand and form small tight balls.

Place the formed balls onto a parchment paper-lined plate. This recipe makes about 10 balls.

Melt the chocolate in a glass or metal bowl over boiling water, or in a glass bowl in the microwave.

Drop each truffle into the chocolate and coat well. Remove the coated truffle, and place it gently onto the parchment paper. A toothpick will help in the process. Continue with the remaining balls.

Zest the orange over the truffles.

Place in the refrigerator to firm for at least 2 hours before enjoying.