Once you make this amazing Tofu Chili it will never leave your meal rotation! It is hearty, super delicious, and so nutritious. I've made so many types of chili in my life, but this tofu chili has fast become my favorite. It reminds me of the turkey chili of my childhood. The secret: air fried tofu. The tofu is meaty yet light, and it blends perfectly with the tender beans and thick tomato broth. You won't believe the texture and taste of this perfect chili!

My favorite way to cook tofu
My favorite way to cook tofu is in the air fryer. The air fryer dries out the tofu and transforms its texture. The star of this chili––the thing that sets it apart from other vegan chili recipes––is the "ground" tofu. I hand crumble the tofu, then toss it with olive oil and a variety of spices like nutritional yeast and smoked paprika. The seasoned tofu is cooked in the air fryer until it is dry, meaty, and even crispy. The result: the most flavorful and meaty tofu. A perfect wholesome replacement for ground meat in recipes. 

Tofu Chili Basics
The ground tofu is the star of the show, but the other ingredients are important too. 
The base: This recipe starts with a base of sautéed onions, garlic, jalapeño, and red bell pepper. Red bell pepper adds a subtle sweetness and extra flavor to the chili. Tomatoes are a must. I use both diced tomatoes (acid and sweetness) and tomato paste for extra umami (savoriness). 
The beans: Chili should have at least 3 types of beans. I most often use a mix of chickpeas, cannellini beans, and kidney beans. The different texture only adds to the appeal of this tofu chili. 
The tofu: Air fry the tofu while the chili is cooking, then stir it in before serving. The air fryer concentrates the texture and flavor of the spiced tofu. Add that to the chili, and it becomes a lovely flavor bomb in every bite. 

This tofu chili is
Crazy delicious

Packed with plant-based

protein

and

fiber

 

A great source of

calcium, iron, and magnesium

Easy to make

Perfect for meal prep––it even freezes well

Made with everyday ingredients
Notes on this recipe:
You do not need an air fryer to make ground tofu, however, it does make the process of meati-fying the tofu a lot quicker and more reliable. You can also make delicious ground tofu in the oven. Where the air fryer takes 15 minutes the oven takes around 30-45 minutes, depending on your type of tofu. 

No need to press the tofu if you are air frying it. All of that excess liquid will evaporate. However, if you are making the tofu in the oven you should press it for 20 minutes before seasoning. 
To press tofu: Place it in between two paper towels or wrap it in a clean tea towel. Place the tofu in a shallow bowl or baking dish and place something heavy on top (like a cast iron skillet or books). Let that sit for at least 20 minutes as the heavy object presses liquid from the tofu.  
This tofu chili can be frozen too! The texture of the tofu will change a bit as it absorbs more liquid. If you prefer the tofu to be as meaty as possible, consider making fresh ground tofu when you plan on thawing the rest of the chili.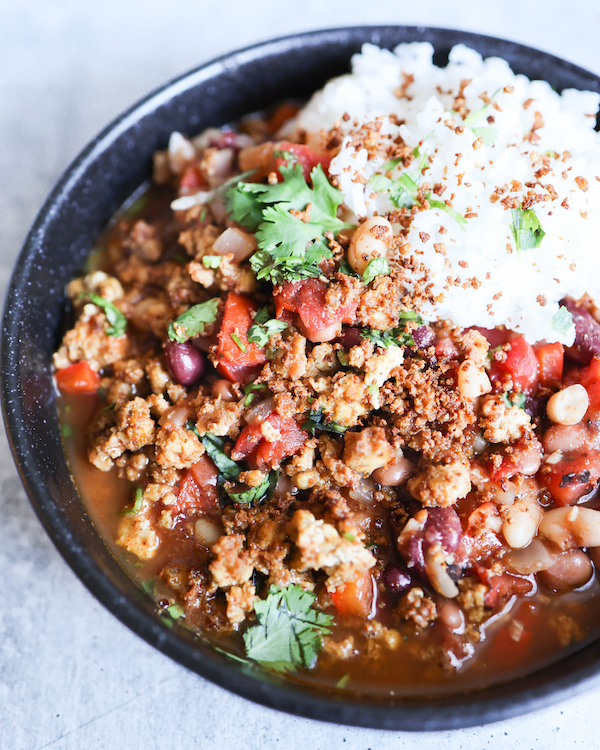 If you like tofu chili, try these other recipes too!
Green Chili Chik'n Enchiliadas
Better Than Chipotle Burrito Bowl
Hearty Tofu Chili
Once you make this amazing Tofu Chili it will never leave your rotation! It is hearty, super delicious, and so nutritious. 
Ingredients
2

tbsp

extra virgin olive oil

1

large yellow or red onion

diced

3

cloves

of garlic minced

pinch

of sea salt

1

large red bell pepper

diced

1

jalapeno pepper

minced (optional to remove the seeds)

1

tbsp

chili powder

2

tsp

ground cumin

1 14-

oz

can diced tomatoes

2

tbsp

tomato paste

3

cans of beans

1 each of chickpeas, kidney and cannellini beans

2-3

cups

water

+ more to thin if necessary

1

tbsp

Better Than Bouillon vegan vegetable bouillon paste

or 1-2 vegetable bouillon cubes

1

cup

fresh cilantro chopped

Rice or cornbread for serving
Ground Tofu
1

package of firm or extra-firm tofu

1

tbsp

extra virgin olive oil

2

tbsp

soy sauce

3

tbsp

nutritional yeast

1

tsp

garlic powder

1

tsp

smoked paprika

½

tsp

ground cumin
Instructions
In a large heavy bottomed pot, heat 2 tbsp of olive or over medium-high heat. When hot, add onions, garlic, and peppers, and a pinch of salt.

Saute until the onions turn slightly translucent.

Add the chili powder and cumin, and stir. Allow it to toast for 30 seconds.

Then add the tomatoes, tomato paste, beans, water, and bouillon paste.

Bring the tofu chili to a boil then reduce it to a simmer and cook for 10-15 minutes with the lid ajar or off. If it is too thick for your liking add a little more water.

Season to taste with more spices and/or salt.

Serve over rice with fresh cilantro and lime to garnish.
Ground Tofu
Break the tofu into very small pieces.

Add it to a mixing bowl, then add the oil and spices.

Stir well, making sure all of the tofu is well coated.

Transfer it to an air fryer or baking sheet lined with parchment paper.

Air fryer: Fry the tofu at 375° for 15 minutes, stirring halfway through. Cook longer if you want it even crispier.

Oven: Roast the tofu at 375° for 30 minutes. Stirring after 20 minutes. Cook longer if you want it meatier or more dried out.