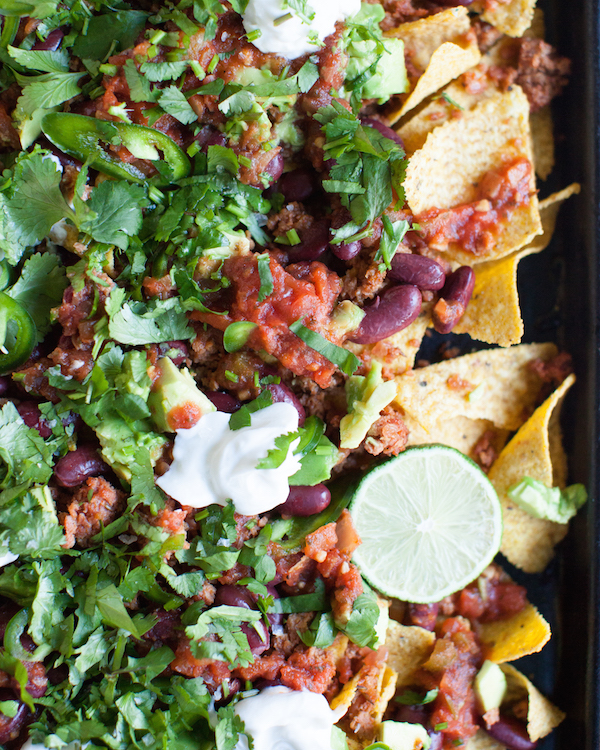 Hello Meaty Vegan Nachos! Perhaps one of the best skills to develop as a new vegan is the skill of veganizing old favorites. Since becoming vegan in 2011 that has been one of my favorite things to do in the kitchen. If you've ever heard me talk about my first year as a vegan, you've probably heard my story about how disappointed I was that I could no longer eat my Nana's cooking when I went home for the holidays. I was devastated. So I set out to veganize all of the soul food classics I had loved so much growing up, and my cookbook was born.
You really can veganize anything. I've made vegan brisket using seitan for a Hanukkah party, vegan fried chicken using cauliflower, and I've even seen vegan sushi made with tomato to replicate raw fish!
Party Perfect Meaty Vegan Nachos
These meaty vegan nachos are so easy to make, and certain to please a crowd––vegan Superbowl party, anyone? To replace the ground meat I used the new plant-based meatless grounds from Kroger's Simple Truth line. It looks just like real meat, in the package, and it even darkens and firms as it cooks. It's made from pea protein, but the most discerning meat eater won't know the difference.
Meaty Substitutions
If you can't get your hands on the vegan ground "meat" you could use lentils, cauliflower walnut taco "meat", or a combination of lentils and minced walnuts (like what I use in my bolognese sauce). Top the nachos with lots of ripe avocado, beans, salsa, cilantro, and sour cream (I used the Simple Truth one from Kroger too, which is the bomb and made with butter beans!!). This recipe is perfect for a superbowl party, potluck with friends, or Meatless Monday. It's also a perfect recipe to get you started on your vegan journey!
FYI, while this blog post isn't sponsored by Kroger, they did sponsor the video below that features this recipe. 
Meaty Vegan Nachos
Ingredients
1

tbsp

extra virgin olive oil

1/4

yellow onion

minced

1

tsp

cumin seeds

1

package of Simple Truth Emerge plant-based grind or similar

1

tsp

smoked paprika

1

bag tortilla chips

1 1/2

cups

kidney beans

or 1 15-oz can drained and rinsed

1-2

ripe avocados

diced

1/2

cup

salsa + more to taste

1/4

cup

Simple Truth vegan sour cream + more to taste

1

jalapeño pepper

sliced (seeds removed for less spice)

1/2

cup

chopped cilantro

1

lime

halved

salt to taste
Instructions
Warm the oil in a large skillet on medium-high heat.

Add the onions and sauté until translucent, about 3 minutes.

Add the cumin seeds, and toast another 1 minute.

Add the plant based "meat", and use the spatula to break a part and stir.

Sprinkle on the smoked paprika and cook for about 6 minutes, stirring occasionally. It should darken and firm. It might still look a bit red, especially from the paprika, but it will continue to darken as it cools.

Place the tortillas in a baking dish or serving platter, then top with the ground "meat", kidney beans, avocado, salsa, sour cream, jalapeño, and cilantro.

Squeeze half of the lime onto the nachos, and season with salt to taste.

Garnish with slices of the other half of the lime.