This Instant Pot Whole Cauliflower recipe is sponsored by Instant Pot itself! If you know Sweet Potato Soul, you know how much I love this brand. Instant Pot sent me their new Duo Evo Plus multi-cooker, and I've been so impressed with how much time and effort it saves me everyday. And the Instant Pot family has grown to include the Instant Ace Plus Blender and the Instant Vortex Plus Air Fryer Oven. Keep reading for this delicious cauliflower piccata recipe and details on how you can win the Instant Pot Duo Evo Plus!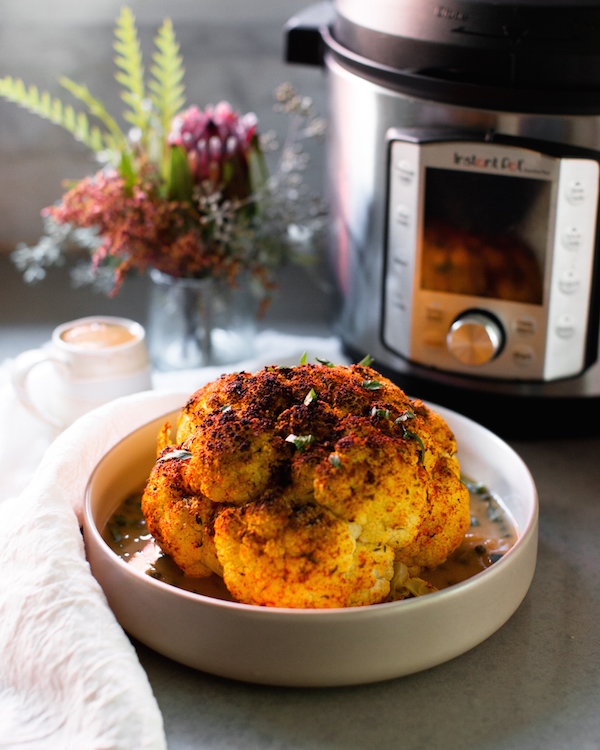 It's great to be alive during the time of the Instant Pot. Seriously, it has been one of my closest friends during this first year of motherhood, and I can only imagine this friendship––or some might call it dependency––strengthening as my working mom duties grow. Luckily a week doesn't go by where I don't discover a new and exciting dish to make in my Instant Pot. This week I'm all about this whole cauliflower piccata with super flavorful lemon caper gravy. It is easy enough to make for a weeknight dinner, yet delicious and impressive enough to serve for Thanksgiving or Christmas. My type of recipe! A whole cauliflower will pressure cook in the Instant Pot in just 3 minutes. Let it natural steam release for 5 minutes, and that's all. Perfectly tender cauliflower! 
The inspiration for this recipe comes from my days as a personal chef in New York City. One of the most popular recipes my clients would request was tempeh piccata. Tempeh piccata––a vegan version of chicken piccata––featured breaded slices of tempeh cooked in a lemon caper gravy and served over mashed potatoes, pasta, or farro. This whole cauliflower piccata isn't breaded and cooked in gravy, but the spirit of that dish remains. 
Before cooking, the cauliflower it is rubbed with a few of my favorite spices: smoked paprika, garlic powder, thyme, turmeric, salt, and pepper. The spices flavor the outside of the vegetable, and sneak inside as it cooks. The gravy is at once perfectly salty and tangy. I like to caramelize yellow onions or leeks in the Instant Pot before adding fresh lemon juice and vegetable broth, and steaming the cauliflower. 
Once the cauliflower is cooked, broil it for 10 minutes to char the outside. While it's in the oven you thicken the gravy with a tad bit of flour, and turn up the flavor profile by adding capers. So simple, yet so delicious! Serve it all over roasted or mashed potatoes. 
Now that I know how easy it is to make whole cauliflower in the Instant Pot you better believe I'll be trying out all sorts of gravy styles: curry, puttanesca, jerk! 
And yes, you can use any Instant Pot to make this glorious dish. I used my new Duo Evo Plus, but you could even fit a whole cauliflower in the smallest 3 quart Instant Pot (which I also have). I didn't think I would need a larger Instant Pot because you really can do anything with the 3 quart model, but the Duo Evo Plus really has been an upgrade. It pressurizes super fast, has an easy to use LED display screen, features a steam release guard, and the pot has easy-grip handles. I will say, having two Instant Pot is a busy woman's luxury. I use them simultaneously all of the time, especially for meal prep. 
Before I leave you with the recipe, I want to share that I am hosting a giveaway of the new Instant Pot Duo Evo Plus on my Instagram! I'll be giving away this life-changing machine to two of my lucky followers. Head over to my IG to enter! 
Instant Pot Whole Cauliflower Piccata
Here's a
link to purchase
the new Instant Pot Duo Evo Plus! Serve this whole cauliflower with
mashed potatoes
or roasted potatoes. If for any reason your cauliflower doesn't seem done enough––could be an issue if your cauliflower is too big, or maybe you just like it more tender––you can put it back in the Instant Pot for 1-2 minutes. I tested this recipe a few times so my cook time, 4 minutes, should work for you too.
Ingredients
1

medium whole cauliflower

1 1/2

tsp

sea salt

1

tsp

dried thyme

1

tsp

smoked paprika

1

tsp

garlic powder

1/4

tsp

turmeric powder

2

tsp

extra virgin olive oil

1/2

yellow onion or 1/2 leek

sliced

1

cup

dry white wine

1

cup

vegetable broth or 1 cup water + 2 tsp vegetable bouillon paste

1/4

cup

lemon juice

from about 1 lemon + more to taste

2

tbsp

flour

either white flour or a gluten free flour will work

1

tsp

freshly ground black pepper

1/4

cup

capers

1/4

cup

fresh parsley
Instructions
Start by removing the outer leaves from the cauliflower, and cut the base so that the vegetable can sit flat.

Combine the salt, thyme, paprika, garlic powder, and turmeric in a small bowl. Then sprinkle it onto the cauliflower, and use your hands to rub it all over. The whole cauliflower should be coated, top to bottom. Set aside.

Turn your Instant Pot on to the medium sauté setting.

Add olive oil, then add the onions. Sauté until the onions are soft and beginning to caramelize: about 5 minutes.

Add the white wine, veggie broth, and lemon juice.

Then carefully place the Instant Pot steam insert into the pot on top of the liquid.

Place the cauliflower on the steam insert.

Cancel the sauté setting, and place the lid on the Instant Pot.

Set the Instant Pot to pressure cook for 4 minutes on high.

Once it has pressure cooked for 4 minutes, let it natural steam release for 10 minutes before releasing the remaining steam.

Remove the lid, and very carefully remove the cauliflower and the steam insert.

Turn on your oven to the broil setting, and place the cauliflower onto a baking dish.

Broil (usually 450° degrees) for 8-10 minutes, or until the top chars and crisps up.

While it's in the oven make your gravy.

Turn the Instant Pot back to the medium sauté setting.

Remove about 1/4 cup - 1/2 cup of the cooking liquid, and put it in a small bowl.

Add the flour to the bowl, and stir or whisk vigorously to break a part any clumps.

Pour that back into the Instant Pot, and stir as it gently simmers. It should start to thicken.

Add the black pepper and capers, and continue to stir.

Season to taste with more lemon juice and salt.

To serve, place the cauliflower in a serving dish, and pour the gravy around it. I like to save any excess gravy to pour directly over the cauliflower while whole or after it is sliced.

Garnish with chopped parsley.