The best vegan crab cakes you'll ever eat! It simply doesn't get better than this. Hearts of palm and chickpeas make these delicious vegan crab cakes just as good as the real thing. Even my hardcore crab cake loving family in Maryland loves this recipe!
I created this vegan crab cake recipe many years ago. It's been featured all over the web, has made its way into my cookbook, and it was the first recipe I ever made on the TODAY show. This recipe has convinced thousands of people that vegan food is delicious, and filling, and easy to make. If you haven't tried it; now is your chance. Pan fry the crab cakes for ultimate comfort, or cook them in the air fryer for a lighter treat.
How to make vegan crab cakes
It's easy as 1-2-3! But you must have the right ingredients. And don't call it a crab cake if it doesn't have Old Bay seasoning 😅
Lightly pulse the ingredients in a food processor until the hearts of palm is flaky. These vegan crab cakes are held together with panko bread crumbs, which help maintain that light and flaky texture even after they're cooked.
Fry or air fry…or bake! Of course, everything is just a little better when it's fried in oil. However, I usually cook these vegan crab cakes in the air fryer. The result is just as flaky and delicious; and you don't have to worry about dealing with dirty frying oil. You can also bake them. Warning: you will want to eat all of the batter before you cook them!!
Serve with a red pepper aioli (recipe below). These are delicious in a vegan crab cake sandwich, as an appetizer, or over salad.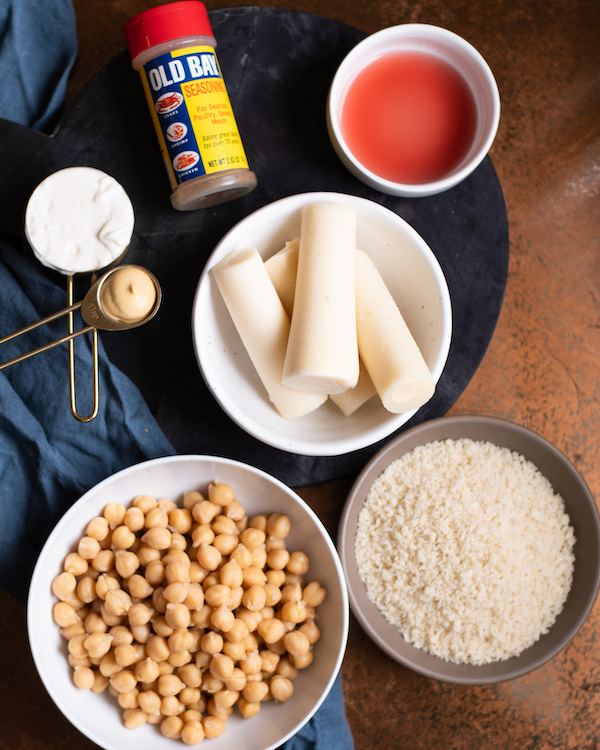 Ingredients Matter
These vegan crab cakes have a few very important ingredients that make them THE BEST! If you can't find these ingredients in-store, order them online. However, you shouldn't have an issue.
Old Bay: The spice blend of the Chesapeake Bay, Old Bay seasoning is what makes this vegan recipe taste like the real thing. It's salty! Select the low-sodium version if you need to cut back on salt. I use the original Old Bay.
Ume Plum Vinegar: This special ingredient from Japan is briny, briny, briny!! Perfect for replicating the taste of the sea. You'll notice this recipe doesn't call for salt. There's no need to add salt when you're using Ume Plum Vinegar and Old Bay.
Heart of Palm: For the crab-like texture.Use either whole or salad cut hearts of palm. Look for them in the salad topping section of your grocery store––usually near the olives, capers, and artichoke hearts. Hearts of Palm in water comes in a can or jar.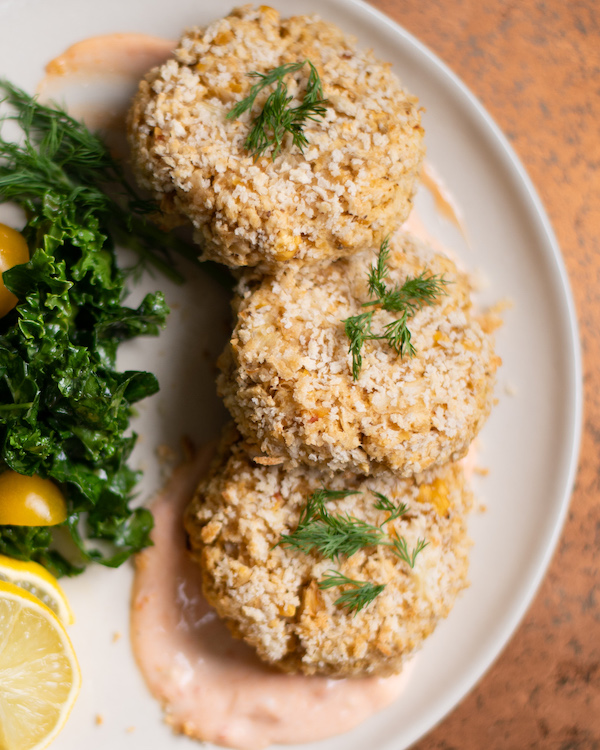 What to serve with vegan crab cakes
• With a salad: I enjoy vegan crab cakes along side a light salad. It's a light yet filling meal, and tastes gourmet. Because these crab cakes are made with chickpeas, they are full of protein and fiber, but won't weigh you down.
• Sandwich: Serve the vegan crab cakes in a sandwich (on a toasted bun) with a generous spread of that red pepper aioli (aka, crab cake sauce), bibb lettuce, and a tomato slice.
• Appetizer style: Make smaller cakes and serve them with a side of the red pepper aioli. Guests love bite sized crab cakes!
For more taste of the sea, check out these other vegan seafood recipes:
Hearts of Palm "Crab" Cakes
To make these cakes lower calorie, air fry them at 350° for 10 minutes, or bake them at 350° for 25 minutes. Flip halfway through.
Ingredients
1 14-

oz

can chickpeas

unsalted beans

1 14-

oz

can hearts of palm

chopped into large pieces

1

jalepeño

seeded and minced

¼

cup

vegan mayonnaise

I prefer Just Mayo

2

tbsp

Old Bay seasoning

1

tsp

umeboshi plum vinegar

1

tsp

dijon mustard

1

cup

panko bread crumbs + ½ cup for coating
Red Pepper Aioli
1/2

cup

vegan mayo

1

roasted red bell pepper

1/4

cup

chopped fresh dill

1

tbsp

red wine vinegar

1

tsp

cane sugar

optional

1

tsp

freshly ground black pepper
Instructions
Place the chickpeas, hearts of palm, and jalepeño into a food processor and pulse to combine and mash. Don't over process it though, you still want some crabby texture.

Scoop the chickpea mixture into a large bowl and add the other ingredients. Stir well to combine.

Place the remaining ½ cup of panko in a shallow dish.

Heat an oil coated skillet on medium-high heat.

Form the "crab" mixture into small patties–making sure to pack the mixture tightly, and then coat in the panko in the shallow dish.

Pan fry for 3 minutes on each side.

Do this with the remaining batter. I usually fit 4-5 patties on the skillet at a time. When they are cooked, transfer them to a plate covered with paper towel.

Serve with red pepper aioli.
Red Pepper Aioli
Place all the ingredients in a blender and blend until creamy.