Finally I've snagged a free moment to sit down and write. Hello there!
If you are subscribed to my newsletter, then you've already heard all about my new gourmet supper club Little Harlem Kitchen (LHK). Since the inagural dinner a month ago I have hosted 2 dinners and a brunch at my little Harlem apartment. As a personal chef I usually cook meals for my clients that they can enjoy throughout the week. I cook up at least 5 different meals and stick them in the fridge. It's fun, but I've missed the pleasure that comes from serving someone directly. That's why I decided to start a supper club. I invite people to my house, where I prepare a gourmet 4 course meal, and serve them directly. I get to watch them enjoy the food, and get immediate feedback. It's incredibly fun and rewarding.
The first event at LHK was a Southern-inspired feast. I served my guests a sweet potato bisque, fancy potato salad, crispy cauliflower and waffles, and dessert was an apple tart with a ginger cherry sauce. Thumbs up, if I may say so myself 🙂
The most recent dinner, last Saturday night, was Italian-inspired. I think it was my favorite. On the menu was a zuppa di fagioli (bean soup with lots of herbs, and seasonal veggies), arugula pepita pesto with farro and radicchio salad, butternut squash lasagna, and––get this–– sweet potato tiramisu! Amazing! Only I didn't take any photos. I'll recreate the dishes to share recipes asap.
But today I want to share some of my photos and a recipe from the fabulous vegan brunch I hosted at my place 2 weeks ago.
Brunch is one of my favorite meals. I love a meal that mixes both savory and sweet. So for this occasion I served buckwheat pumpkin pancakes with a pumpkin almond butter and salty sweet pumpkin seeds, homefries and mixed green salad, vegan "crab" cakes, and one of my famous crumbles––this one made with pear and blueberries. The guests apparently loved the meal, and I had a great time preparing and serving it.
My favorite dish from the brunch are the "crab" cakes. Made with hearts of palm, chickpeas, and Old Bay seasoning these cakes are a hit with everyone I've served them to. The secret to making these delicious and authentic is the Old Bay and hearts of palm. Hearts of palm has a texture very similar to crab meat, soooo… And Old Bay is a seafood seasoning! Seriously delicious.
My Little Harlem Kitchen is invite only, so if you'd like to be added to the invite list please send me an email introduction at littleharlemkitchen@gmail.com  I'd love to have you over for brunch or dinner one day 🙂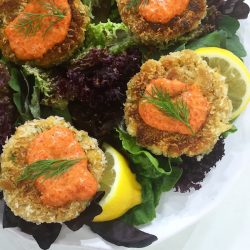 Hearts of Palm "Crab" Cakes
To make these cakes lower calorie/fat bake them at 350° for 25 minutes, and flip halfway through.
Ingredients
1 14-

oz

can chickpeas

unsalted beans

1 14-

oz

can hearts of palm

chopped into large pieces

1

jalepeño

seeded and minced

¼

cup

vegan mayonnaise

I prefer Just Mayo

2

tbsp

Old Bay seasoning

1

tsp

umeboshi plum vinegar

1

tsp

dijon mustard

1

cup

panko bread crumbs + ½ cup for coating
Instructions
Place the chickpeas, hearts of palm, and jalepeño into a food processor and pulse to combine and mash. Don't over process it though, you still want some crabby texture.

Scoop the chickpea mixture into a large bowl and add the other ingredients. Stir well to combine.

Place the remaining ½ cup of panko in a shallow dish.

Heat an oil coated skillet on medium-high heat.

Form the "crab" mixture into small patties–making sure to pack the mixture tightly, and then coat in the panko in the shallow dish.

Pan fry for 3 minutes on each side.

Do this with the remaining batter. I usually fit 4-5 patties on the skillet at a time. When they are cooked, transfer them to a plate covered with paper towel.

Serve with a dollop of vegan mayo and fresh greens.