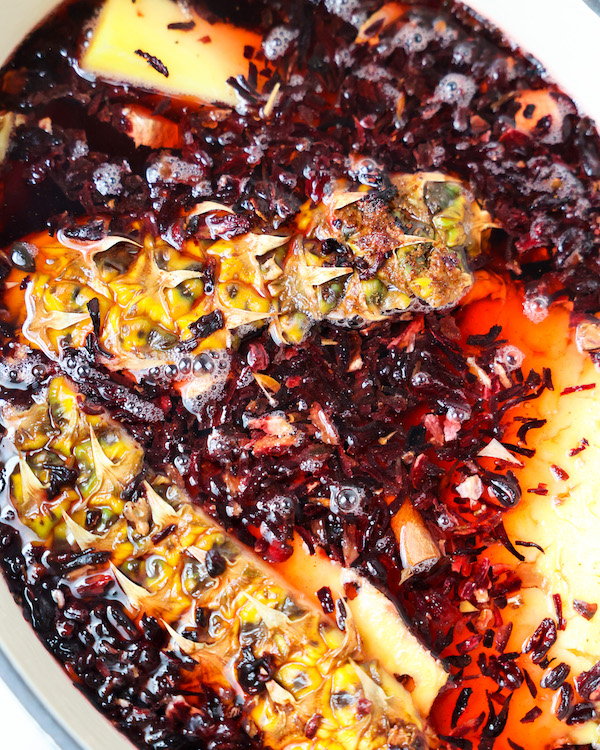 Pineapple skin tea is a popular and refreshing Jamaican drink made with pineapple peel and ginger. It has become more and more popular because of its light and sweet taste and enticing health benefits. My variation is made with tart and equally beneficial hibiscus flower, as well as  cinnamon, cloves, and coconut sugar. This tea does it all!

This vegan Hibiscus Pineapple Skin Tea is…
Delicious hot or iced
Tart and Sweet
Refreshing
Easy to make, and hard to mess up
Easily customized
Nutritious

Star ingredients
Pineapple core and skin are the star of this delicious drink. These pineapple "scraps" are boiled along with the hibiscus and spices to impart  sweetness and delicious, fruity flavor to the tart drink. Pineapple skin and core is high in vitamin C and bromelain, a digestive enzyme––though this enzyme may be broken down with boiling (see note below).
Hibiscus is the other star of this delicious drink. It brews dark red and has tart flavors that are similar to cranberry.
Clove. Adding spices like these to your tea elevates and brings more depth to it. You may already have cloves already in your cabinet!
Ginger. This brings some life and zing into this already delicious drink.
Where to buy Hibiscus
Depending on where you're buying your hibiscus leaves, it may have different names: red sorrel or agua de Jamaica being the most popular. Hibiscus is also called sour tea, sudan tea, karkade, or lo-shen.
Should I use whole or ground clove?
At the time of testing this recipe I was out of whole cloves and used ground. It does the same thing but this way does leave extra matter at the bottom of your tea. If you don't mind, it's perfectly okay to drink. Otherwise, use a cheesecloth instead of a strainer to have a 'cleaner' tea.
Does Boiling Pineapple Skin Affect Bromelain?
Pineapple is rich in bromelain, an enzyme that supports healthy digestion. This enzyme is also responsible for the raw feeling you get on your tongue after eating too much of pineapple. Boiling pineapple skin can break down the enzymes like bromelain, reducing its effectiveness. If you are looking into pineapple skin as a digestive aid try soaking it in room temp water overnight or blending the core to make smoothies instead.
Hibiscus Health Benefits
While it's not as common in the west, there are many cultures and countries who recognize the medicinal properties of hibiscus. In some areas, it is used to help treat diseases like high blood pressure, decrease your body temperature, heart disease, cholesterol, and weight loss. While these things should be discussed with your doctor, there are other obvious benefits to Hibiscus as well.
Hibiscus is high in vitamin c, iron and antioxidants. That means you are fighting free radicals in your body, supporting growth and repair in your tissues, and helping boost your immune system. It's also an antimicrobial and can help boost your metabolism. Super Tea! Of course this doesn't replace bad habits, but it is a good occasional habit to add onto your list.
Pineapple Skin Tea Benefits
There are even more benefits to this Hibiscus Pineapple Tea because of the pineapple peel. It has enzymes that help with your digestion and bromelain which helps fight pain and inflammation. Pineapple bark also has a high amount of vitamin C and magnesium, micronutrients that can help boost your immunity and aid in you getting a good night's rest respectfully. Both also promote healthy skin.
How to make Pineapple Skin Tea
Do you remember that phrase "set it and forget it?" It's the best part about this recipe!  You'll want to start by washing your pineapple using a vegetable brush if you have it. Grab a large pot and add all of your ingredients to it. Bring your water to a boil over medium-high heat and then lower the heat to a simmer. Let all your flavors come together in the pot for 45 mins up to 1 hour. Remove from the heat and allow the tea to cool until safe enough to strain. Strain into a pitcher or large jar, then stir in coconut sugar. Serve warm or over ice.
Substitutions
Spices you can add to your tea instead of or alongside clove: cardamom, cinnamon sticks, and star anise. Many people add freshly ground turmeric roots or ground turmeric, which has its own beneficial properties including fighting inflammation.
Some other things you can add to your tea: lavender, rosemary, thyme, fresh mint, or oranges. You can add a splash of lemon juice or lime juice at the end if you'd like as well. If you don't have coconut sugar, you can use brown sugar or maple syrup instead.
Also try these refreshing beverages
Hibiscus Pineapple Skin Tea
Enjoy this refreshing hibiscus pineapple skin tea over ice or hot. It's easy to make, nutritious, and full of fruity sweet tart flavor.
Ingredients
½

cup

dried hibiscus flowers

1 ½

tsp

ground clove or 5 whole cloves

½

cup

coconut sugar

1

Skin and core of 1 whole ripe pineapple

skin should be thoroughly washed

10

cups

water

1

inch

ginger, chopped

1

stick of cinnamon

1/2

tsp

turmeric

optional
Instructions
Place all of the ingredients in a large pot.

Bring water to a boil, then reduce heat to a simmer.

Place a lid on over the tea and continue to simmer on low for 45-60 minutes.

Remove from the heat, and allow the tea to cool until safe enough to strain.

Strain into a pitcher or large jar, then stir in coconut sugar (add more to taste if desired). Serve warm or over ice.
Notes
Make sure to thoroughly wash the pineapple before slicing. Use a brush to get any debris out of the creases. 
Allow the tea to cool significantly before straining. 
Keep the pineapple skin tea fresh by storing in the refrigerator for up to 5 days. Cover the pitcher with plastic wrap to avoid soaking up fridge flavors. 
Stir the tea each time before serving. 
Serve tea over ice or warm. Reheat on the stove or in the microwave.