This blog post is sponsored by VELUX. I was lucky to collaborate with them to install 3 kitchen skylights in my home! The result is absolutely stunning!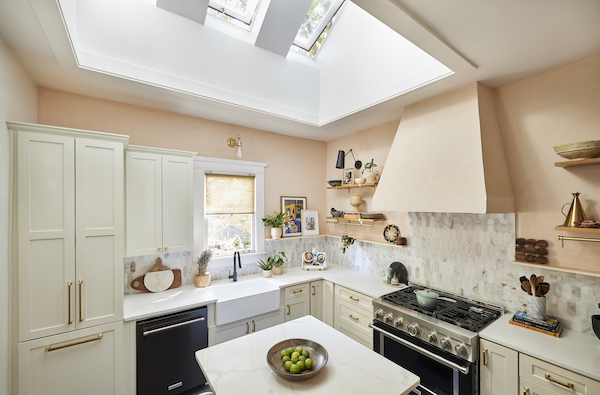 Adding kitchen skylights may be the best decision I made while renovating my home! I knew since moving into my Atlanta Victorian bungalow I wanted to renovate my dark and closed off kitchen. Skylights were non-negotiable! As you know, the kitchen is my favorite room in the house. I live in this room: cooking, recipe testing, filming, and spending time with friends and family. My VELUX No Leak Solar Powered Fresh Air Skylights bring natural light and fresh air into a space that was in serious need of sunshine. Skylights boost my mood, and make me so happy to see the beautiful trees and blue sky above my kitchen. When the weather permits, I open my kitchen skylights to let in fresh air. 
Why I love my VELUX kitchen skylights
Let in natural light and sunshine all day

Open to let in fresh air and circulate the air in my home

Close automatically when it rains

Solar powered, and require no wiring

Open and close with a remote or phone app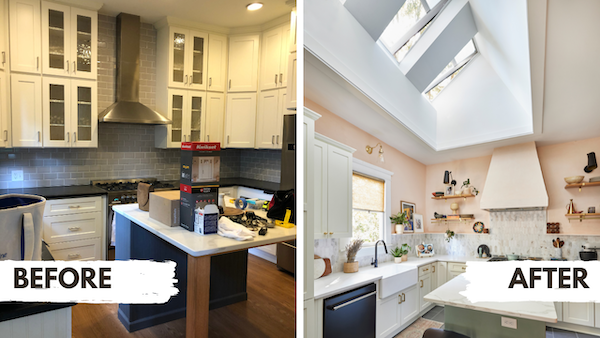 Why I chose VELUX Fresh Air Skylights
I chose VELUX No Leak Solar Powered Fresh Air Skylights because they have a great reputation as long-lasting, beautiful, and dependable venting skylights. VELUX Skylights were an obvious choice because I film and take photos in my kitchen. Before skylights, the kitchen only had one small window that didn't let in much light. I struggled to light my videos and photos. My videos are so much better now, thanks to the addition of skylights.
Should I get venting skylights?
Venting skylights are especially useful in kitchens and bathrooms. By opening my kitchen skylights I get significant fresh air circulating which comes in handy when cleaning, cooking, and when I burn things (oops!). VELUX Fresh Air skylights come with screens too, so you won't have to worry about bugs getting in. My house is surrounded by mature oak trees––a haven for bugs––and I haven't had any issues (even at the height of summer).
VELUX No Leak Solar Powered Fresh Air Skylights are operated with a remote control, and will close automatically at the first sign of rain! 
How much do skylights cost
? 
Pricing will vary based on how many skylights you're adding. It also depends on factors like whether your ceiling is flat or vaulted, whether you need to alter the structure of the home, and placement in the ceiling. I have three kitchen skylights. The total cost for all three including installation came to about $13k. To know what price to expect for your home, VELUX provides virtual design consultations with audio-only or video chat. The company will answer questions, tell you what rooms are viable options, and can recommend a local installer. Click here and visit the VELUX website to view price ranges for the product and labor so you can get an estimate for your home.
Will kitchen skylights leak?
VELUX skylights come with a 10-year No Leak warranty on product and installation, whether installed by a VELUX trained installer, a general contractor or a roofing company. The important thing is that whoever installs your skylights must follow the installation instructions provided by VELUX.
You may be worried rain getting in because you or someone in the family left your Skylights open. VELUX's No Leak Solar Powered Fresh Air Skylights come equipped with a remote, smartphone app, and an acoustic rain sensor that will close at the first sign of bad weather. They're solar powered so you won't have to worry about wiring during installation. They also come with solar powered shades to help filter out light if needed.
Who should I hire to install my kitchen skylights? 
Visit the VELUX website to find an independent certified installer. The company recommends using a certified installer rather than a general contractor or roofing company to avoid improper installation and leaking skylights. 
My kitchen skylights were installed by Georgia Solar Lighting. The company is an independent certified VELUX installer and they only sell VELUX Skylights. Jason and his team made everything very easy for me. They even worked around the contractors who were renovating other parts of the house at the same time.
You can win skylights! 
Enter the VELUX Autumn Air Sweepstakes to win two VELUX No Leak Solar Powered Fresh Air Skylights with solar-powered shades and installation. Giveaway ends October 31 at 11:59:59 pm ET, so click here to enter now! 
If fall has you pumped to turn off the AC and open your windows, imagine adding skylights for even more soothing fresh airflow. Enter for a chance to win skylights to brighten and refresh a room in your home.
I genuinely love the addition of every skylight in my home. I added a large one in my bathroom that makes the space feel and look like a luxurious spa. I also added two VELUX Sun Tunnel skylights to my previously dark bedroom, and one in Baby J's windowless bathroom––which looks amazing with her new colorful wallpaper. My bedroom looks bigger and art pops more with the natural light from the two Sun Tunnel skylights I added. I can't recommend the VELUX No Leak Solar Powered Fresh Air Skylights enough.