This post is sponsored by Bob's Red Mill, my favorite brand for high quality whole grains. They invited me to share their back-t0-school essentials, and to create a delicious recipe using one of their whole grain products. These oat bran sweet potato muffins are my new favorite grab-and-go breakfast!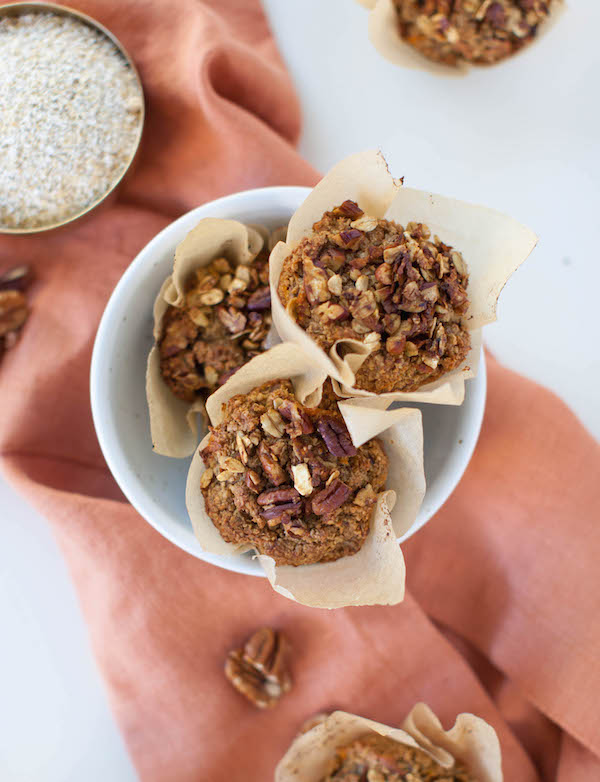 They say breakfast is the most important meal of the day. I'd have to agree. The promise of a great breakfast is sometimes all I need to pull myself out of bed. A breakfast rich in fiber and healthy fat will fuel your body and brain for hours.
These fluffy and moist sweet potato muffins are made with Bob's Red Mill oat bran, almond flour, coconut sugar, dates, pecans, and shredded sweet potato. They are full of fiber and flavor, and will keep you satisfied for hours. These are certainly my new favorite muffins!
I love Bob's Red Mill products, and I especially love them for breakfast. If I'm not eating these sweet potato muffins for breakfast every day (yes, I am a little obsessed), I'm having a bowl of creamy teff porridge, hearty oats, or a savory freekeh salad: all made with Bob's Red Mill whole grains. So when they reached out to me to collaborate on a hearty and delicious back-to-school breakfast, obviously I jumped at the opportunity.
These oat bran sweet potato muffins are perfect for breakfast, as a lunchbox snack, or even as a healthy dessert. They definitely get extra points for being not only vegan, but gluten free! And these aren't your 1970s dry oat bran muffins. The mix of oat bran and almond flour makes them perfectly moist and fluffy. The shredded sweet potato, dates, and chopped pecans take the texture to the next level!
Of course making these glorious muffins does take a little time (40 minutes in the oven), so in case you don't plan ahead, make sure to keep other Bob's Red Mill whole grains in your kitchen. Like I said, I use their whole grain teff for porridge regularly, but I also love their grab-and-go gluten-free oatmeal cups, barley grits, and oats.
Oat Bran Sweet Potato Muffins
Author:
Prep time:
Cook time:
Total time:
These oat bran sweet potato muffins are delicious and easy to make. In case you need to make them nut-free replace the almond flour with whole wheat pastry flour, a gluten-free flour blend, or a mix of brown rice or buckwheat flour and coconut flour. The pecans can be skipped to make it nut free, or replace them with pumpkin seeds.
Ingredients
Streusel Topping
1/4 cup shredded raw sweet potato
1/4 cup chopped pecans
1 tablespoon coconut sugar
1/4 cup oats
1/2 teaspoon cinnamon
dash salt
1 teaspoon grapseed oil or melted coconut oil
Muffins
1 tablespoon ground flaxseed + 2 tablespoons water
1/2 cup unsweetened plain applesauce
1/2 cup plain unsweetened soy milk or other non-dairy milk
1 tablespoon vinegar
2 tablespoons coconut oil or grapeseed oil
1 teaspoon vanilla
1 cup almond flour
1 cup oat bran
1/3 cup coconut sugar
1 teaspoon baking powder
1/2 teaspoon baking soda
1 teaspoon cinnamon
1/2 teaspoon nutmeg
1/2 teaspoon salt
1/2 cup shredded raw sweet potato
1/2 cup chopped pecans
1/2 cup chopped dates
Instructions
Preheat oven to 375°, and prepare a muffin tin with muffin liners or non-stick spray.
Streusel Topping
In a small mixing bowl combine the sweet potato, pecans, coconut sugar, oats, cinnamon, salt, and oil. Stir well, then set aside for later.
Muffins
In a small bowl combine the flaxseed and water, then set it aside to thicken for 3-5 minutes.
In a mixing bowl combine the applesauce, soy milk, vinegar, oil, and vanilla. Stir well, then add the thickened flaxseed mix.
In another mixing bowl combine the almond flour, oat bran, coconut sugar, baking powder, baking soda, cinnamon, nutmeg, and salt. Whisk to thoroughly combine.
Pour the wet ingredients into the try, and stir to combine.
Then fold in the shredded sweet potato, pecans, and dates.
Spoon the batter evenly into the baking cups, then top with the streusel.
Bake for 35-40 minutes.
Allow to cool before serving.
These sweet potato muffins will stay fresh for 3-5 days. Store them in an airtight container at room temperature or in the refrigerator. They can be frozen.
Save