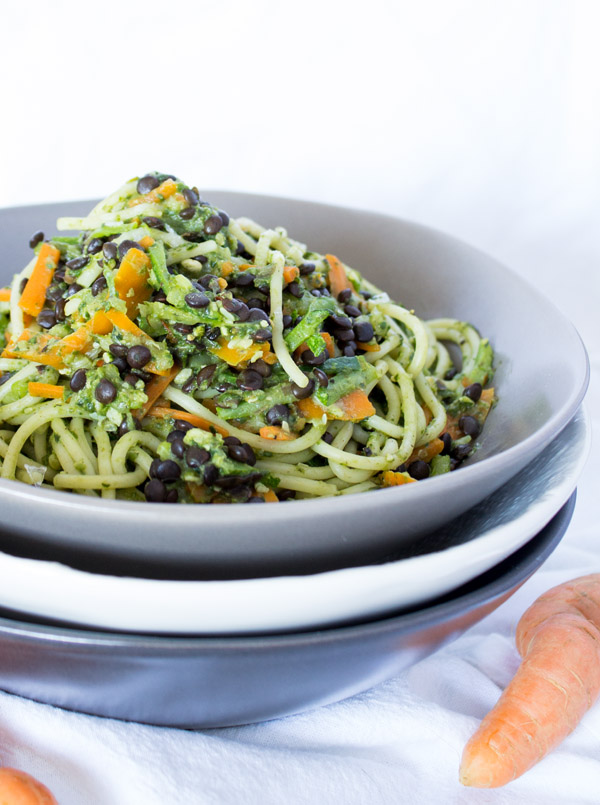 [Sponsored Post] 
In New York City, the best way to transport large amounts of groceries is with a rolling cart. Not the flimsy metal ones that you push and can't take up and down the subway stairs. I'm talking about the fabric ones with city-terrain wheels, and pockets for your shopping list and water bottle; aka, the Grandma cart.
Need to spot me on a crowded street? Look for the brightly colored cart zipping through foot traffic. If I'm doing any zipping, though, it must be because my cart is empty, and I'm on my way to fill it to the brim. Once filled, I will usually hop into an expensive cab to get myself home quickly and without injury (taking a Grandma cart packed with groceries on the subway can invite injury, and a nervous breakdown). By the time I'm home with my groceries, some of the fruit will inevitably be squashed, and looking at my receipt I will probably notice that I've been overcharged by a cashier who doesn't know her chiogga beets from her golden beets.
Oh, and that's just after a quick trip to stock up at the grocery store. I haven't even made it to the farmer's market yet!!
CSA
I considered joining the CSA (community supported agriculture) program at my yoga studio to avoid having to go shopping so often. Each Wednesday the studio lobby is filled with boxes of newly picked and plucked produce. But, let's be real. I ride my bike to class, and I've had dangerous grocery road spills when cycling over neglected Harlem speed bumps.
Of course, this is just the reality of living in New York City. Nothing worth having comes easy.
My goodness, I'm trying so hard not to sound endorse-y right now, but I had a box of farm fresh produce delivered to my front door the other day from Fresh Direct, and…. I'm just saying, I'm really not so sure of that "nothing worth having comes easy" saying anymore.
Fresh Direct, a grocery delivery service––in NY, NJ, VT, and PA––offers a CSA box composed of nourishing produce from a Pennsylvania small farm cooperative. The delivery girl rang my doorbell, I thanked her for the box, I did my happy dance (after she departed), and I put all of the goodies in my refrigerator. Easy, and so worth having!
"But what will I do with all of that produce?"
"I always let some of it go to waste because I don't know how to use it all."
I've heard these concerns many times when discussing CSA boxes. The nature of a CSA is that you receive a variety of produce that you don't get to select prior. In the Fresh Direct box I was given:
cucumbers
green bell peppers
rhubarb
spinach
kale
cabbage
green beans
carrots
What in the world do you do with all of that?
Here are some ideas:
Jump on Foodgawker and search the ingredient you'd like a recipe for. For example, a search for green peppers resulted in recipes for stuffed peppers, quesadillas, curries, salads, and stir-fries. I don't even like green peppers, but I know they'd be good in any of the above. So will many of the other veggies I received.
Turn the fruit into jam if you cannot eat it quickly enough. Canning fruit has been a food preservative of choice for more than two hundred years. If you're intimidated by actual canning, stick the leftover jam in the freezer. That rhubarb I received will be jammed up asap.
Make a stock from all of your vegetable scraps. I'm very committed to composting all of my food scraps; and, I save stalks, tips, skins, and surplus veggies in a separate bag in my freezer to use for vegetable stock. It's the easiest thing in the world to make, and can be frozen for use in future cool weather soups. Simply boil your veggie scraps for about 1 hour, allow it to cool, strain the stock, and store or use immediately. Easy!
Throw them into a smoothie or juice. Of the produce I received in my CSA delivery, I would happily juice and blend the cucumbers, spinach, kale, cabbage, and carrots. Done and done!
Store properly to keep your produce fresh for as long as possible. Upon receiving the produce I stuck everything in its own plastic produce bag (I save and recycle all of my bags from the grocery store), then placed them all into the refrigerator. If you need to wash the vegetables before storing them for easy access throughout the week, make sure they have dried completely before you put them in the fridge. When storing washed greens, stick a paper towel in the bag/container to absorb any moisture, and replace daily. Cut the tops off of carrots, beets, and radish before storing separately. If you want to freeze any of the produce, blanch then shock it before freezing in a freezer safe bag.
What can I make from a CSA box?
Okay now! Fresh produce from a local CSA can be delivered to your door for less than $30. And you now know how to use all of that good stuff once it gets to you. I don't want to hear any excuses about why you can't eat healthy. It comes straight to your door!! If you really don't have any time at all to cook, then eat it raw! That's healthy too ya know 😉
You may also know that I'm a serious pesto fan. I decided to use the tops of the carrots and the spinach leaves to make a vibrant pesto to serve with carrot and zucchini noodles, black lentils, and pasta. It's a quick and healthy recipe that makes a perfect vegan lunch or dinner throughout summer!
What would you make with the produce I received in the Fresh Direct CSA delivery? Post your recipes to Instagram and Facebook using #FDCSA and #sweetpotatosoul I can't wait to see your recipes!
Vegan Spinach Pesto Pasta
I used spinach and carrot tops in this pesto because that's what I recieved in my CSA box. However, most herbs (basil, mint, cilantro, parsley, dill) and greens (kale, beet greens, arugula) make wonderful pestos, even when combined with other greens like I did. Pinenuts––the traditional pesto nut––can be used instead of sunflower seeds. Also toasted pumpkin seeds, pecans, walnuts, almonds, or a combination of things. Pesto is so flexible! One more tip: If you don't eat wheat use gluten-free pasta. Do I get a "duh" for that one? I thought I should mention it anyways 😉 Bon appétit!
Ingredients
Pasta
1/2

box spaghetti noodles

2

zucchinis

julienned with a peeler to make "noodles" (about 2 cups)

3

carrots

julienned with a peeler to make "noodles" (about 2 cups)

sea salt

black pepper
Pesto
4

cups

spinach leaves

2

cups

carrot tops

the greens

1

cup

toasted sunflower seeds

1

clove

garlic

roughly chopped

juice of one lemon

1/4

cup

olive oil

or water if you want to avoid oil
Additions
1-2

cups

cooked lentils

I used black lentils that I had cooked already

1

tsp

sea salt

1/2

tsp

red chili flakes
Instructions
Pasta
Bring 8 cups of water to a boil.

Add the wheat/gf spaghetti, and stir constantly for 30 seconds (this will help it release its starch and avoid sticking)

Continue to cook the pasta for 6 minutes.

Add the zucchini and carrot noodles and cook for another 2 minutes, until pasta is al dente (or how you prefer it).

Remove from stove, and strain.

note: While the pasta is cooking, make the pesto.
Pesto
Place all of the ingredients into a food processor or blender and blend until smooth (or your desired texture is reached). It should be very salty, so add more if necessary. Or, if you cannot tolerate salt, disregard that last part.

Toss the pesto with the cooked pasta and lentils. Season to taste with more salt (I added about another 1 tsp), black pepper, and chili flakes.