This Smoky Maple Roasted Brussels Sprouts & Carrots recipe is part of my round up of delicious Thanksgiving recipes. Check out the video and additional recipes below. For more comforting goodness make sure to order my cookbook, Sweet Potato Soul. Happy Holidays!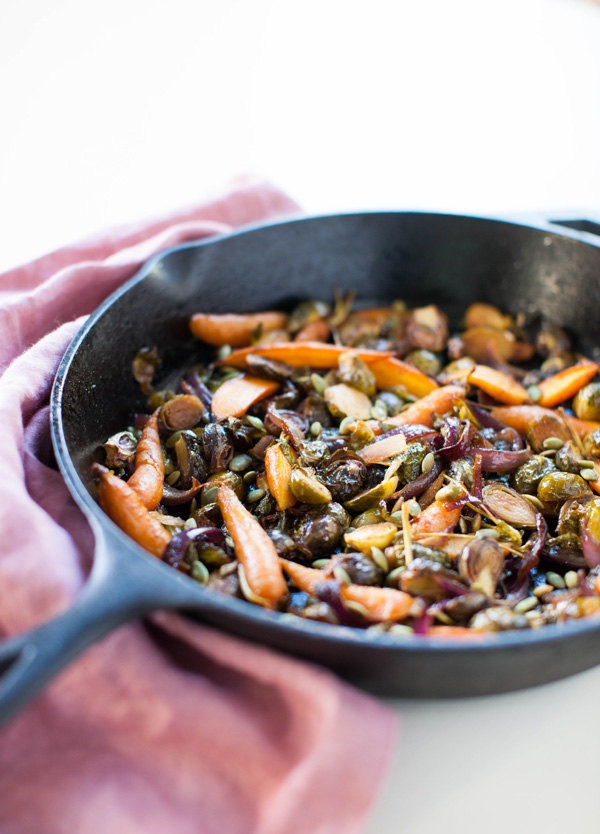 Nothing says cold weather food like roasted vegetables. Whether they're cruciferous, starchy, roots, tubers, or herbs, vegetables are turned into edible magic when cooked uncovered and exposed to sweltering temperatures. I'm sure you can guess that sweet potatoes are my favorite vegetable to roast, but I also love brussels sprouts, carrots, and onions…all members of this smoky maple roast vegetable medley!!
Your Thanksgiving table is begging for this hearty dish! And once you taste it, you're going to want to make it throughout the fall and winter months. Yes, it's so good you may miss it in summer 🙂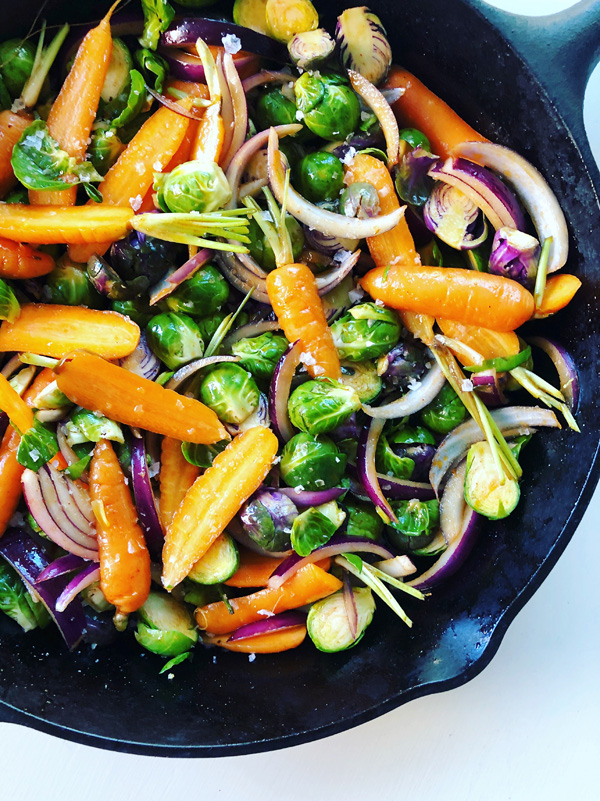 Like all great meals, this one begins with fresh and flavor-packed seasonal vegetables. I am addicted to brussels sprouts, so naturally I chose to include them, along with tiny carrots from my local farmer's market. And I threw in some onion for good measure.
On a normal day I might toss them with oil and salt, and roast them like that. However, a special occasion like Thanksgiving calls for a special treatment of this already delicious dish. I just added maple syrup, smoked paprika, and cayenne, and voila: Smoky Maple Roasted Brussels Sprouts & Carrots.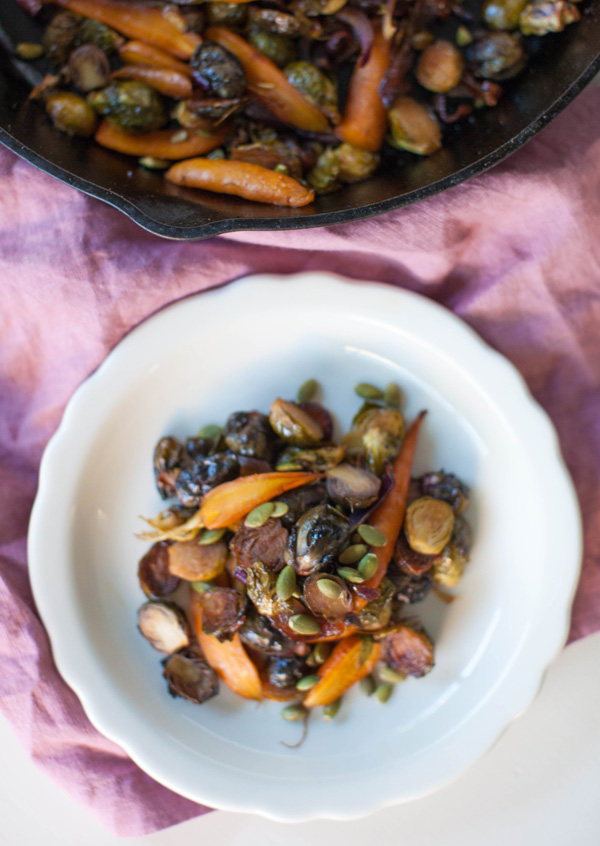 Check out my other favorite Thanksgiving savory recipes in the video below!! As you'll notice, the video was sponsored by Squarespace. Use my link to get 10% off your next website or domain.
Smoky Maple Roasted Brussels Sprouts & Carrots
This Smoky Maple Roasted Brussels Sprouts & Carrots recipe is perfect for Thanksgiving or any other occassion...even just weeknight dinner. The vegetables are interchangeabe. If you don't have Brussels sprouts use cauliflower, broccoli rabe, cabbage, or broccoli. If you don't have carrots try parsnips, sunchokes, sweet potatoes, beets, or other vegetables you like. Have fun with this recipe!
Ingredients
1/2

red onion

thinly sliced

1

lb

brussels sprouts

halved

1

lb

small carrots

halved, or diced

1

tablespoon

maple syrup

1

teaspoon

smoked paprika

1/4

teaspoon

cayenne pepper

2

tablespoons

grapeseed oil

1

teaspoon

sea salt

1/4

cup

toasted pumpkin seeds
Instructions
Preheat oven to 375°.

Place cut vegetables into a skillet or onto a baking sheet.

In a small bowl mix together the maple syrup, smoked paprika, cayenne pepper, and oil. Pour the mixture over the vegetables, and toss to coat.

Sprinkle salt over the vegetables, and roast for 40-45 minutes, or until the vegetables are tender.

Check your vegetables 30 minutes into the cook time, and stir them if necessary.

Serve hot and garnished with toasted pumpkin seeds.