Hearty, bursting with flavor, amazing texture, and nourishing: all words I would use to describe these incredible Wild Rice Stuffed Sweet Potatoes. This wildly delicious entree is made with tender mushrooms and wholesome rice, then topped with red pepper cream sauce and spiced pecans. You'll want to add this to your regular rotation!

Stuffed Sweet Potatoes are a Dinnertime Darling
I will never tire of stuffed sweet potatoes. They're easy to make, yet totally gourmet in taste and appearance. Of course, filling options for stuffed sweet potatoes are endless, but fresh herbs, mushrooms, whole grains, and a tangy sauce are always my first choice. 
What to do with the sweet potato "flesh"?
When I make stuffed sweet potatoes I scoop the flesh out of the center before filling with grains. The red pepper sauce (recipe below) calls for some of the flesh in the recipe. It makes it creamier! Any remaining flesh can be frozen. 
Or use it to make: 
Or add it to your oatmeal in the morning. Have a baby? Babies love sweet potatoes!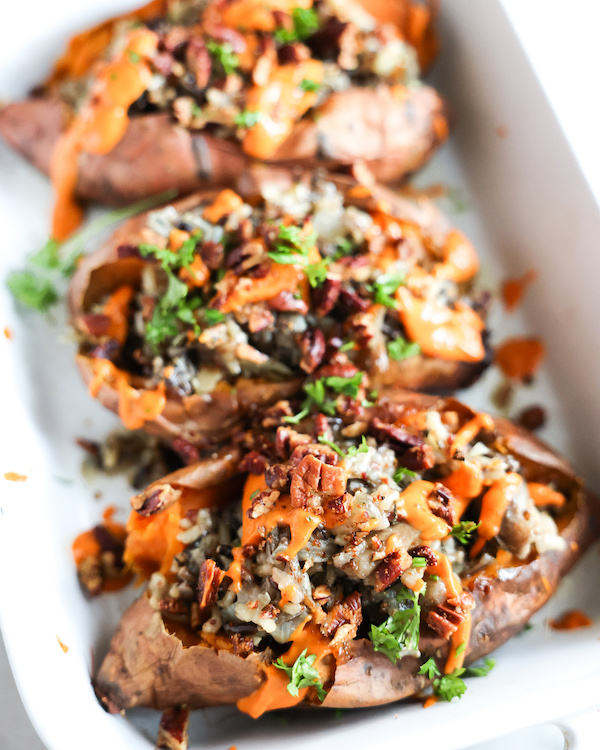 Stuffed Sweet Potatoes = Meal Prep Magic
Yes, you can make this on your meal prep day. They will stay fresh in the fridge for 5 days, and can be reheated in the microwave. 
Tip: When preparing this recipe for the week, don't add the herb roasted pecans or red pepper sauce until serving. 
Wild Rice & Mushrooms
Though delicious, wild rice is quite expensive, around $13/lb. Instead of splurging on a bag of this whole grain, I like to buy a wild rice blend. This blend contains wild rice and a few varieties of brown rice. It's chewy, easier to cook, and just as delicious. Of course, if you choose to use 100% wild rice that works too.
Great mushrooms will take this meal to the next level. I like to use a blend of maitake (pictured below) and oyster mushrooms. These mushrooms have a meaty texture––though maitake is more delicate, and rich mushroom flavor. They're also very nutritious. Look for these special mushrooms at your local Asian grocery store, like HMart.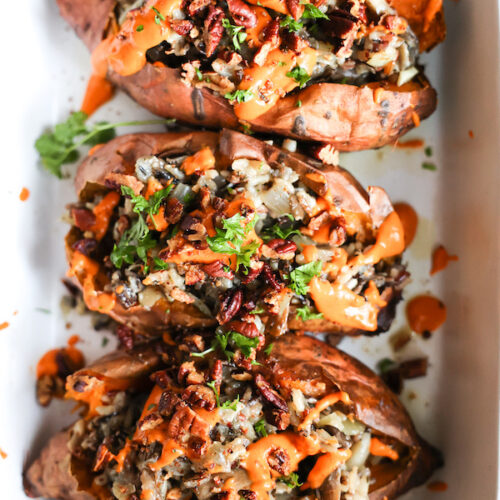 Wild Rice Stuffed Sweet Potatoes
The perfect main for your plant-based Thanksgiving. These stuffed sweet potatoes can even be served as a side along with other items. Tender roasted sweet potatoes stuffed with wild rice and mushrooms cooked in a vegetable broth with herbs and spices. Topped with a roasted red pepper sauce and herb roasted chopped pecans.
Ingredients
4

whole sweet potatoes

about 2lbs

1

tbsp

extra-virgin olive oil

1

cup

wild rice blend

1/2

yellow onion

about 3/4-1 cup, diced

2

cloves

garlic

minced

3

cups

assorted mushrooms

chopped. I used maitake, oyster, and shiitake

1/2

tsp

dried rosemary

1/2

tsp

dried thyme

2 1/2

cups

veggie broth or 2 1/2 cups water + 2 tsp veggie bouillon paste
Creamy Red Pepper Sauce
1

roasted red pepper

seeds removed

2

tbsp

sweet potato flesh

scooped from baked sweet potatoes

1

small garlic clove

chopped

1

tsp

smoked Paprika

2

tsp

fresh lemon juice

1/2

tsp

salt

2

tbsp

extra-virgin olive oil
Herb Roasted Pecans
1

cup

chopped pecans

1

tbsp

extra virgin olive oil

1

tsp

fresh rosemary

1/2

tsp

garlic powder

1/2

tsp

salt
Instructions
Preheat oven to 375°F.

Poke fork holes into the sweet potatoes, then rub a bit of oil onto each one. Place them on a baking sheet and bake for 45 minutes, or until very tender.

While the sweet potatoes are in the oven, make the rest of the items.

Sauté diced onion in a saucepan on medium heat. When tender, add the garlic, mushrooms, wild rice blend, rosemary, thyme and vegetable broth. Bring it to a boil, then reduce the heat to medium-low and simmer. Place a lid over the pan, keeping it ajar, and cook for 30 minutes, or until the rice is tender. Season with salt and pepper and add more to taste if necessary. Set aside and keep warm until ready to fill sweet potatoes.

Once the cooked sweet potatoes are out of the oven and cool enough to handle, cut them in half. Scoop out the center of each sweet potato––about half of the flesh––and set it aside.
Red Pepper Sauce
Into a blender add the roasted red pepper, 2 tbsp of sweet potato, garlic, smoked paprika, lemon juice, and salt. While it blends, pour in the olive oil.
Herb Roasted Pecans
Toss the pecans with olive oil, rosemary, garlic powder, and salt.

Reduce oven temperature to 350°F. Roast pecans for 10 minutes, or until fragrant and golden.

Assembling the sweet potatoes: Fill the scooped out sweet potatoes with the wild rice filling, and top with red pepper sauce. Serve with herb roasted pecans.
Notes
Some of the sweet potato flesh you scooped will be for the red pepper sauce, the rest you can save. It'll stay fresh in the refrigerator for about 7 days. It's great for baking, adding to oatmeal and smoothies, or eating as a snack.