I'm excited to announce the pre-order of my cookbook, SWEET POTATO SOUL. Purchase your copy today at Amazon, Barnes & Noble, Books-A-Million, Indie Bound, or iBooks.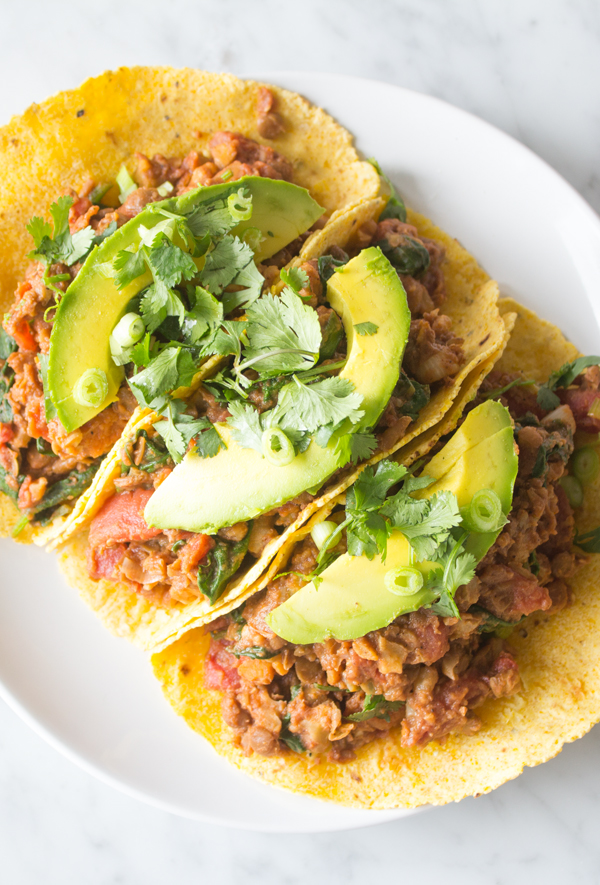 Who doesn't want easy vegan recipes? Even the best home cooks and chefs want amazing food in a hurry. I love spending time in the kitchen, working on complicated recipes with multiple parts, but not everyday. If I had to cook like that on the regular, I would not eat. Or maybe I would just resign myself to eating popcorn and tahini cookies for dinner every night.
The reality is you can make delicious, filling, well-balanced easy vegan recipes in under 15 minutes start to finish…cook time included…no joke. Don't believe me? Keep scrolling, baby!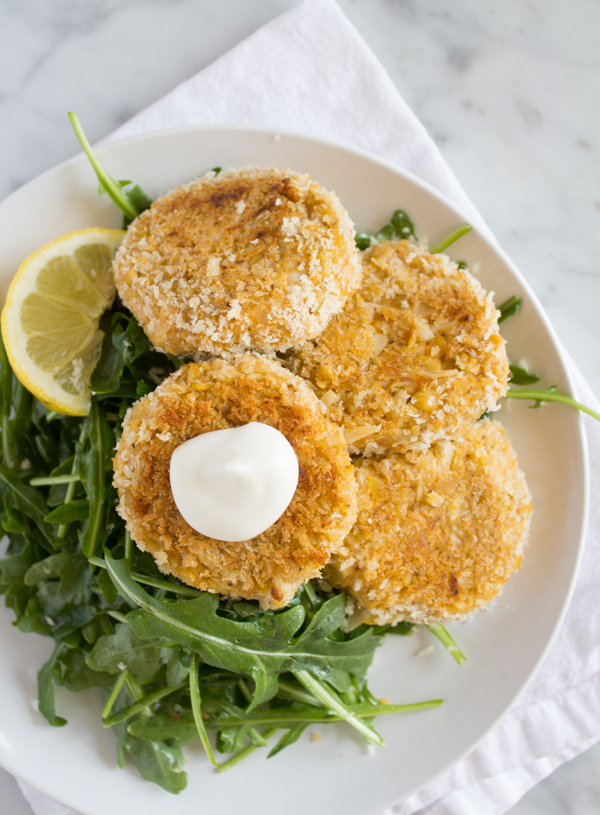 Vegan crab cakes over a bed of arugula tossed with a lemony dressing? Yes, even this restaurant-ready, gourmet-tasting dish takes under 15 minutes to make. The high sodium pre-prepped taco mixes aren't invited to our under-15-minute dinner party. You can make meaty and flavorful lentil walnut tacos from scratch. Or a colorful mango quinoa salad in just a few minutes. And just because it has more than 5 ingredients doesn't mean it's going to take 5 hours to prepare. 
Even better, these recipes aren't for one serving, but a full 4. That means you can feed more than yourself, or eat these quick and easy vegan recipes throughout the week. Yes, you can make all of these vegan recipes in under 15 minutes. I filmed a video to show you how it's done 😉 
Vegan Hearts of Palm & Chickpea Crab Cakes | Easy Vegan Recipes
These are the same vegan crab cakes that I made on the Today Show last year. They'll also be in my upcoming cookbook (Penguin Random House 2018), so you know they're good. Stock up on cans or jars of hearts of palm because you're going to want to make this often. Ume plum vinegar is a tangy briny Japanese condiment. Find it at health food stores (around $3.50) or online. An okay sub for it would be apple cider vinegar or lemon juice. To make gluten free you can use gf panko. Add a minced jalapeño pepper when you combine the ingredients for a little more heat.
Ingredients
1

can hearts of palm

drained

1

can chickpeas

drained & rinsed

1/4

cup

vegan mayo

1 1/2

tbsp

old bay seasoning

1

tsp

ume vinegar

1

tsp

dijon mustard

1/2

cup

panko crumbs + 1/2 cup more for breading

1/2

or 1 full bag of arugula

2

tbsp

olive oil

1

tbsp

lemon juice
Instructions
Place the hearts of palm into a food processor, and pulse a few times just to chop.

Add the chickpeas, vegan mayo, old bay seasoning, ume vinegar, and mustard, and pulse to combine. Don't over process it though, you still want some crabby texture.

Add 1/2 cup of the panko, and pulse one more time to combine.

Pour the other 1/2 cup panko into a shallow bowl.

Form the mixture into small patties (I can make 8) making sure to pack the mixture tightly, and then coat in the panko.

Heat a few tablespoons of oil in a skillet on medium heat. Or feel free to deep fry if you like it like that.

Pan fry for 3 minutes on each side.

Do this with the remaining batter. I usually fit 4-5 patties on the skillet at a time. When they are cooked, transfer them to a plate covered with paper towel.

To make the arugula salad, simply place the greens in a mixing bowl, add the olive oil, and lemon, and use your hands to lightly massage as you toss.

Serve the cakes over the arugula and with a dollop of vegan mayo and lemon wedge.
Mango Black Bean Quinoa Salad
This is one of the easiest recipes you can make. No kitchen even required! I usually buy the Seeds of Change brand precooked grains. However, I also recommend home cooking your grains and beans and keeping them stored in the freezer until you want to use them. This saves money, and makes your easy vegan meals a little more nutritious because you can control any added salt and oil.
Ingredients
1

package pre-cooked quinoa

heated in microwave according to package instructions

1

can black beans

drained & rinsed

1/2

ripe mango

diced

1/2

shallot

minced

1

tsp

cumin powder

1

tsp

fennel seeds

3

tbsp

fresh lime juice

about 2 limes + more to garnish

2

tbsp

olive oil

1/2

bag pre-washed mixed greens

salt to taste

1/4 to

roasted pepitas

chili flakes for garnish
Instructions
In a large mixing bowl combine the quinoa, black beans, diced mango, shallot, cumin, fennel seeds, and lime. Stir well.

Then add the mixed greens and olive oil. Use salad tongs or forks to mix the ingredients together.

Season to taste with salt, red chili flakes, and more lime juice.
Lentil Chili Tacos
This gets 5 stars for crazy delicious easy vegan recipes. If you don't have lentils on hand, you can use any beans instead. Make sure you warm your corn tortillas in the microwave or on the stove before filling and serving.
Ingredients
1

tbsp

grapeseed or coconut oil

6

green onions

white parts, minced (green parts saved for garnish)

1

garlic clove

minced

1

cup

chopped walnuts

finely chopped

1

tsp

cumin powder

1

tsp

chili powder

1

can lentils

drained

1

can diced tomatoes

1/2

bag baby spinach

1/2

avocado

sliced

1/4

cup

cilantro

chopped

1

lime

6

corn tortillas
Instructions
Warm oil in a skillet on medium heat.

Add the garlic and greens onions, and sauté about 1 minute.

Then add in the walnuts to toast for about 1-2 minutes.

Add chill powder and cumin to also toast for about 30 seconds to 1 minute.

Now add a can of cooked lentils, and a can of diced tomatoes. Stir well, and season with a little salt.

Bring it to a simmer and cook for about 5 minutes.

Turn off the heat, and stir in the spinach. It will wilt as you stir it into the hot food.

Season to taste with salt.

While the filling cooks, warm up tortillas in a skillet, or microwave for 30 seconds.

Fill the tortillas with the lentil chili, and top with avocado, green onion, cilantro, and lime.