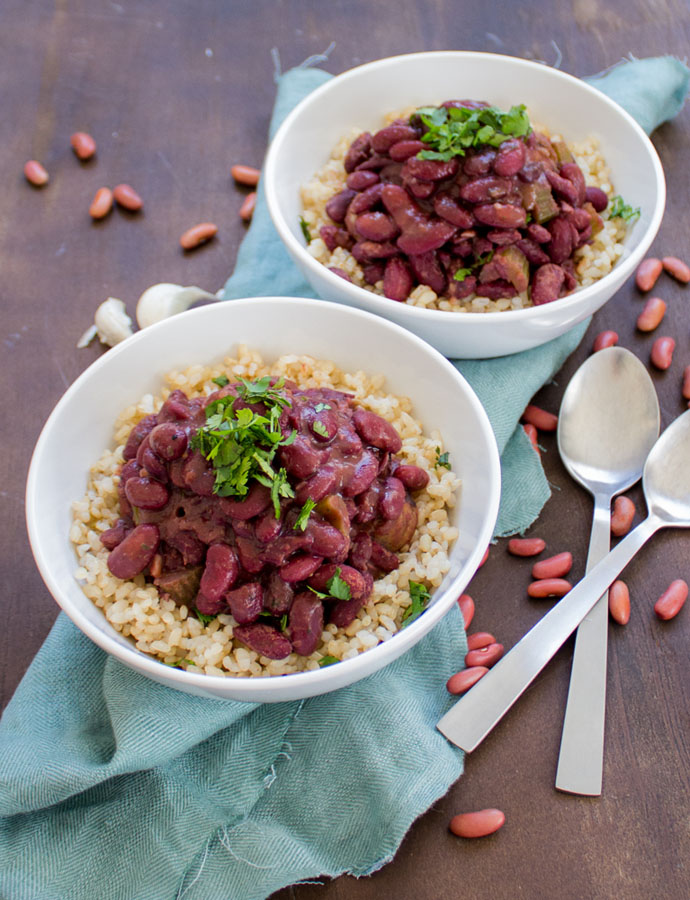 I have been eagerly waiting to share this recipe with you for so long. It just so happened that every time I made it, Maxx and I would devour the whole pot of beans before I had a chance to take pictures of it. We're really some bean lovin' people. By the time I managed to capture this pot of vegan red beans & rice, I had a little bowl of it to snack on as I shot. Tasting it really gave me photography inspiration 😉
There are few things as comforting to me as a hot bowl of smokey beans and rice. Roasted sweet potatoes, sweet potato pie, popcorn…oh…and chocolate. I'm sure there are others, but beans really have a way of sticking to your ribs and making you feel all loved on the inside.
This pot of beans may take overnight to soak, and about an hour to cook, but they are really easy to make. Heck, if you have a slow cooker you can throw them in there! Making beans from scratch is well worth the effort. They are more tender and tastier than their canned cousins. If you have any issues digesting beans toss some kombu (a mineral rich seaweed) in the pot as they cook, and it'll reduce the raffinose sugars (which are responsible for giving you gas and digestive problems). Adding kombu to reduce the toots will also help you to absorb more of the nutrients in the beans. Beans are obviously a great source of fiber and protein, but they also supply our bodies with important minerals––like magnesium, iron, zinc, and folic acid––b vitamins, and even antioxidants.
In New Orleans there is a tradition of making your red beans on Monday. You soak them
Sunday night, cook them Monday, and by dinner you've got a hearty meal that will last the week.
So, Happy Monday, now go make them beans!
New Orleans Style Vegan Red Beans & Rice
Camellia red beans are authentic to New Orleans, Louisiana. They're the most tender and tasty beans I've ever tried. If you can't find them in your local grocery store, buy them online. For my cajun seasoning I use Slap Ya Mama. I usually pick up these Southern products when I'm down south, but you can find this online too[/url].
Ingredients
1

pound

red beans // kidney beans

rinsed, picked through, and soaked at least 10 hours

2

cups

celery

diced

1

yellow onion

diced

3

garlic cloves

diced

10

cups

water

1 4-

inch

strip of kombu

4

bay leaves

2

tsp

dried thyme

1-2

vegetable bouillon cubes

3

tsp

smoked paprika

1

tsp

liquid smoke

more to taste if you like

1

tsp

cajun seasoning

more if yours doesn't have salt already

2

cups

rice

Any kind. My favorite is medium-grain brown rice

4

Field Roast smoke apple sage or Italian sausages

sliced

1

cup

parsley

chopped
Instructions
Heat a couple tablespoons of oil in a [url href="http://amzn.to/1OY8RZA" target="_blank"]heavy bottomed pot[/url]. If you're oil-free, warm some water to sauté.

Add the celery, onion, and garlic and sauté for a couple of minutes. Add a pinch of salt in there too.

Add the beans, followed by 10 cups of water.

Bring to a boil, then add the kombu, bay leaves, and thyme.

Reduce to medium low heat to simmer and cook for about 45 minutes. Check halfway through to skim off any foam that may form on the top.

While the beans are cooking, make your rice following the package instructions (brown and white have different instructions).

This is also a good time to fry your vegan Field Roast sausage in a couple tbsp of oil.

When the beans have finished cooking (taste a bean to make sure), remove them from the heat and stir in the bouillon, smoked paprika, liquid smoke, and Cajun seasoning.

Add another bouillon cube if you want it saltier (I usually do 2 cubes).

Stir in the vegan sausage.

Serve over rice, and garnish with parsley.