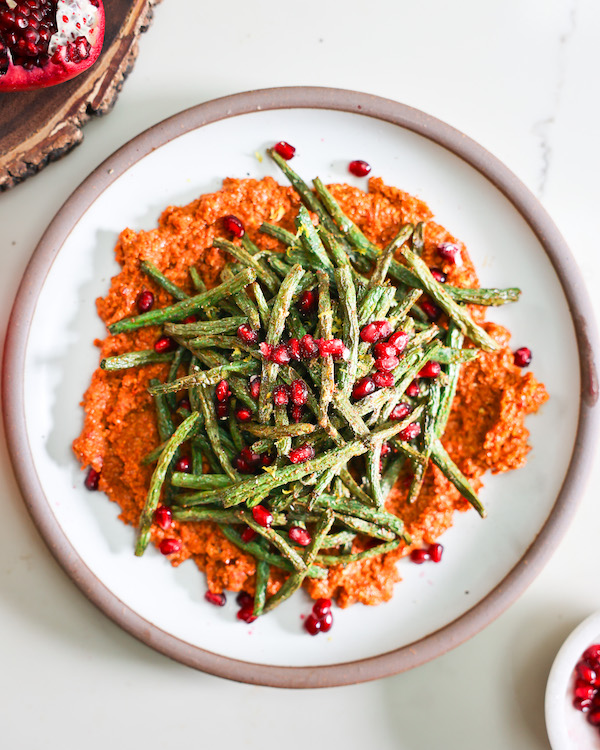 Green beans have never been better! These air fryer green beans are wonderfully crispy on the outside, and sublimely juicy and tender on the inside. Savory and yet subtly sweet. This perfect side dish is healthy and incredibly easy to make––just 10 minutes in the air fryer. The best part is, air fryer green beans taste and feel like total comfort food, but are actually super nutritious. If you've never tasted air fryer green beans, get ready for a treat.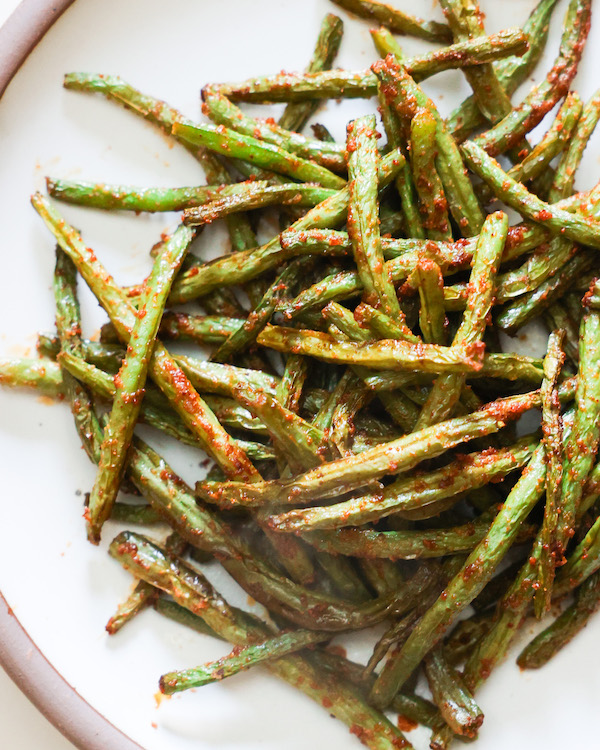 Once I start eating them I cannot stop! There's nothing better than crispy fried green beans fresh out of the air fryer. They actually remind me of eating french fries; offering all of the satisfaction of deep fried veggies, but without excess oil. Seasoned with smoked paprika and garlic powder, these green beans are full of flavor. And once the skin starts blistering in the air fryer, another level of the green bean's natural flavor is unlocked. I really think that the air fryer was made for green beans.
Why we love to air fry
This may be my favorite air fryer recipe, and the air fryer is one of my favorite small kitchen appliances. It is a must-have for any busy health conscious home cook. In minutes the air fryer will transform humble ingredients into a delicious meal. I also love that air fryer cooking requires a fraction of the oil necessary in frying, and even baking. This machine gets bonus points for heating up so quickly, without heating up my whole house like the oven would. There are so many recipes I have begun cooking in the air fryer that I used to rely on the oven or pan-frying for; like vegan crab cakes, sweet potato burgers, and spiced crispy chickpeas.
Of course, if you don't have an air fryer you can make these crispy green beans in the oven (instructions below). But if you are in the market for a great air fryer I recommend the following which are different price points: Philips XXL ($$), Ninja 2 Basket Air fryer ($$), Chefman Turbo Fry ($).
Do green beans and other vegetables lose nutrients in the air fryer?
Unlike deep frying and boiling, air frying will not strip your vegetables of nutrients. Phew! Because the air fryer cooks food quickly and requires less oil, the flavor of your green beans is enhanced while the nutrition stays intact.
Why we love this recipe!
For so many reasons, this is by far my favorite air fryer green beans recipe because it is:
Easy to make
Spiced right
Perfect for the holidays
Healthy but tastes like comfort food
Vegan

How nutritious are green beans?
Super healthy! To be honest, I had no idea how nutritious green beans were. For the longest time I associated green beans with overcooked Thanksgiving sides and cheesy casseroles. It turns out that green beans are an excellent source of vitamin K, vitamin C, beta-carotene, and magnesium. Green beans are also a good source of iron, folate, and potassium. Like most vegetables they boast anti-inflammatory benefits and are rich in fiber. Green beans contain complex carbohydrates. In addition to all of the goodness I've already highlighted, green beans are also a great source of plant-based protein. To make this recipe you'll need fresh green beans, but frozen and canned green beans are nutritious too––just not suitable for this recipe.

How to make air fryer green beans
Step one:
Start with the best ingredients. Fresh, firm, bright green beans are preferred to make the tastiest dish. Clean the green beans in water, but dry them with a kitchen towel before adding the seasonings.
Cut the tips off of the green beans. I line a handful of green beans evenly in a row on the cutting board and chop off the tips. My Nana always cuts the tips off one by one with a paring knife, which is very effective but more time consuming.
Step two:
Preheat the air fryer to 375°. It should preheat for at least 2 minutes before using…though I often skip this step myself.
In a large mixing bowl toss the green beans with olive oil, smoked paprika, garlic powder, and salt. Once the green beans are coated in the spices, spread them evenly in the air fryer basket in a thin layer (see image above for an example). Depending on the size of your air fryer you may have to do this in batches. Air fry at 375° for 10-12 minutes, or until the green beans are blistered and fragrant. They'll be hot and delightfully tender on the inside.
Step three:
Transfer the cooked green beans to a serving platter and garnish with freshly cracked black pepper. I LOVE serving the green beans over a sauce like the pecan muhammara from my cookbook, Sweet Potato Soul. I've shared that recipe below too. Give a squeeze of fresh lemon juice and top with a little lemon zest. If you decide to pair the green beans with pecan muhammara sauce, a drizzle of pomegranate molasses and pomegranate seeds will really set it off. Serve hot hot hot!
Prefer a more traditional American cheesy topping? Sprinkle a generous helping of homemade walnut miso parmesan cheese over the top.

How to reheat air fryer green beans?
You may not have leftovers, but if you do a quick zap in the air fryer is a great way to reheat: 350° for 2-3 minutes. I'm not anti-microwave, but reheating in the air fryer will preserve the texture of your crispy green beans. As usual,  an airtight container in the fridge makes the best storage.
Try these other vegan air fryer dishes too!
Indian-inspired Cauliflower Tacos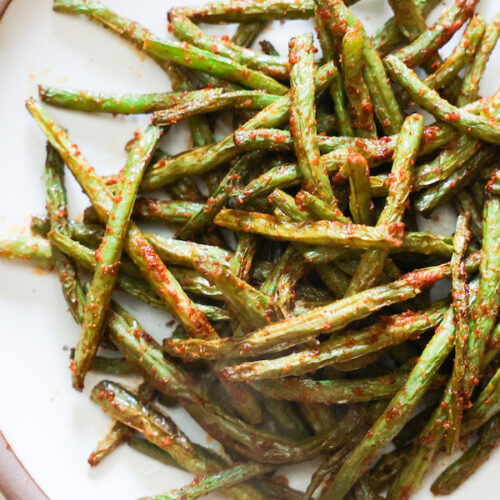 Perfect Air Fryer Green Beans
Air fryer green beans are crispy on the outside, and juicy and tender on the inside. Savory and yet subtly sweet. This perfect side dish is healthy and incredibly easy to make––just 10 minutes in the air fryer.
Ingredients
1

lb

fresh green beans

tips removed

1

tbsp

extra virgin olive oil

1

tsp

smoked paprika

1

tsp

garlic powder

1/2-1

tsp

sea salt

Lemon for garnish

Black pepper for garnish
Instructions
Preheat the air fryer to 375°.

Toss the green beans in olive oil and spices, then transfer to the air fryer basket. Spread them as evenly as possible into the basket (you may need to do batches if you have a small air fryer). Air fry for 10 minutes, adding 2 more minutes at the end if you want them softer.

Garnish with a squeeze of lemon juice, lemon zest, and a sprinkle of freshly black pepper.
To make the green beans in the oven:
Preheat an oven to 375° and line a baking sheet with parchment paper.

Toss the green beans with the olive oil and spices, then spread evenly onto the baking sheet.

Roast for 30 minutes, or until the are tender and fragrant.

Serve garnished with lemon juice and zest, and a sprinkle of black pepper.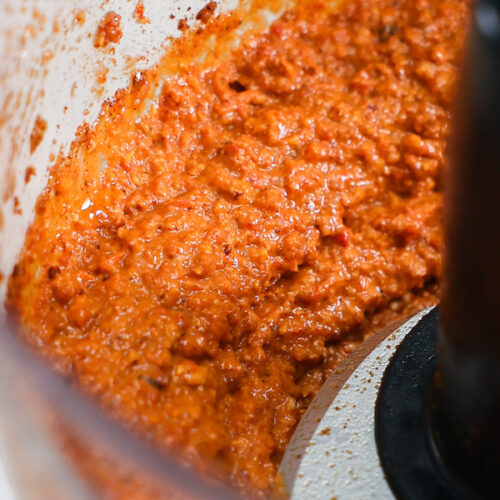 Pecan Muhammara
This recipe was originally published in my cookbook, Sweet Potato Soul. I hope you love this smoky, tangy, and rich Syrian sauce as much as I do. It is traditionally made with walnuts.
Ingredients
1

cup

chopped pecans

lightly toasted

2

small red bell peppers

from jar or homemade

1

garlic clove

1

freshly squeezed lemon juice

1

tbsp

pomegranate molasses

¼

cup

bread crumbs

1

tbsp

Aleppo pepper

or 1 tsp smoke paprika

1

tsp

ground cumin

1/2

tsp

salt

1

tbsp

extra virgin olive oil
Instructions
Place all of the ingredients, excluding the olive oil into a food processor.

Blend until desired texture is reached, muhammara can be slightly chunkier than hummus.

Pour in the olive oil as it blends.
Notes
Keep fresh in the fridge in an airtight container for up to 5 days.