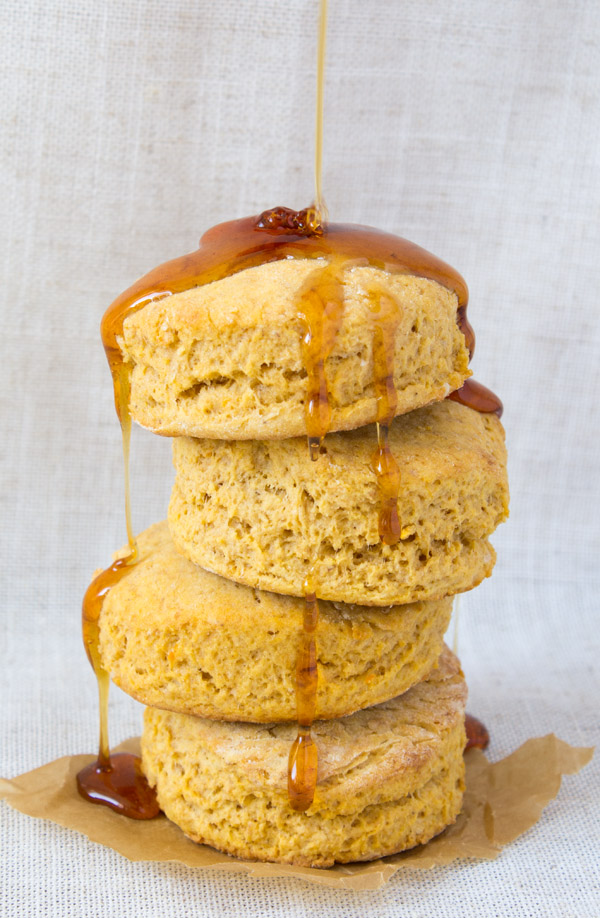 Biscuits. One of my favorite childhood foods. I remember my Nana making them for breakfast, and my mom taking me to Popeyes on Saturday mornings to get them (yes, I loved Popeyes biscuits as a kid). And though I can't stand Chick-fil-a, I used to go nuts for their chicken biscuit sandwiches for breakfast.
But lord, don't let any body tell you that you can't have amazing comfort food or soul food as a vegan. It just ain't true!
These fluffy and buttery vegan sweet potato biscuits are destined to become a staple in my home. When I have kids these are going to grace our table on special Sunday mornings. This recipe is going to be passed down, I tell you.
I've had over 20 people taste test these sweet potato soul biscuits at an event recently, and believe me when I say, you're going to love these just as much as they did 😉
Sweet Potato Biscuits
Feel free to use either vegan butter (Earth Balance) or coconut oil. It is important that your Earth Balance or coconut oil be cold. Making these biscuits with a food processor makes it a lot easier. However, if you don't have one you can still create amazing vegan biscuits! Combine the dry ingredients in a bowl with a whisk. Use a fork or––even better––a pastry cutter to cut the cold "butter" or oil into the flour, and use your hands or a wooden spoon to stir in the sweet potato mixture. Your dough will be kind of wet, however how wet depends on how moist your sweet potato is. If if is wetter you'll just use a bit more flour when kneading the dough. Recipe adapted from Paula Deen's sweet potato biscuits.
Ingredients
3/4

cup

mashed sweet potato

1/3

cup

soy milk

or other plain unsweetened non-dairy milk

1

tsp

apple cider vinegar

1 1/2

cup

whole wheat pastry flour + more for surface

2

tbsp

sugar

cane or coconut

1

tbsp

baking powder

1/2-1

tsp

sea salt

5

tbsp

very cold Earth Balance or coconut oil

Bee Free Honee

for drizzling
Instructions
Preheat oven to 425° and line a baking sheet with parchment paper.

Stir the sweet potato, vinegar, and non-dairy milk together in a bowl and set aside.

Place the flour, sugar, baking powder, and sea salt in a food processor, and pulse to combine.

Add the coconut oil or Earth Balance and pulse until you have a coarse meal.

Add the sweet potato mixture and pulse a couple times to fully combine.

Generously flour a clean work surface (your kitchen counter).

Transfer the dough onto the floured workspace. The dough will probably be fairly wet, so use the flour on the counter to help make it more manageable. Fold the dough over a couple of times, then pat the dough to about 1/2-inch thick.

Cut the dough into biscuits using a biscuit cutter, a large cookie cutter (if you want fancy shapes), or a wide rimmed glass.

Transfer the cut biscuits onto the baking sheet.

Continue with remaining dough.

Bake for 12 minutes.

Enjoy immediately with melted Earth Balance, coconut oil, and/or [url href="https://www.beefreehonee.com/"]Bee Free Honee[/url] or Sorghum syrup.

Keep fresh in an air tight container for up to 3 days.