Looks good, right? PIN this recipe for later!
I'm obsessed! I cannot eat a salad without crispy chickpeas or other crispy beans on top. They provide the perfect crunch, and they're so filling. These delicious crispy beans are loaded with spices like nutritional yeast, smoked paprika, and garlic powder. You can make them in the oven or air fryer for the perfect salad topping or crunchy healthy snack. Yum!

Why chickpeas?
You can make crispy beans with any bean, or even lentils. But I most often make these crispy chickpeas. Chickpeas have such a nice texture, and don't split when roasting like other beans do. Crispy chickpeas are especially delicious on top of salads. They provide an amazing crunch, and the texture pairs well with delicate lettuce or massaged kale.
Chickpeas, and other beans, are a great source of protein, fiber, folate, and iron. Chickpeas contain a type of soluble fiber called raffinose that is particularly good for the gut microbiome. They can also help lower cholesterol and risk of heart disease. Chickpeas, and other beans, are starchy, but they contain healthy resistant starch that helps maintain healthy blood sugar levels.
Chickpeas are:
cheap
nutritious
a great plant-based protein source
filling
easy to find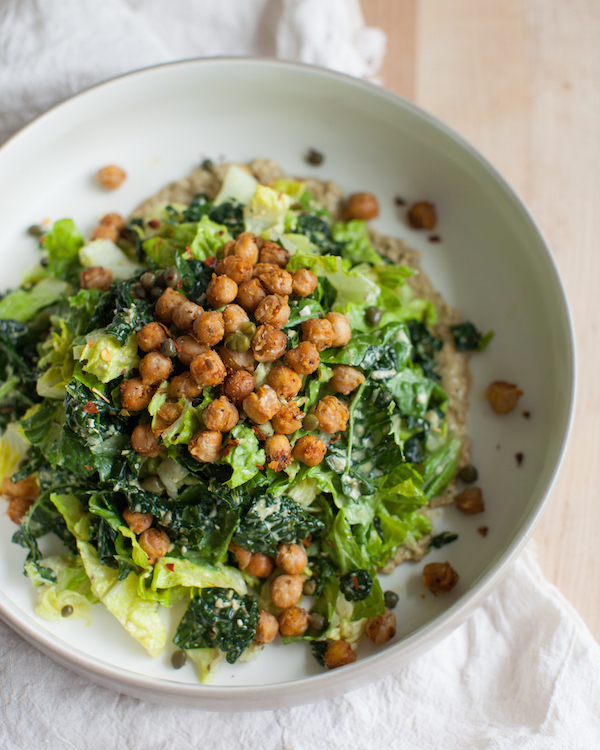 Click here to save this recipe for later!
Tips for making crispy chickpeas
I prefer making my crispy chickpeas and other beans in the air fryer. It's fast, and makes the crispiest beans. If you don't have an air fryer you can easily make crispy chickpeas in the oven.
Use lots of spice! My favorite way to spice crispy beans is with smoked paprika, garlic powder, nutritional yeast, and salt. Add some oregano for even more goodness. But crispy chickpeas can be made with any spices! I also love making them with curry powder or Ethiopian berbere. So tasty!
Reheat them in the air fryer or oven. To be honest though, crispy beans are best right out of the oven––or air fryer. They're kind of like old french fries. You definitely want to reheat them in the oven or air fryer. 5 minutes in the air fryer, or 10 minutes in the oven on 400° should do.
Use whatever beans you have! Yes, chickpeas are great, but you can crisp any beans, or even lentils! They're all delightful and great on top of salads. Same cook time, though sometimes I like to cook softer beans for a minute or two longer just to give their outer skin extra crunch.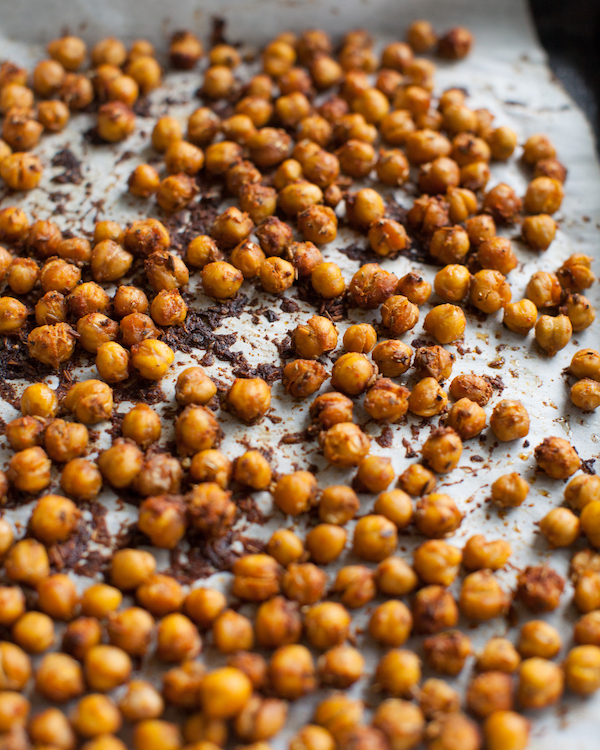 Try these other recipes with crispy beans:
Sunflower Vegan Caesar Salad (pictured above)
Sweet Potato Bisque with crispy white beans
Spiced Crispy Chickpeas
Double, triple, or quadruple this recipe if you want! However, the crispy chickpeas are best the day you prepare them, especially when hot. I like making them in the air fryer best. Reheat any leftovers in the oven at 350° for about 10 minutes––5 min at 400° in the air fryer.
Ingredients
2 14-

oz

cans chickpeas

drained and rinsed

1

tbsp

extra virgin olive oil

1

tsp

dry oregano

1

tsp

nutritional yeast

1

tsp

garlic powder

1

tsp

cumin seeds

1

tsp

smoked paprika

1/2

tsp

sea salt

1/2

tsp

black pepper
Instructions
Air fryer Instructions
Place chickpeas in a mixing bowl, and toss with oil. Add the spices, and toss well to coat.

Transfer to the air fryer and cook at 400° for 10 minutes, or until crispy. Add 3 minutes more if necessary.
Oven Instructions
Preheat oven to 425°, and line a baking sheet with parchment paper or a silicone baking mat.

Place chickpeas in a bowl, or directly onto the baking sheet.

Drizzle the oil over the chickpeas and toss.

Then sprinkle the remaining ingredients over the chickpeas and toss well to coat.

Spread them evenly onto the baking sheet and roast for about 20 minutes, or until crispy.