This blog post is sponsored by The Quaker Oats Company. I used their classic Old Fashioned Oats to make this delicious Apple Cinnamon Oatmeal Mix. The ingredients are simple, and deliver lots of flavor. Enjoy!
I've been eating oatmeal every morning since I was a child. Sure, some days I'll have something else––homefries, sweet potato pancakes, waffles, or breakfast enchiladas (yum!)––but most days call for good old fashioned oats. And I know I'm not alone in this breakfast habit.
In the summer months I like having the option of eating my oats hot or cold, savory or sweet, because oats can provide goodness any time of day! Whoever created the concept of overnight oats was a genius! But you can make overnight oats even easier by using a premade oatmeal blend like this apple cinnamon mix I created. Put it in the jar with your plant milk of choice, give it a stir, and enjoy your oatmeal in the morning. If you'd rather have it hot, simply cook this instant oatmeal in the microwave for 2 minutes, or stovetop for 8, and you've got a perfectly spiced oat blend. This recipe makes 16 servings. That's 16 days of breakfast taking less than 5 minutes to prepare 🙂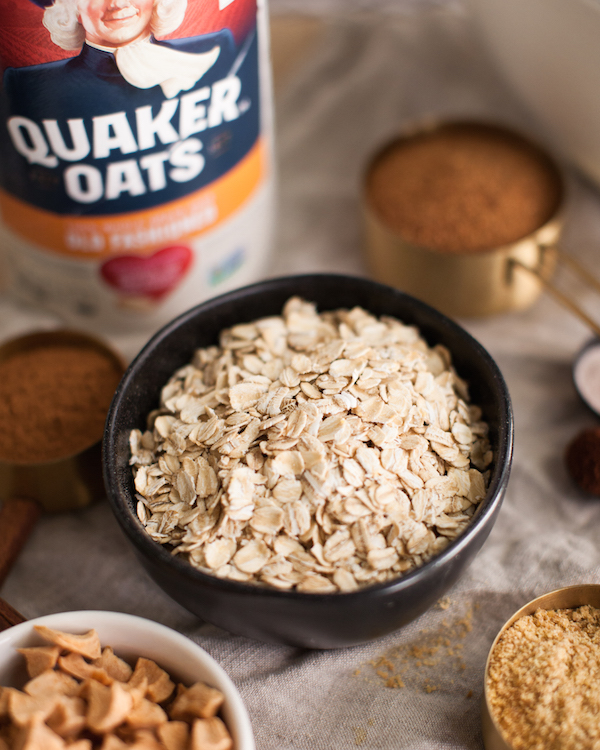 I always add cinnamon, ground flax, and some softened dried fruit. It would be so much easier to make a large batch of the dried oatmeal blend so that I can scoop it out each morning for breakfast. Every second counts, and this saves me plenty of time. I warm it in the microwave, stir in oat milk or nut milk, and serve it along with fresh fruit.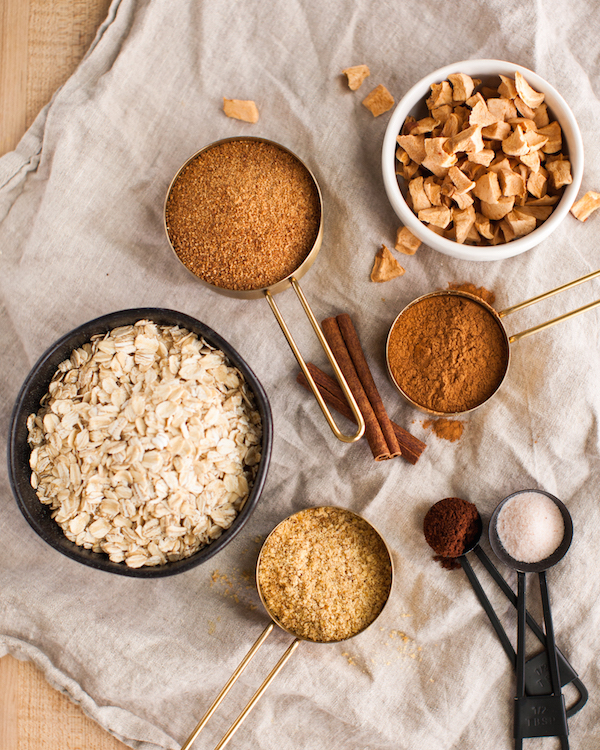 The only thing better is that it takes only a few minutes to make this apple cinnamon blend! As a kid the apples & cinnamon flavored instant oatmeal packets from Quaker Oats were my favorite flavor. I also really loved peaches & cream flavor too. If you don't have dried apples, feel free to swap them out with other dried fruit like peaches or strawberries. Since this recipe calls for dried fruit, you don't have to worry about finding fresh fruit in season. 
Apple Cinnamon Oatmeal Mix
Use this Apple Cinnamon Oatmeal mix to make overnight oats, hot oatmeal, or even granola! To make granola just toss with some oil and bake at 300° for about 30 minutes.
Ingredients
8

cups

Quaker Old Fashioned Oats

2

cups

chopped dried apples

1/4

cup

cinnamon

1 1/2

tsp

ground cloves

1

tsp

Himalayan pink salt

1/4

cup

ground flax seed

1/2

cup

coconut sugar

+ add 1-1 1/2 cups unsweetened plant milk per serving
Instructions
In a large bowl combine the oats, dried apples, cinnamon, cloves, salt, flax seed, and coconut sugar. Stir well then transfer to a large enough airtight container.

To serve hot: In a microwave safe bowl combine ½ cup (per serving) of the instant oatmeal mix with ¾ cups unsweetened plant milk or water. Microwave for 1 minute, then stir. Microwave another minute. Add more plant milk to thin, and serve with fruit, nuts, more plant-milk, and your other favorite toppings.
To make overnight oats:
In a jar combine ½ cup (per serving) of the instant oatmeal mix with 1 cup plant milk. Stir well. Place the lid on the jar, and let it sit in the refrigerator overnight. Enjoy in the morning with fruit, nuts, more plant-milk, and your other favorite toppings.