I've been holding on to this black bean crust pizza recipe for over 2 years. I'm sorry. I don't know why I didn't share it sooner. I guess it was my little secret recipe. This gluten-free pizza bursting with savory flavor, texture, and healthy goodness.
As you'll see in the video, this isn't a 30 minute 5-ingredient recipe. It takes a while to make (unless you buy the sauce pre-made, and the veggies pre-cooked––which I don't recommend), but it is well worth every minute. This is ultimate comfort food. Sure, it's a vegan gluten-free pizza that happens to also be guilt-free and healthy, but it's honestly delicious. I'm tempted to get up and make it right now, and it's 1:30am. I guess it's a good thing I don't have the necessary ingredients. I love topping it with squash and seasonal herbs, so I'm excited to make it with zucchini and basil in a few months. This pizza is also very good with pesto…
Watch the video, make the pizza, invite me over for a slice 🙂
Yummy, right? Do you have any great recipes for gluten-free pizza? Please share with us.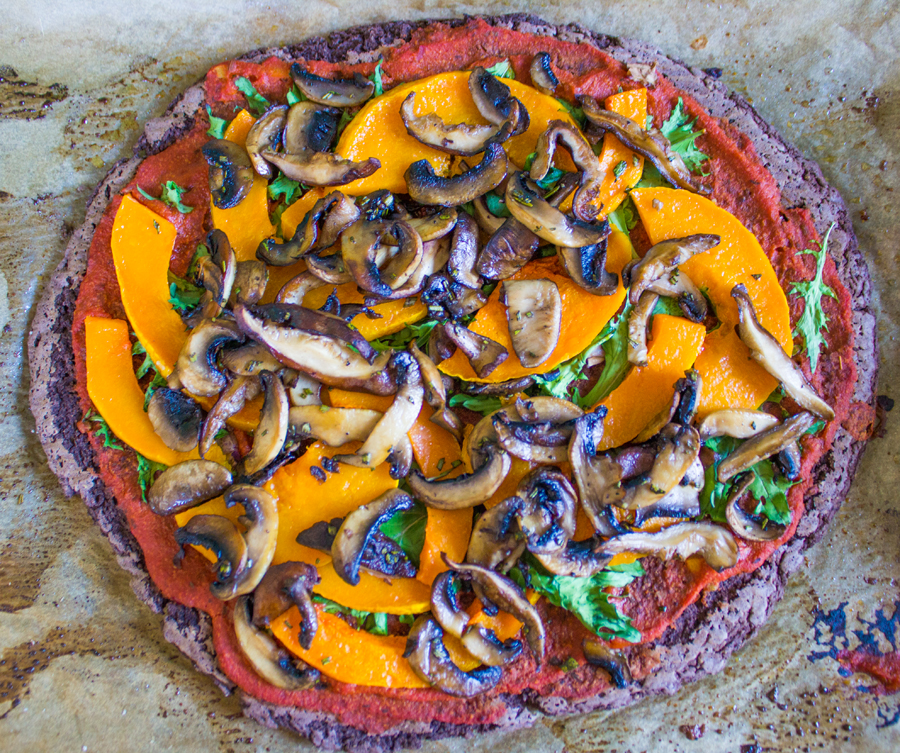 On another note, I have some fun news! I just launched a new site for my NYC vegan cooking classes, Little Harlem Kitchen. Yes, my supper club is also called that. I adore teaching classes and I'm hoping this site will help more people find out about my cooking classes and other offerings here in Harlem. If you are in NYC (or planning to visit), you should come take a class with me.
Butternut Squash Black Bean Crust Pizza
Ingredients
2

cans black beans

rinsed & drained well

3

tbsp

flax seed +⅓ cup water

mix the two together to create flax "egg"

3

tbsp

nutritional yeast

2

cloves

of garlic

minced

1 ½

tsp

sea salt

only 1 tsp if your beans had salt in the can

½

tsp

cayenne pepper

2

cups

butternut squash

thinly sliced & roasted

2

cups

shiitake mushrooms

sliced

1

onion

thinly sliced

3

cups

kale

chopped

½

cup

tomato sauce
Instructions
Preheat oven to 400° and line a baking sheet with parchment paper.

Place beans, flax egg, nutritional yeast, garlic, salt and cayenne in the food processor. Blend until smooth. Spread the mixture onto the parchment paper in the shape of a pizza crust, about ½ inch thick. You'll fill most of the width of the baking sheet. Bake for 20 minutes, then carefully flip the crust to bake on the other side 15-20 minutes. NOTE: To flip, I place another sheet of parchment and another baking sheet over the one the crust has been on, and using oven mitts I flip the sheets together. Then the crust will be on the new baking sheet. Slowly and carefully peel the original parchment off of the crust. Careful not to break 🙂 Bake 5-10 minutes longer.

While the crust bakes, sauté the shiitake mushrooms and onions in a bit of olive oil. If you haven't already, you can roast the squash now too.

When the crust is finished, top with the tomato sauce, kale, squash, mushrooms and onions. Bake for 5 more minutes then serve.
he new site (took me half a day to create on Weebly), and let me know what you think! xoxo