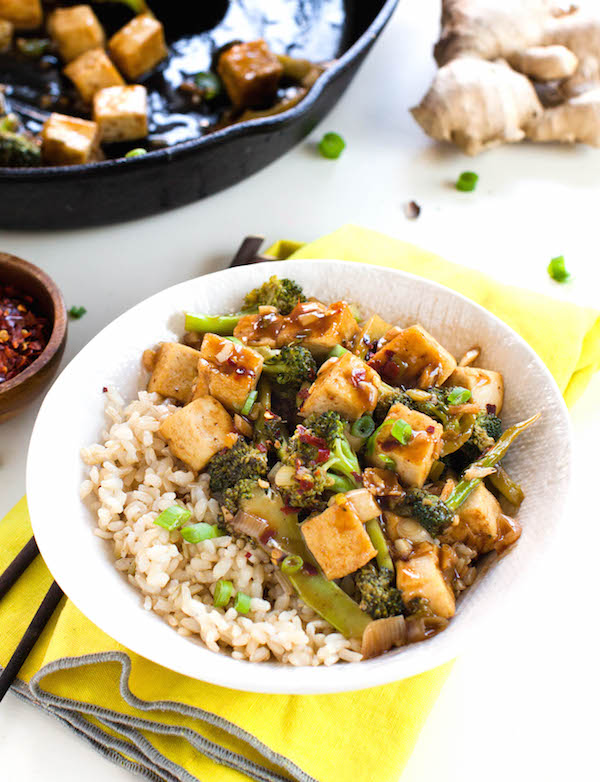 I did the math and it turns out this Broccoli Stir Fry with Crispy Tofu is just $1.26 per serving, coming it at just $5.03 for the whole recipe. That's cheap! But cheap isn't enough, a great recipe has also got to be delicious, filling, and easy-to-make. This one checks all of those boxes.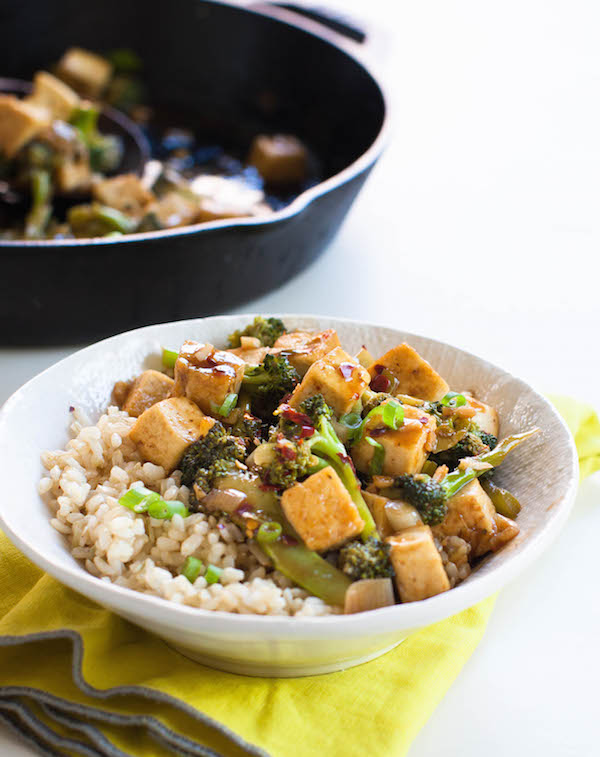 Vegan food gets a bad rap for being expensive and unattainable for the average person. There's still that stereotype that only rich people can sustainably adopt a vegan lifestyle because the ingredients required to be healthy are too expensive and hard to get. But that's a myth. It's just not true. Until recently, even in the US, not eating meat was associated with not having money. Without handsome subsidies, animal products are very expensive, and rightly so. To raise animals for food requires many more inputs than growing vegetables and grain, not to mention the costly negative externalities that affect even those of us who don't eat meat. In many parts of the world what we consider a healthy vegan diet––lack of animal products, beans, whole grains, etc––would be considered a peasants diet.
While it is true that some vegan diets are expensive, it's not a requirement that they all be. A healthy balanced vegan diet should be made up fruits, vegetables, whole grains, legumes, and nuts or seeds. That's about all you need. You don't have to shop at a special health food store to buy beans and veggies, fruit or grains. Expensive products and superfoods aren't necessary. Rice & beans, and broccoli & tofu are wonderful cheap meals that have kept people healthy and nourished for generations. This recipe for Broccoli Stir Fry was originally published as part of a round up of super cheap vegan meals. In that blog post I share tips for saving money with your vegan lifestyle, so make sure to visit that post if you'd like to learn more.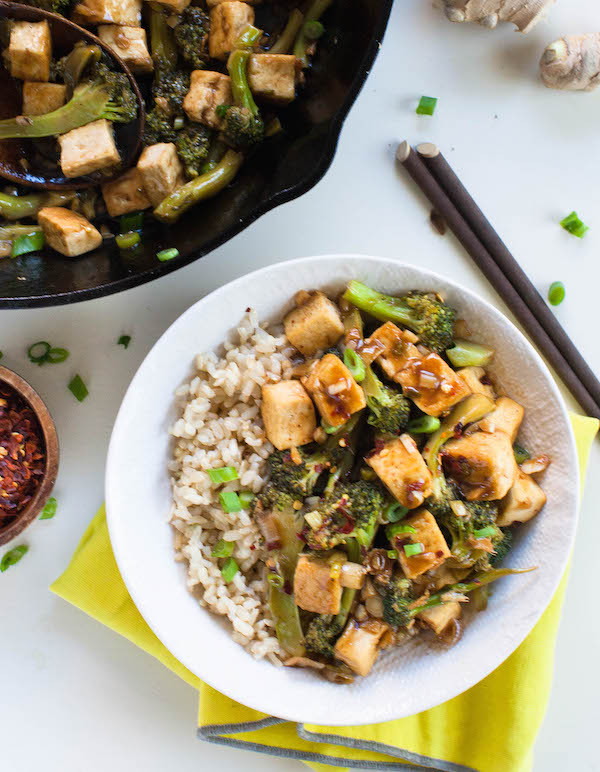 I think this Broccoli Stir fry with crispy tofu should be a part of your regular meal rotation, or meal prep. It's good enough to eat weekly, and you know it will save you money. The stir fry sauce is made with a blend of savory black bean paste, rice vinegar, garlic, and ginger. While the broccoli stir fry cooks, you will also cook your crispy tofu, which is pan fried then baked. To achieve crispy perfection even quicker, and with fewer dishes, I like to cook the tofu in my air fryer for about 15 minutes. If you don't have an air fryer the skillet and oven will do. You'll love the rich and savory sauce you stir fry the broccoli and tofu in. This dish is so satisfying and delicious.
Want more cheap vegan recipes? Check out my other round up of vegan recipes under $1.50/serving, and my $30/week meal prep––this one includes more tips for vegan budgeting.
Broccoli Stir Fry with Crispy Tofu
Ingredients
1

package extra-firm tofu

3

tablespoons

cooking oil

½

teaspoon

salt

2

crowns broccoli

cut into florets

¼

cup

white vinegar

¼

cup

water + 1 teaspoon veggie bouillon paste

2

tablespoons

soy sauce

2

tablespoons

fermented black bean sauce

1

tablespoons

sugar

1

tablespoon

toasted sesame oil

½

tbsp

arrowroot powder

4

cloves

garlic

minced (about 4 teaspoons)

1

tablespoon

minced or grated fresh ginger

1

bunch green onions

white and light green parts only, finely chopped

2

cups

cooked brown rice
Instructions
Start by pressing your tofu to release the excess water. To do this simply remove the tofu from the package, and wrap the whole block in an absorbent clean kitchen towel or a few layers of paper towel. Place the wrapped tofu onto a plate and place a heavy sturdy item on top to press the tofu. I use my cast iron skillet to do this. Press for at least 10 minutes. The longer the better.

Preheat the oven to 425°.

Once pressed, cut the tofu into cubes.

Warm 2 tablespoons of oil in a cast iron skillet, then add the tofu and salt. Cook the tofu on all sides until it turns golden and begins to crisp up, 5-7 minutes.

Transfer the skillet to the warm oven, and bake for 15 minutes, until crispy.

While the tofu cooks: Boil 3 cups of water, then drop the broccoli in to blanch for 1 minute. Drain, then set aside.

To make the stir-fry sauce combine the vinegar, water + bouillon, soy sauce, black bean sauce, sugar, sesame oil, and arrowroot powder in a bowl and stir well.

Remove the tofu from the skillet, and set it aside.

Warm the rest of the oil in the skillet, then add the garlic, ginger, and green onions, and sauté until fragrant.

Add the broccoli, and cook for 5 minutes.

Stir the sauce once more, then add it to the skillet. Stir well as it thickens.

Add the tofu, and continue to stir and toss to cover.

Serve over brown rice.