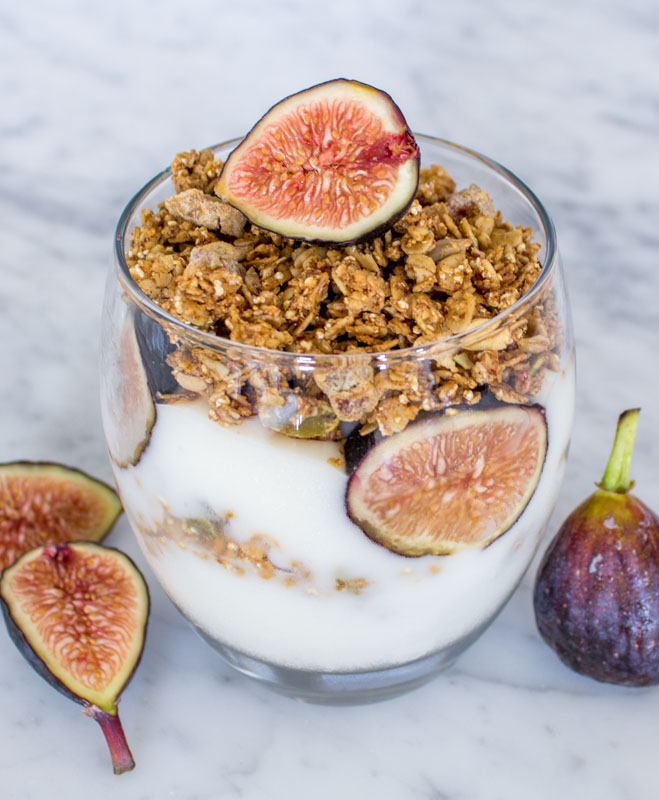 Hey September! Seeing you again is kind of strange. You popped out from nowhere. Where did August, July, and June go? So far you're very hot. I haven't been outside of the apartment today yet, but I've seen the forecast. 88°, muggy, bright. I like the heat, so bring it on. Another thing you've brought with you is fresh figs. Yum! Sooooo yum! Especially in a fig parfait!
To show my love of figs I've decided that this fancy little fruit should be the Ingredient of the Month on Sweet Potato Soul. What do you think, September? Good idea?
I've got a handful of delicious figgy recipes lined up, but let's get started with breakfast. Today's fig-alicious recipe is a vegan fig parfait. Layers of SoDelicious coconut vanilla yogurt, Purely Elizabeth's fig pumpkin granola, and fresh Mission figs. Bliss in a glass!
Not only is this fig parfait absolutely delicious, it's also a quick and easy vegan breakfast. It took me about 2 minutes to make. It's healthy too! Figs are full of fiber and potassium, and coconut yogurt gives you a healthy dose of good bacteria and fat.
So, welcome back September. Thanks for the figs!
Fig Parfait
Purely Elizabeth's is my favorite packaged granola hands down. If it isn't available near you, or if you're not up to the splurge (it's around $7 a bag) make your own!. Here's my recipe. SoDelicious makes great vegan yogurts that are sweetened or unsweetened. Visit their website to receive coupons for products! The recipe serves 1. Double if you need more 🙂
Ingredients
3/4

cups

SoDelicious vanilla yogurt

1/2

cup

granola

4-6

figs

thinly sliced or halved
Instructions
Layer the yogurt, granola, and fresh figs in an 8-ounce glass jar or cup. Enjoy!
Leave a comment below and let me know what your favorite parfait toppings are!