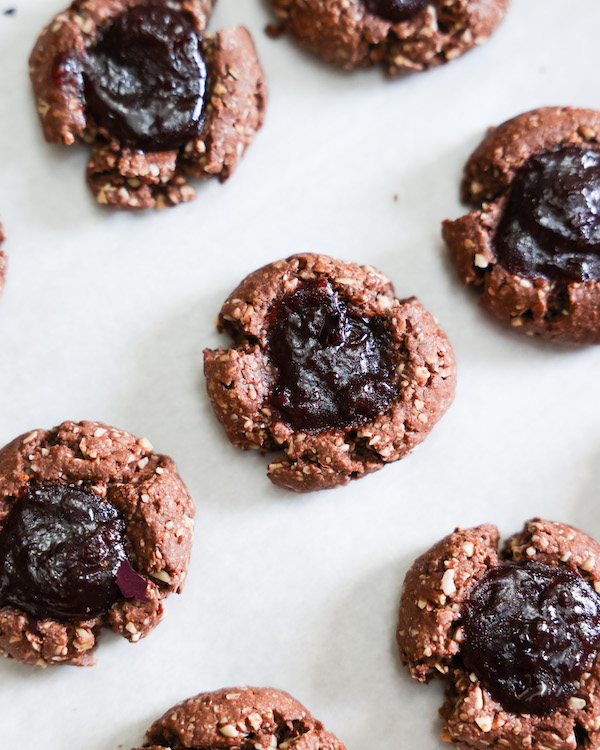 Jammy, sweet, and healthy-ish: these Vegan Cherry Chocolate Thumbprint Cookies are the perfect Valentine's Day treat. But don't just make them for Vday. Make these chewy cookies all year round for a quick and easy chocolatey snack. Made with wholesome ingredients like almonds, oats, spelt flour, and maple syrup you cannot go wrong with these chocolate thumbprint cookies.
These Vegan Cherry Chocolate Thumbprint Cookies are
Delicious
Easy to make
A healthy snack
Perfectly sweet
Made with wholesome ingredients
Kid-friendly
Why are they called Thumbprint Cookies?
Thumbprint cookies get their name from their characteristic depression in the middle of that cookie that is filled with fruit jam and baked. I keep my nails pretty long, so instead of using my thumb to make a bowl in the center of the cookie, I use a greased teaspoon.

The Star Ingredients
Spelt Flour: Spelt is a type of wheat that is lower in gluten, and often easier to digest than white flour. It is my favorite all-purpose flour because it can be used in place of white flour, but isn't heavy like whole wheat flour. Despite keeping your baked goods light and fluffy, spelt flour is quite wholesome. It is made from the entire spelt grain, which means it has more fiber, protein, minerals, vitamins, and flavor than white flour. Spelt has an almost nutty flavor that is perfect for these chocolate thumbprint cookies.
Almonds: Ground almonds give these cookies a nutty flavor and texture. Almonds are a great source of vitamin E, fiber, and protein. They're also a good source of magnesium, calcium, and healthy fat. If you are allergic to nuts, pumpkin or sunflower seeds are a good replacement.
Flax Seed: 1 tablespoon of ground flax seeds plus 2 tablespoons of water makes a magical vegan egg that will give the chocolate thumbprint cookies a light and chewy texture, and help bind the ingredients.
Maple Syrup: These cherry chocolate thumbprint cookies are sweetened with my favorite liquid sweetener: maple syrup. It gives the cookies a rich flavor that cannot be achieved with cane sugar or agave. However, agave is a suitable substitute should you be running low on maple syrup.
Coconut Oil: I love using coconut oil as a replacement for butter in my vegan baking. I even use it in my Vegan Chocolate Chip Cookies. Coconut oil keeps these cookies moist and light, but the coconut flavor is almost undetectable.
Cherry Jam: Use a high quality cherry jam or jelly for these cookies. I LOVE St. Dalfour fruit preserves and they are made without added sugar. Look for St. Dalfour at Whole Foods, Sprouts, your local gourmet grocer or health food store. You can also buy them online.
How to make Cherry Chocolate Thumbprint Cookies
Step one: Preheat the oven to 350° and line a baking sheet or cookie sheet with parchment paper (I love these silicone baking mats in place of parchment).
Step two: In a small bowl combine 1 tablespoon of ground flax seed with 2 tablespoons of water. Stir and set aside.
Step three: Grind old fashioned oats and almonds together in a food processor. Grind them until the almonds are a course texture, not powder. See the photo below for an example.
Step four: Transfer the oat and almond meal to a medium mixing bowl, then add the spelt flour, cocoa powder and salt. Then make a well in the center of the dry ingredients and pour in the melted coconut oil, maple syrup, flax seed egg, and vanilla extract. Use a spatula or spoon to thoroughly stir and combine the ingredients.
Step five: Use a small cookie scoop to remove the batter and, using greased or damp hands, form into 12 cookie dough balls, each about 1 1/2 tbsp worth of batter. Place each ball onto the parchment paper, spacing evenly.
Step six: Use your damp or greased thumb or a greased measuring teaspoon to make a deep indentation in each cookie. As you press down the dough will spread and you'll have your cookie's shape. Adjust as desired.
Step seven: Top each of the cookies with about 1 teaspoon of cherry jam and bake for 20 minutes, until fragrant. Remove the baked cookies from the oven and let them cool on the baking sheet for about 10 minutes. Enjoy slightly warm or at room temperature.
Tips for making these cookies
Melt the coconut oil in the microwave or a small saucepan on the stove.
Add 1/4 cup vegan chocolate chips to the batter for a sweeter cookie.
Use damp or greased hands to shape the batter into balls before filling and baking. You could even use disposable gloves for even less mess.
You can use any jam for the center of the cookies, but I like a fruit-sweetened cherry jam made without added cane sugar, like this one from St. Dalfour.
The cookies will firm as they cool and may feel soft to touch when you first remove them from the oven.
Swaps you can Count On
Coconut oil: Use melted vegan butter or a neutral oil in place of coconut oil.
Almonds: Use any other nut. If you're allergic to nuts, use pumpkin seeds or sunflower seeds.
Maple syrup: Replace with agave or brown sugar. To use brown sugar, add 1/4 cup when you mix in the wet ingredients.
Feel free to use an electric mixer or standing mixer to combine the wet and dry ingredients.
Also try these Amazing Vegan Chocolate Dessert Recipes
Vegan Avocado Chocolate Mousse
Sweet Potato Chocolate Muffins
Biscoff Crumble Chocolate Bark
Chocolate Cherry Thumbprint Cookies
Chewy vegan cherry chocolate thumbprint cookies are perfect all year round for a quick and easy chocolatey treat.
Ingredients
1

tbsp

ground flax seed

½

cup

almonds

½

cup

old-fashioned oats

½

cup

spelt flour

3

tbsp

cocoa powder

¼

cup

coconut oil

or other oil or melted vegan butter

¼

cup

+ 1 tbsp maple syrup

1

tsp

vanilla extract

about 1/4 cup fruit sweetened cherry jam
Instructions
Place the almonds and oats into a food processor and pulse until ground. Leaving a them a little coarse for texture.

Transfer this mixture to a large bowl and add the spelt flour and cocoa powder.

Stir well, then add oil, maple syrup, vanilla extract, and salt. Stir to combine.

Scoop out tablespoon sized balls of the dough and roll in the palm of your hand to form each cookie, then arrange on a large baking sheet, spacing cookies 2 inches apart.

Press your thumb gently down into the center of each cookie to make an indentation. Spoon a scant teaspoon of jam into the center.

Bake cookies for 15 minutes.

Transfer to a rack to cool (about 10 minutes).

Cookies will store for days, if you can manage that sort of self control. Store in an airtight container.