You won't believe how creamy, delicious, and decadent this vegan chocolate mousse is. And you are really going to be amazed when you see how healthy and wholesome the ingredients are. This raw chocolate mousse is one of my favorite treats ever. Get ready to be amazed!

We go way back…
I first tried raw vegan chocolate mousse in 2010 when I got a job at a vegan restaurant in NYC. It was love at first bite! I was blown away by the perfectly smooth texture and chocolaty richness. Then I found out the main ingredients are avocado and dates. My jaw hit the floor.
I hesitate to even mention that this chocolate mousse is made with avocado. Having served this dessert in a restaurant for 2 years, I have had my fair share of skeptics. But unless the customer just didn't like chocolate, I never met a person who didn't go wild for this healthy vegan treat.
Chocolate Mousse Ingredients
Avocado: Perfectly ripe avocado gives this chocolate mousse body and creaminess. You may use avocados that are a little bruised, brown, or stringy, but give them a sniff first. The avocado should smell and taste fresh, otherwise they ain't gonna work.
Dates: Any dates will work, but fat and caramel-y Medjool dates are best. Dates are an amazing wholesome sweetener. They are very high in sugar, but because they are a whole fruit they also contain fiber, minerals (great source of potassium), and other nutrients that are removed when cane sugar is processed. Dates make the chocolate mousse oh so decadent!
Raw cacao powder: Unlike cocoa powder, raw cacao powder hasn't been processed for baking. This pure chocolate is high in antioxidants, and full of flavor. It is a great source of magnesium, which is a mineral that supports relaxation, calmness, and pain relief.
Cacao Nibs: I put these crunchy nibs on everything! Cacao nibs are ground up pieces of actual cacao beans (the beans that are fermented to make the chocolate we all know and love). They have a chocolaty taste without sugar, and add a wonderful texture and flavor to this mousse, and pretty much any other dessert. Raw or roasted cacao nibs will work.

It's crazy easy to make
To make this chocolate mousse, simply add the ingredients to a food processor, and blend until smooth and creamy.
That's it! Enjoy some of it right away, or set it in the fridge to firm and cool. It's extra yummy topped with fresh berries, and a sprig of mint. I love serving it in a glass jar, or in delicious nut crusts, like a tart (recipe also below).
Notes on this recipe
You will need a food processor or Ninja blender to make this chocolate mousse. I don't recommend using a regular blender because the mousse, which is as valuable as gold, gets stuck at the bottom.
I recommend using 2 large hass avocados for this mousse. But because avocados come in all different sizes, you might have to add more dates or cacao powder to your mousse. "Season" to taste if necessary.
Hass avocados, or other fatty low-water varieties are best for this chocolate mousse.
If you are using hard dates, soak them in water for 20 minutes before blending.
This chocolate mousse should keep fresh for about 3 days… Though you will likely devour it before then.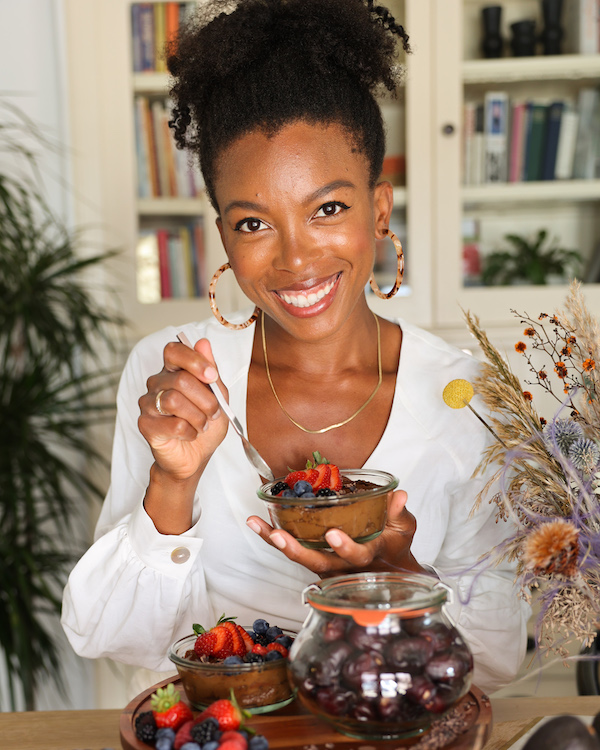 4 more healthy and/or chocolate desserts
Vegan Chocolate Mousse
This rich and decadent has a special ingredient. Oh, and it's pretty darn healthy, so dig in!
Ingredients
2

large ripe avocados

pitted

1

cup

dates, pitted

measure loose, not packed

1/4

cup

raw cacao powder

2

tbsp

cacao nibs
Optional: simple nut crust
1

cup

almonds, or other nuts or seeds

1/2

cup

shredded coconut, unsweetened

10

dates, pitted
Instructions
Place avocado flesh, dates and cacao powder into a food processor. Blend until very smooth and creamy. This will take a few minutes.

Add more dates or maple syrup to sweeten if necessary. 

Enjoy immediately, or set it in the refrigerator to firm and cool for at least 2 hours.
Crust (optional)
In a food processor add almonds and coconut, and blend until they're all crumbled, about 10 seconds.

Add the chopped dates and blend to combine, until it resembles the texture similar to gravel (sorry, I couldn't think of a more appetizing example)

Remove the lid and scoop out about two tablespoons of the mixture. With your hand form it into a ball, if it sticks together without crumbling apart then the crust is ready.  If it crumbles, place it back into the processor to blend again. Add another date if you think it needs more stickiness.

Press the crust into a greased or lined tart pan, ramekins, or muffin tins.

Fill with the chocolate mousse.