I didn't set out to make the best vegan chocolate chip cookies, but I'm pretty sure that's what I did. There are hundreds of recipes for vegan chocolate chip cookies on the internet but I think these are extra special. If you're looking for a chocolate chip cookie with a chewy gooey center, crispy edges, the perfect crumb, and gourmet flavor, then look no further.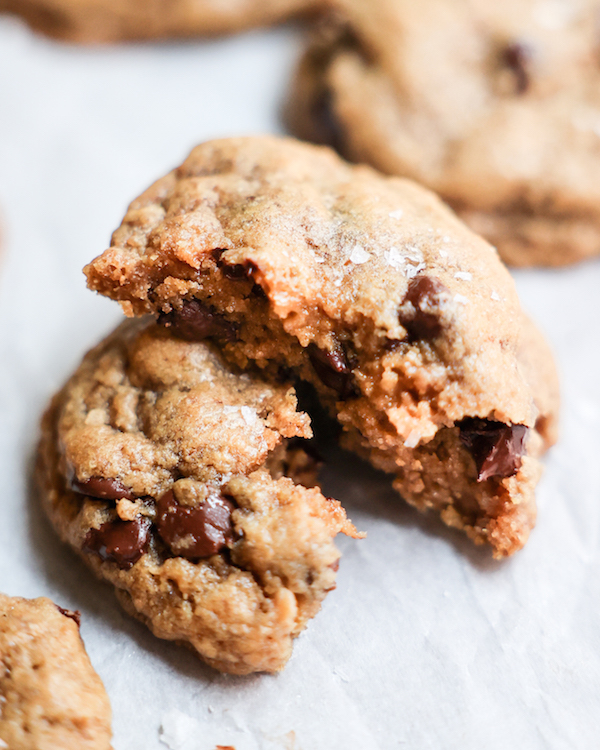 As I said, I wasn't trying to make the best vegan chocolate chip cookie. I was only wondering which vegan egg substitute––if any––would make the best chocolate chip cookies. Before this recipe my favorite chocolate chip cookie didn't have an egg substitute at all, but since people are always asking me for vegan and baking advice, I wanted to know if using an "egg" would make much difference. So I created a little experiment––video below––where I made three identical chocolate chip cookies, but used a different egg replacer in each one. I tried the recipe with a flax "egg", aquafaba (the liquid from a can of chickpeas), and oatmilk––which is really not an egg replacer, but served as the control cookie.
What I found was pretty surprising. Watch the video below!
The flax egg ended up being the best egg replacer for vegan chocolate chip cookies! The texture was absolutely perfect, giving the cookies a nice crumb and decadent texture. The flax doesn't make the cookies grainy, but adds nice body. Maxx said these tasted gourmet while the others tasted store-bought. Depends on what you're into, but I'm super bougie, so gourmet sounds about right to me. While the aquafaba and oatmilk cookies were delicious, they didn't spread while baking, so the texture was more dense.
To take these flax "egg" cookies to the next level, I baked them again with the addition of espresso powder, cardamom, and chunky sea salt. And wow! WOW! There are few combinations as perfect as cardamom, espresso, and chocolate. Each flavor stands out while also highlighting the essence of the others. The finishing salt is the touch you need to pull it all together in perfect harmony. Every bite is like a taste of heaven.
I love that these cookies stay fresh and delicious for a few days after baking. I've kept them up to 4 days and they're still delicious. Stick one in the toaster oven to warm it up before indulging. I wouldn't recommend freezing them, only because they are so easy to make. Why not make a fresh batch every week? Recipe below!
If you're craving more vegan chocolate desserts check out my tahini oat cookies, oatmilk chocolate mousse tart, avocado mousse, and chocolate matcha sticky buns 🌟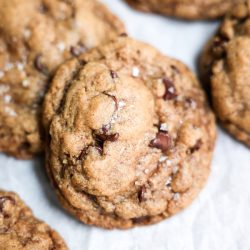 Cardamom Coffee Chocolate Chip Cookies
Half this recipe if you'd like to make 6 cookies 🙂
Ingredients
2

tbsp

ground flax seed

1/4

cup

water

1/2

cup

white sugar 100g

1/2

cup

brown sugar

packed 110g

1/2

cup

coconut oil

melted 112g

1

tsp

espresso powder

2

tsp

vanilla extract

2 1/4

cup

all purpose flour 270g

1

tsp

cardamom powder

1

tsp

baking soda

1/2

tsp

salt

1

cup

vegan chocolate chips

Maldon salt for finishing
Instructions
In a small bowl, combine the ground flax seed and water. Stir well and set aside to thicken for at least 5 minutes.

Add the sugars and coconut oil to a stand mixer and whisk until creamed.

Mix in the flax "egg", espresso powder, and vanilla, and beat until combined.

Remove from the mixer base.

Sift in the flour, cardamom, baking soda, and salt.

Use a rubber spatula or wooden spoon to mix the ingredients together.

Once combined (it will likely not hold together), add the chocolate chips.

This dough is pretty dry, so you may want to use your hands to bring it all together. Careful not to over work it.

Place the dough in the refrigerator to chill for 30-60 minutes.

Preheat oven to 350° and line a baking sheet with parchment paper.

Scoop batter and form into balls before placing them on the baking sheet. I like them best with a double cookie scoop for large cookies. About 3-4 tbsp dough.

Bake 6 cookies on a tray at a time, making sure to keep 2 inches around the cookie for them to spread.

Bake for 12 minutes.

Remove from the oven, and let them cool for 5 minutes before transferring them to a cooling rack. Let them cool for about 10 minutes longer before eating.