A few weeks ago a very special package arrived at my front door. There was a knock, but when I opened no one was there. Just that lone box, sent to me from Thomas Jefferson's garden at his sprawling Virginia estate, Monticello. In case you're wondering why I received a box from our country's founding father and 3rd president, let me explain.
Thomas Jefferson's Monticello is a must-visit destination in the United States. His foundation has left no rug unturned when it comes to educating the public about the life and work of Thomas Jefferson and his many slaves and descendants. The estate has become a sort of living museum where visitors can take tours of the main house, the plantation, slave quarters, the garden, and even attend seasonal events.
The folks at Monticello invited me to their annual Heritage Harvest Festival, happening September 10, 2016 (more info plus special code below the video). This family-friendly event honors Jefferson, and the men and women who were responsible for Jefferson's garden (which grew over 300 varieties of vegetables and herbs), the kitchen, and the rest of the estate. I won't be able to attend, but they sent me this box of beautiful fruits, veggies, and herbs from the garden to create a recipe with.
In my box I found:
2 varieties of heirloom peaches; English White and Indian Blood
Marseilles figs, green and delicately sweet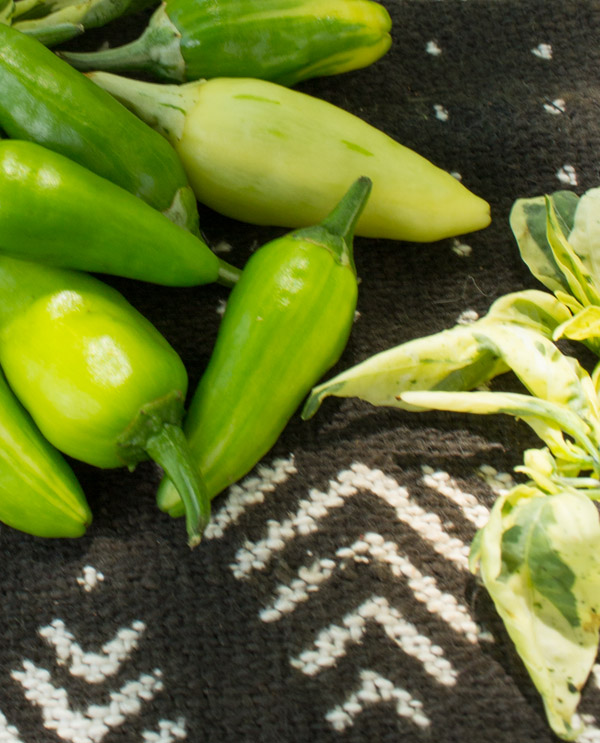 Fish peppers, a hybrid hot pepper originally cultivated by 19th century African Americans. Named for their use in fish recipes.
Red & purple potatoes; each very creamy and great for roasting and soups.
Herbs; basil, lemon balm (known for its calming properties, and delightfully lemon/minty flavor), and salad burnet (fresh cucumber taste)
Hickory syrup; Native American food made from foraged hickory bark. Known for its healing properties.
Sweet potato butter and apple butter 😉
A box of seeds for when I finally start my garden
The Monticello culinary history and cookbook
With so many great ingredients to choose from I had a really hard time figuring out what to make. I landed on two dishes that I thought made best use of the fresh ingredients and related to the culinary history of the estate; peach panzanella and chilled potato bisque.
Check out my new video below to learn more about these recipes and instructions for how to make them.
If you are in the Virginia/DMV area, make sure you visit Monticello for their 10th Annual Heritage Harvest Festival this Saturday, September 10th. The event will feature workshops, cooking demos, gardening classes, and so much more. Use my code "VEG16" to get $10 off tickets to the Friday Festival Opening with Patrick O'Connell at the Paramount Theater. Click here! 
Purchase some of the ingredients they sent me at the Monticello store
Late-summer Peach Panzanella
If you don't have access to the herbs used in this salad, replace them with a mix of what you do have. Mint, cilantro, parsley, arugula, etc are great subs. If you feel like growing your own herbs, check out the Monticello Shop to purchase actual seeds.
Ingredients
2

ripe peaches

chopped

2

ripe tomatoes

I used roma, chopped

2

tbsp

red onion

chopped

2

small fish peppers or 1 small habanero

very spicy or 1 jalepeño pepper (seeds removed for milder kick), minced

1

tbsp

apple cider vinegar

add more to taste if you'd like

3

cups

fresh herbs

a blend of basil, lemon balm, and salad burnet, chopped

2

cups

cubed stale sourdough bread

¼

cups

olive oil

1

tsp

black pepper

freshly ground

1

tsp

salt + more to taste
Instructions
Toss the peaches, tomatoes, red onion, peppers, and vinegar in a large mixing bowl.

Add the herbs and bread, then drizzle the olive oil over the salad. Add the pepper and salt.

Toss well until the whole salad is well combined
Vegan Chilled Potato Bisque
Butter beans are a perfect substitute for dairy cream used in a traditional bisque. If you don't have butter beans you can use cannellini, navy, or great northern beans.
Ingredients
4

cups

small red potatoes or yukon gold potatoes

cubed

2

tbsp

grapeseed oil

6

cups

water

½

onion

chopped

2

cloves

garlic

minced

1

bay leaf

2

vegetable bouillon cubes

I use Rapunzel brand

1

tsp

dried thyme

1 ½

cup

butter beans or other creamy white bean
Instructions
Heat oil in a large heavy bottomed pot on medium-high heat. Once warm, add the onions and garlic and cook on medium heat until tender.

Stir in the potatoes and water, and bring to a simmer.

Add the bay leaf, bouillon cubes, thyme, and butter beans, and continue to cook with lid ajar on a simmer for 20-25 minutes, or until potatoes are tender.

Puree until silky smooth, and season to taste with more salt and pepper.