This post is sponsored by Artifact Uprising. I've used their online service to print our wedding invitations, thank you cards, and to frame our most cherished wedding photos––as you'll see in the post below. I've also discovered that Artifact Uprising framed prints and gift cards make the perfect gift (my new go-to). I also can't help but love that Artifact Uprising products are made in the USA with reclaimed and recycled materials. Sweet Potato Soul readers save 15% off frames with code SweetPotatoSoul (code expires November 15) at ArtifactUprising.com
By now you probably know that I'm having a baby early next year. Now that I'm in my third trimester, I've started to really reflect on what's next for my life. So much is up in the air right now: will we stay in expensive Los Angeles, should we move closer to family, will having a baby make it harder for Maxx and I to be partners in work and life? Part of me is completely excited and open to the crazy adventure that's about to unfold, while another (much smaller) part is simply terrified.
For now my focus has been on preparing myself spiritually, mentally, and physically for the birth. I'm taking a natural birth course, practicing prenatal yoga, and learning hypnobirthing. I don't feel ready yet, but I no longer have fear of childbirth; I'm so excited to experience it in a few months. Maxx and I have also been spending time getting our little house ready for baby. We have a one bedroom apartment, so Baby will be sleeping in the room with us. (Yay!!)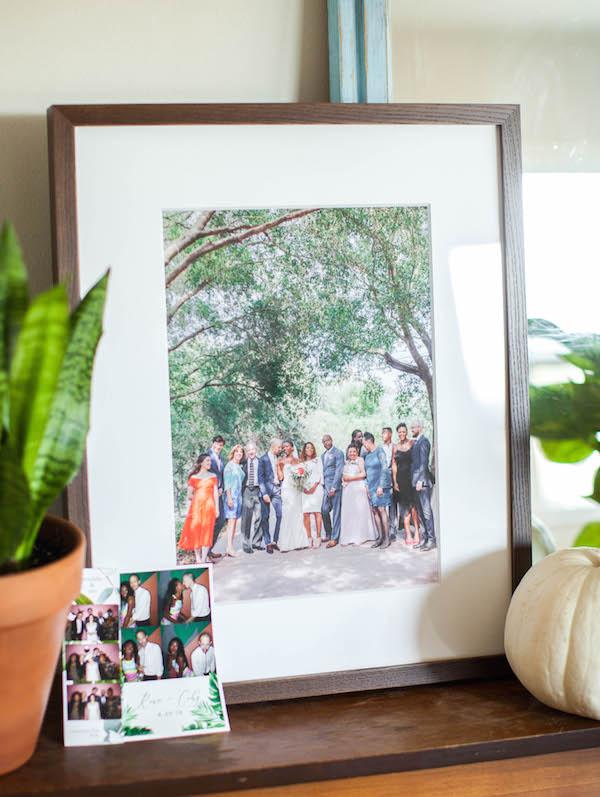 Though we moved into this apartment over a year ago, we never fully decorated it, and over the months have accumulated a ton of junk. To begin the nesting process we've spent hours over the last 2 weeks letting go of things we no longer need to make room for our Little One. I wish I had a photo to show you how much stuff we ended up recycling and donating… a whole car full! And now that the junk is out of the way, we can focus more on decorating.
Our first step was to order framed photographs from our wedding to decorate our mostly bare walls. We already had a few framed art prints up, but hardly any framed photos of ourselves or our family. As we grow our own family I want to be surrounded by images of the people who raised Maxx and me. Plus having framed photos on the wall feels so adult, and settled.
The artist who we commissioned to design our wedding invitations, Deun Ivory, suggested we have them printed by Artifact Uprising. The ordering process was simple and easy, and the invitations were high quality perfection. We had such a great experience with them that we decided to go back to the site for our framed photos (featured throughout this post). Since our illustrated wedding invitations are one-of-a-kind we also made sure to have one framed in their maple table top frame. Just looking at it brings back such sweet sweet memories. And of course I'm flooded with memories and emotions when I look at the family photos and the post-"I Do" photo we had framed in the brass metal frame.
Despite the ups and downs of our relationship, I look at that photo and am reminded of the unbreakable bond we've had for the last 10 years. I knew I'd love the framed wedding prints, so I also ordered some for my parents and grandmother as a thank you gift for their unconditional love and support. This year has been so full of love (Maxx's 2 siblings got married this year too!), family, and growth. I want to be reminded of this amazing part of our journey every day.
I'd like to bring our baby into a space that feels loving, gentle, and kind, but I mostly associate our apartment with work. Taking the time to decorate the space with unique and personal items is helping me to feel a little more at home in this space. I also ordered some organic white linen pillowcases to spruce up our breakfast nook, adopted a flourishing new English Ivy, and am in the market for a new cozier sofa. In January, before Baby is born, my plan is to go on semi-maternity leave so I can really nest and start to settle into our little apartment. Then we'll have to wait and see what changes when Baby is here. The grandmoms will be in town, I'll be on full maternity leave, it'll be winter in LA, and then this place will really feel like home.