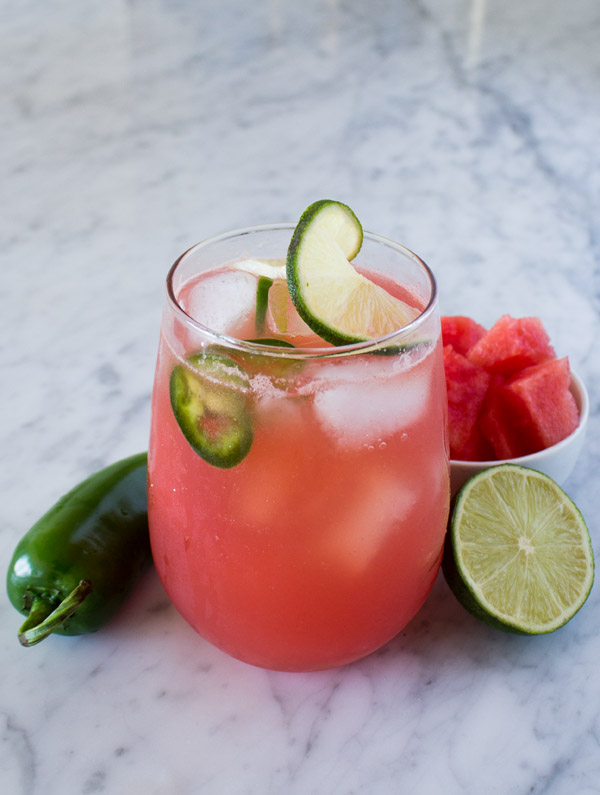 I'm going to keep it short and simple today. It's Friday, just a day before one of my favorite holidays, the 4th of July!!!
I'm looking forward to
the fireworks (the best part!)
the picnic I'm going to have in the park
the delicious cucumber salad and veggie burgers I'm going to make
and, the giggly tipsiness I will embrace 🙂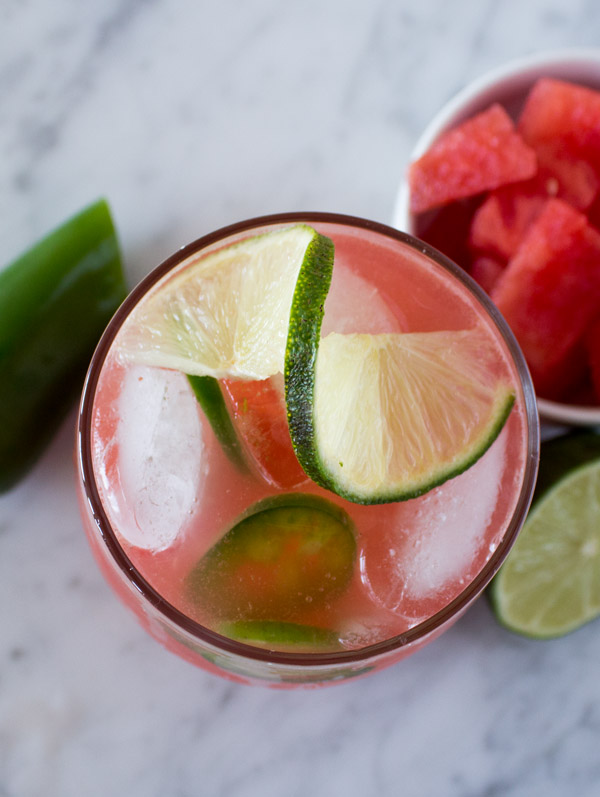 I've never shared a cocktail on Sweet Potato Soul. I am more of a wine person, but I'll occasionally break out a bottle of liquor to use in a fancy drink. A friend recently gave me a bottle of mezcal, a smoky Mexican liquor made from the agave plant, and I've been dying to use it in something. To be honest, cocktails kind of intimidate me. Especially those made with mezcal or tequila. However, this simple mezcal watermelon margarita is 100% easy to make, and requires no special skills.
The smokiness of the mezcal with the sweetness of the watermelon is phenomenal! A couple of slices of spicy jalepeño pepper and a squeeze of lime balance the whole thing out. If you don't drink alcohol, this cocktail is really yummy without it too. It's Independence day approved, and perfect for all of summer!
HAPPY 4TH OF JULY GUYS!!
Mezcal Watermelon Margarita
If you can't find mezcal, use tequila! If you don't drink alcohol, that's cool. This makes a really great virgin cocktail as well. Actually, I'm having one right now (at 11am) without a drop of alcohol 🙂
Ingredients
2

cups

watermelon chunks

ice

juice of 1 lime + more to garnish and add to taste.

4

thin slices of jalapeño pepper

seeds removed

1-1 1/2

cups

plain seltzer water

1/2

cup

mezcal
Instructions
Blend the watermelon chunks until it is a liquid.

Strain the watermelon juice through a sieve or nut bag. Save the pulp and freeze it for watermelon ice cubes.

Pour 3/4 cup of watermelon juice into each glass over plenty of ice, followed by lime juice.

Drop 2 slices of jalapeño into each glass, then top with 1/2 cup seltzer water.

Finish with 1/4 cup of mezcal in each glass.

Cheers!!
Liked this mezcal watermelon margarita? Comment below!