A creamy and rich sweet potato bisque made with white beans instead of heavy cream. Full of flavor and nutrition. Top it with seasoned air fried white beans for a gourmet treat.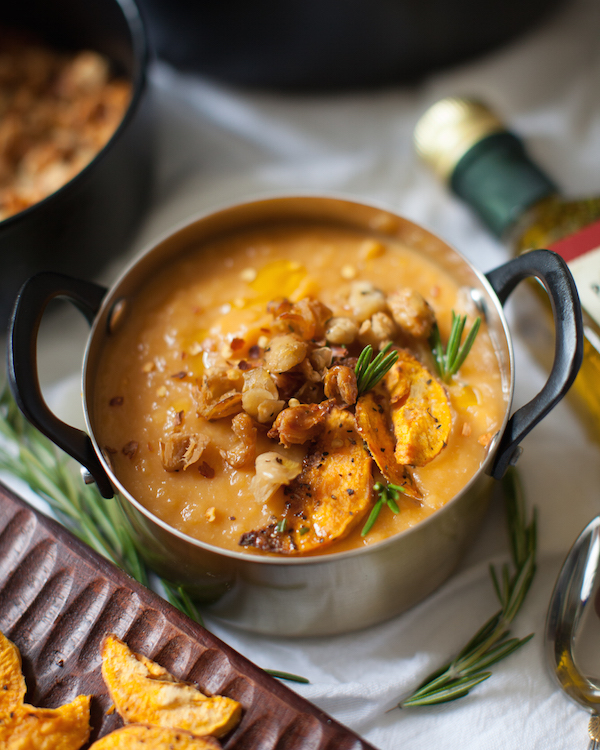 As I write this, I'm sitting in the window of my mother's house looking out at the beautiful autumn leaves and decorations. There's nothing like the beautiful colors of the holiday season to inspire my cool weather menu. As the temperature continues to drop and the holidays quickly approach, I find myself craving creamy soups that warm me to the core. Butternut, beet, and cauliflower soups are high on my list of favorites, but this sweet potato bisque is at the top. 
How to make vegan bisque
To make this sweet potato bisque without dairy I like to rely on the natural creaminess of white beans. The white beans not only lend a perfect creamy texture, they add body––fiber and protein––to the soup. Topped with crispy white beans, this sweet potato bisque is complete! The white beans are tossed with fresh rosemary, smoked paprika, and Extra Virgin Olive Oil, so they're not only crunchy, they're full of flavor. Serve with a salad and maybe a vegan grilled cheese sandwich for the perfect cool weather meal.
I love how the sweet potato bisque looks served in this mini gold cookware (got it from ALDI).  You can even keep it warm in the oven before serving. Convenient and cute. I like that. Finish the soup off with a light drizzle of Extra Virgin Olive Oil, the same we used for the crispy white beans. An herb infused one is especially nice. 
Make this soup as soon as you can! The ingredients are so simple, so you probably have them on hand. I made it for my whole family (Baby J included), and it was a huge hit. Recipe below…
Check out these other fall/winter recipes:
Sweet Potato Bisque with Crispy White Beans
To make the crispy white beans I usually use my airfryer. If you don't have one, you can get similarly crispy results in the oven 😉
Ingredients
Sweet Potato Bisque
3

tbsp

extra virgin olive oil or avocado oil

2

cloves

garlic

minced

½

yellow onion

diced

2

medium-large sweet potatoes

cubed

2

cups

cannellini beans

or one 14-oz can

3-4

cups

water

1

tbsp

vegetable bouillon base or 1 bouillon cube or 3 cups vegetable broth

skip water if using broth

1

tsp

black pepper

½

tsp

cayenne pepper
Crispy White Beans
1 14-

oz

can cannellini or navy beans

drained and rinsed

1

tbsp

Extra Virgin Olive Oil

1

tsp

fresh rosemary

minced

1

tsp

garlic powder

1

tsp

smoked paprika

½

tsp

sea salt

½

tsp

black pepper
Instructions
Heat the oil in a large heavy bottomed pot on medium heat.

Add the minced garlic and onion and sauté until the onions turn translucent.

Add the sweet potatoes and beans, followed by the water and bouillon paste.

Bring to a boil, then reduce it to a simmer and cook for 20 minutes, or until the potatoes are tender.

Remove from the heat and stir in the black pepper and cayenne.

If you have an immersion blender use it to puree the soup until silky smooth. If you do not have one, allow it to cool until you can transfer it to a blender to blend.

Serve the bisque garnished with the crispy white beans and roasted sweet potatoes (optional).
White beans
Preheat oven to 425°, and line a baking sheet with parchment paper or a silicone baking mat. Skip this if you plan to use an air fryer.

Place beans in a bowl, or directly onto the baking sheet.

Drizzle the oil over the beans and toss.

Then sprinkle the remaining ingredients over the beans and toss well to coat.

Spread them evenly onto the baking sheet or into the air fryer, and roast for about 20 minutes, or until crispy. If using the air fryer, fry at 375° for 15 minutes.