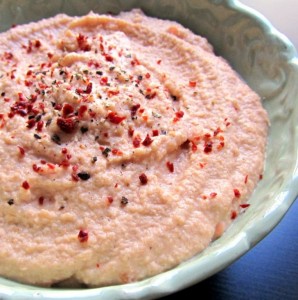 I'm in love with "The Artful Vegan"cookbook! Since borrowing it from my boss a few months ago, I have read it 5 times.  I carry the book from room to room, subway to work, all around the city as I constantly soak up vegan inspiration.
I've made the beet merlot reduction and paired it with gnocchi, and I've crumbled the tofu ricotta onto roasted carrots and beets.  The walnut macaroons that I feature in my cooking show are from the book, and for my latest episode of Jenné's Sweet Potato Soul–coming sometime next week– I adapted the book's recipes for chickpea flour crepes and beet-tamarind chutney.
I actually just received my very own copy in the mail, I'd been borrowing for way too long.
On page 121 you'll find the recipe for Heirloom Tomatoes Stuffed with Red Lentil Hummus and Basil with Sprouted Quinoa-Corn Guacamole.  I'm anxiously awaiting summer, with it's bounty of fresh corn and tomatoes, so I can make this entire raw entree.
I've got some friends who maintain a 100% raw diet, so I made the hummus for them to enjoy at my birthday party.  They didn't make it to the party… but the hummus was a hit, even amongst the non-raw, and meat eating friends of mine! It was gone within minutes, and I had to make a cooked red lentil dip to replace the devoured raw hummus.
I'm so glad I gave this recipe a try, though I did change a couple of things the second time I made it.  For one, I thought the recipe called for too much garlic; remember it's raw, and a little raw garlic goes a long way.  Also, I added balsamic vinegar because I think it needs a little savory sweetness.
This raw hummus is incredibly easy to make, though you will have to plan ahead. Just soak red lentils overnight–about 10 hours– throw them into the food processor/blender with the rest of the ingredients, and voila!
Before I share the recipe I want to mention that my raw friends, Yulia and Cesar, have recently started a raw food blog after months of encouragement from yours truly.  If you are interested in learning more about a "living food lifestyle", or just interested in expanding your idea of vegan/vegetarian cuisine check out The Raw Thing to Do.
And, order a copy of The Artful Vegan, it won't disappoint!
p.s. Did you know that hummus means "chickpea" in Arabic? This isn't really hummus, but it is a tasty dip with tahini, garlic, and oil; so why not call it hummus : )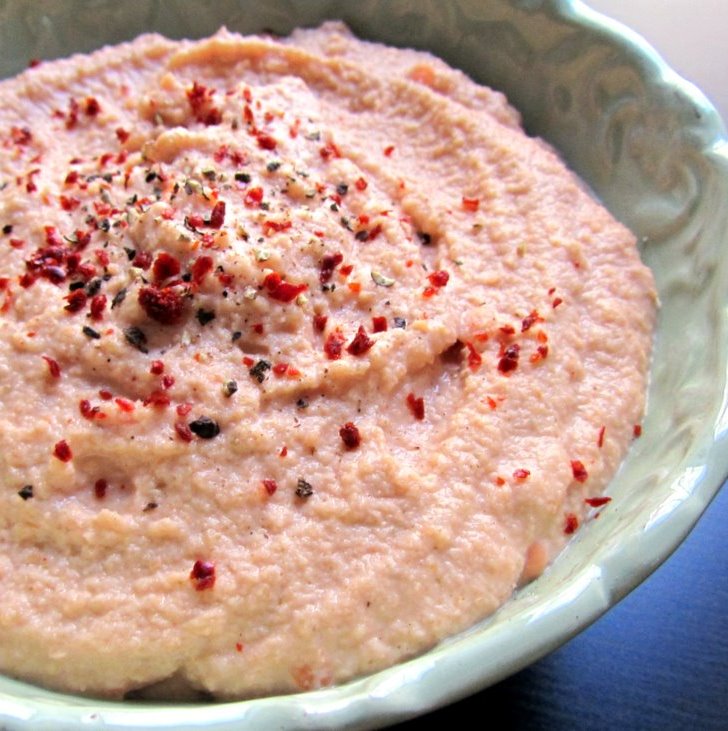 Raw Red Lentil Hummus
Adapted from The Artful Vegan by Eric Tucker at The Millennium Restaurant in San Francisco. Try it with sliced apples, carrots, celery, raw chips, pita chips, etc...
Ingredients
1

cup

dried red lentils

soaked overnight, about 10 hours

1/3

cup

tahini

1

clove

garlic

minced

1

tsp

ground cumin

1/2

tsp

ground coriander

1/3

jalepeño

seeded (or 1-2 dry red chili peppers)

2

tsp

light miso

2

tsp

balsamic vinegar

1

tbsp

olive oil

salt and freshly ground pepper
Instructions
Combine soaked red lentils and all the ingredients (minus the salt and pepper) into a food processor or blender, and process until hummus has achieved a smooth consistency.  Add a little water, about 1 tablespoon, if it seems too thick.  Season with salt and pepper to taste.

Serve in a bowl, and sprinkle on a little Aleppo pepper, or dry chili flakes for an extra kick and color.