I'm excited to announce the pre-order of my cookbook, SWEET POTATO SOUL. Purchase your copy today at Amazon, Barnes & Noble, Books-A-Million, Indie Bound, or iBooks.
To celebrate our move, I made these sinfully delicious yet wholesome sweet potato waffles for Saturday morning breakfast. This recipe is an adaptation of my sweet potato pancakes, but I like these better…I always like waffles better. They're just the right amount of sweet, slightly crispy on the edges, and perfectly fluffy.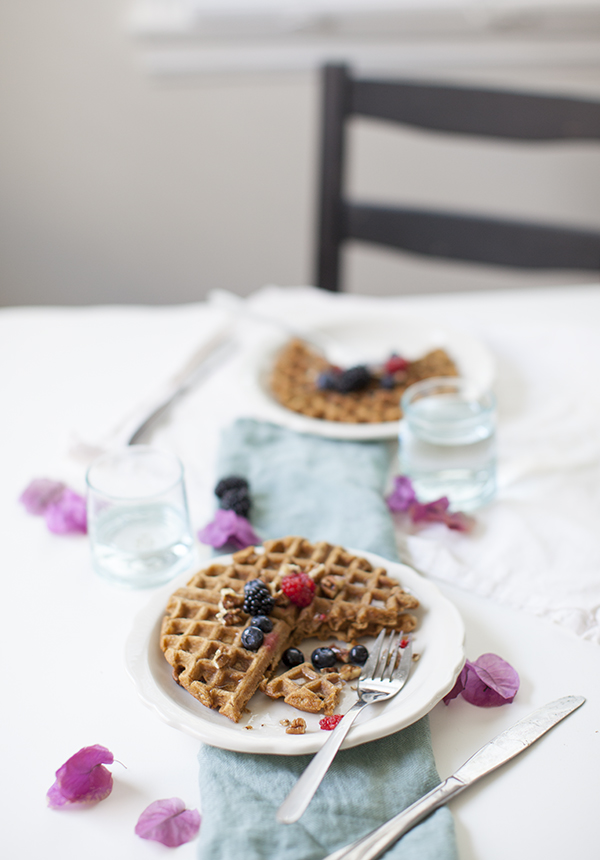 Maxx, QZ, and I have finally moved into our new Los Angeles home, and we love it so much. Our neighborhood is cute, with the signature SoCal palm trees and succulents everywhere you look. We've got the cutest kitchen, plenty of space, a dining nook, and even outdoor space lined with beautiful pink bougainvillea. QZ especially loves looking out of the windows, and patio screen door.
After 2 months on the road, making our way west from New York City, we finally have a home.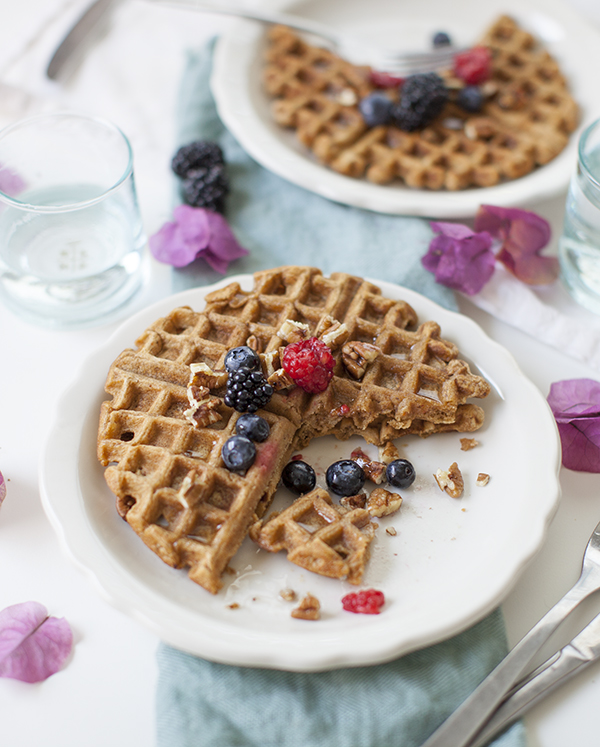 I feel like I'm beginning a new life chapter. New home, new city, new possibilities. Maxx and I are having so much fun decorating, buying houseplants, and planning our first garden. We've even started composting our food scraps in the backyard. It may seem simple, but after 8 years in NYC, having our own outdoor space and compost bin feels like winning the lotto!
I am so excited to finish unpacking and decorating. Since Southern California is the mecca of awesome and affordable flea markets, and because we're eco-friendly type folks, we're planning to buy the majority of our furniture second hand or refurbished.
In the meantime while we're still using boxes as tables, at least I've got all of my kitchen appliances. When I took the waffle iron out of a box, I knew right away that I'd make waffles to celebrate this major uprooting and resettling. They were perfect for the occasion.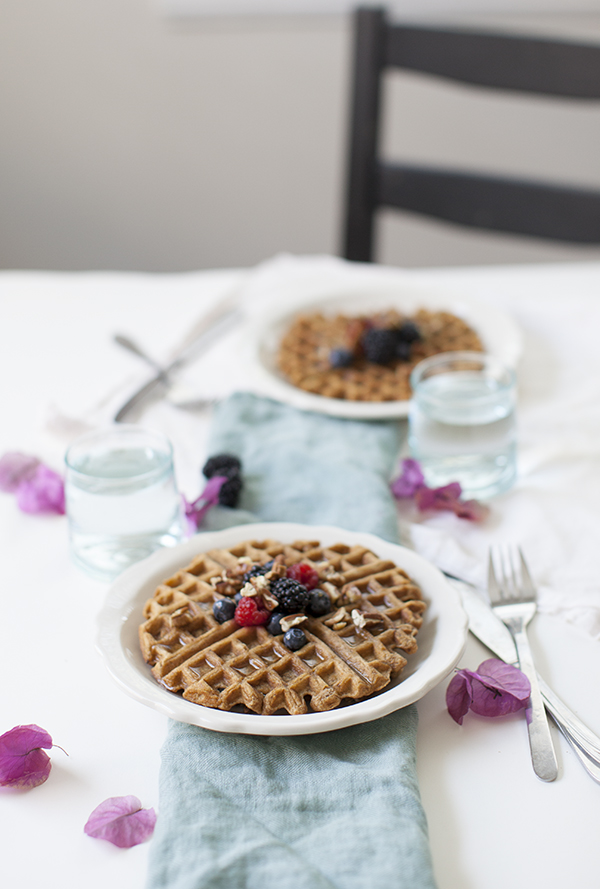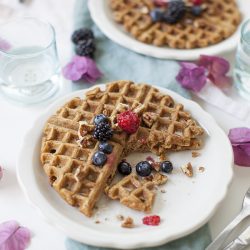 Vegan Sweet Potato Waffles
These sweet potato waffles can be made with any kind of waffle iron, or turned into pancakes. If making them as pancakes, follow this recipe, or simply reduce the soy milk from 2 cups to 1 1/2 cups.
Ingredients
2

tbsp

ground flax + 4 tbsp water

1½

cup

whole wheat pastry flour

⅓

cup

brown sugar or coconut sugar

½

teaspoon

salt

1

teaspoon

baking powder

½

teaspoon

baking soda

1

tsp

cinnamon

¼

tsp

freshly ground nutmeg

2

cups

soy milk

or another non-dairy milk

1

tsp

apple cider or white vinegar

1

teaspoon

vanilla extract

¼

cup

+ 2 tbsp mashed sweet potato

from a baked or microwaved sweet potato, or canned

canola or coconut oil non-stick spray

Toppings

real maple syrup

fresh berries

1/2

cup

toasted pecans

chopped
Instructions
Combine the flax and water in a large mixing bow to make the flax egg.

Combine the flour, sugar, salt, baking powder, baking soda, and spices in another large bowl.

Pour the flax egg into a blender. Also add the soy milk, vinegar, vanilla, and sweet potato.

Blend until the liquid is creamy, and there are no left over chunks of sweet potato.

Pour the liquid into the dry ingredients, and stir until just combined.

Preheat the waffle iron, and spray both sides with non-stick spray.

Ladle some batter onto the waffle iron (about ½-3/4 cup), and cook for about 3 minutes, or until the iron's indicator shows that they are done.

Complete with the remaining batter.

Keep finished waffles warm in a toaster oven or oven at 200°, or stacked and covered with a clean kitchen towel.

Serve with fresh berries, pecans, and a drizzle of maple syrup.