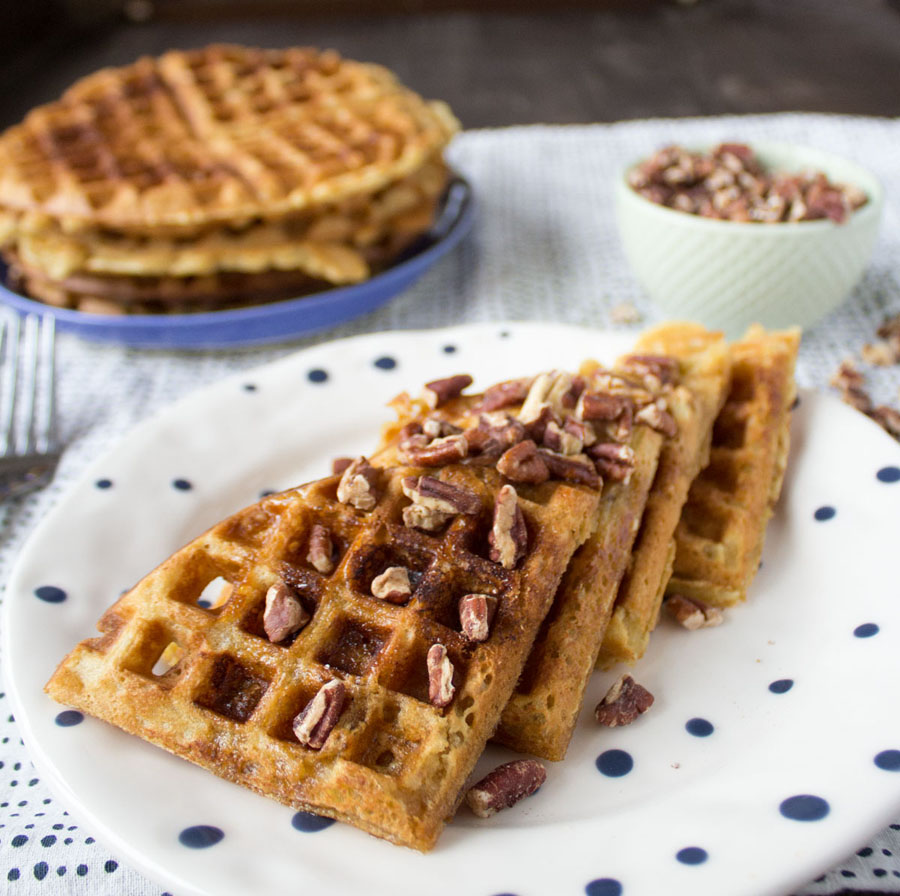 Happy Holidays!! Once again I'm completely caught off guard by the fact that it's mid-December, and Christmas is just a week away. Where––I ask you––did the time go? Good thing vegan buttermilk waffles are perfect year-round!
Oh time! I haven't shared a video with you in a while because I got super busy with holiday work, planning for the new year, and to be honest, a little bit of laziness sprinkled in. I'm expecting big changes in the new year, and what better way to contemplate change than over a plate of warm sweet waffles! I've been eating waffles a lot these last few weeks, even on the weekdays. Like pancakes they are my breakfast comfort food.
Thankfully vegan buttermilk waffles are just as fantastic and delicious as their non-dairy cousin. In the video and recipe you'll see how I substitute animal-based products for simple vegan alternatives. Eggs become ground flax and water, butter becomes Earth Balance vegan butter, and buttermilk is soy milk with a teaspoon of vinegar. All of the ingredients come together to make the most satisfyingly delicious waffles!
I admit this recipe isn't the healthiest, so I recommend saving this recipe for weekend waffle feasts or Christmas brunch. I have a healthy teff waffle recipe that I plan on sharing with you very soon. In the meantime whip out that waffle iron, and give these babies a try. You won't be disappointed.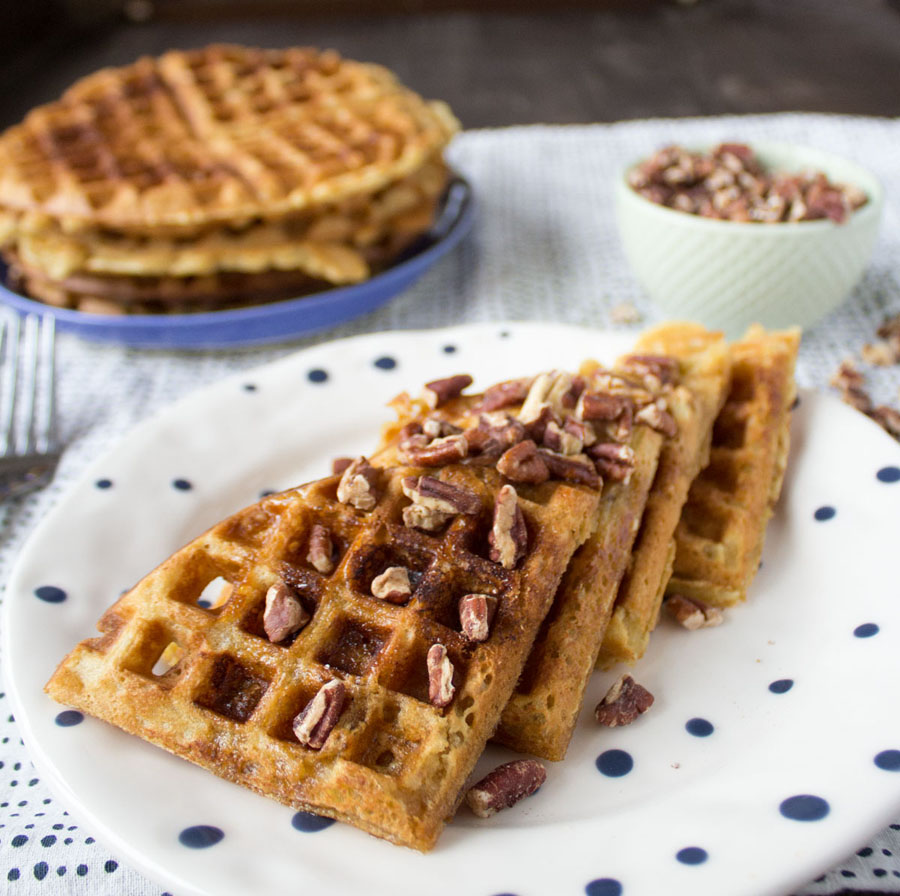 Vegan Buttermilk Waffles
This recipe was adapted from Food Network's "Almost Famous" pecan waffles (a knock-off of Waffle House's waffles).
Ingredients
1 1/2

cups

all-purpose flour

make them heartier by using whole spelt or whole wheat pastry flour

1/3

cup

raw cane sugar or coconut sugar

1/2

teaspoon

salt

1

teaspoon

baking powder

1/2

teaspoon

baking soda

1

tbsp

ground flax + 2 tbsp water

1 1/2

cup

soy milk + 1 tsp apple cider or white vinegar

2

teaspoons

vanilla extract

6

tbsp

melted Earth Balance + more for coating waffle iron

okay, you can use less Earth Balance in the butter if you're watching your fat intake. A good compromise is 2 tbsp butter+ 1/4 cup apple sauce.

Maple syrup

for topping
Instructions
Whisk the flour, sugar, salt, baking powder and baking soda in a large bowl.

Whisk the flax egg (flax + water), soy milk, vinegar, vanilla, and earth balance in a separate bowl until combined.

Stir the wet ingredients into the dry ingredients until just combined.

Preheat a waffle iron and brush with melted Earth Balance butter. Ladle some batter into the iron (about 1/2 cup, depending on your waffle iron).

Cook until golden brown, then transfer the waffle to a baking sheet and keep warm in the oven, or stack them on a plate.

Repeat with the remaining batter.

To serve top the waffles with maple syrup, toasted pecans, and sliced fruit.