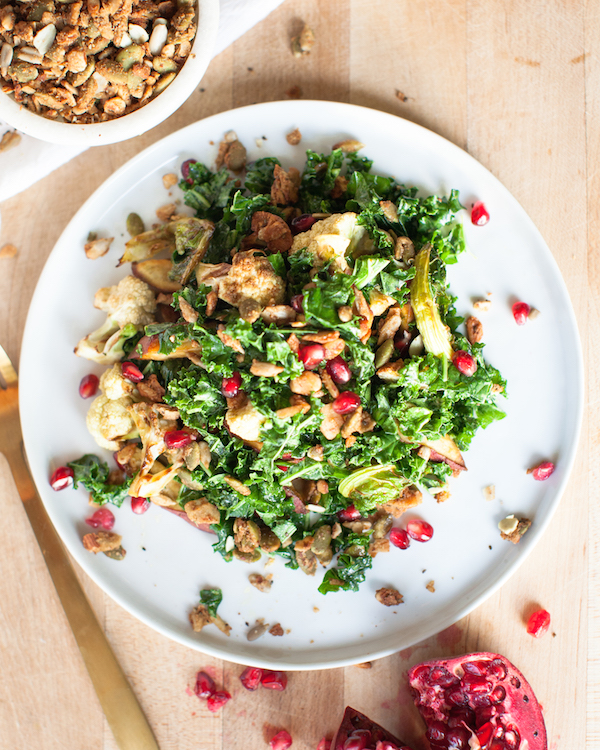 This Winter Kale Salad recipe is sponsored by Nature's Path. I'm a long time fan of their cereal and granola, so it's an absolute honor to work with them. I love that Nature's Path products are made with sustainably grown and organic ingredients. The family-run company is a champion for regenerative organic agriculture, and a pioneer in sustainable business practices. Keep reading for more on this Winter Kale Salad and Nature's Path granola. 
Give me a salad everyday and I'm happy. Oh, but not a simple boring salad. I want a hearty and colorful salad, made with a mix of roasted and raw vegetables, tossed in a creamy dressing, and finished with something crunchy. This Winter Kale Salad is a variation of the salad that I eat almost every day, all year round. Depending on the season I'll use different veggies, and depending on what I've got in my kitchen, I'll use different things to bulk it up. But the formula is the same: tender massaged kale, flavorful creamy dressing, veggies, color, and something crunchy. 
If you've been a reader of my blog for a while, you may know that I didn't start eating salad until I was in my 20s. I didn't start eating any raw vegetables, and most everything else until then. And sometimes it blows my mind to look at what I eat today. As someone who became vegan before the days of Impossible Burger, good vegan cheese, and an overwhelming amount of processed junk food, my idea of a great vegan meal looks like a giant entree salad. Years of eating this way has turned me into a sort of salad queen, as my husband puts it. And I really want other people to enjoy a salad as much as I do.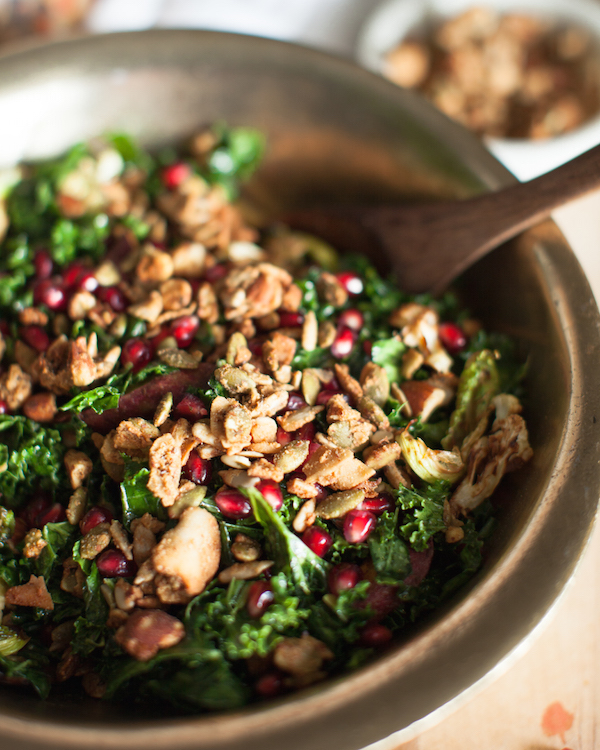 Raw dark leafy greens––or kale in this situation––are, among other things, a fantastic source of insoluble fiber. They're roughage in your gut, keeping you regular and your digestive system at tip top shape. Healthy digestion isn't just important for elimination. The nutrients from our food are absorbed in the small intestines, and a fiber rich diet provides an optimal environment for healthy bacteria to flourish, thus helping to absorb more nutrients and performing a whole number of other crucial functions.  A salad a day keeps the problems at bay. 
This hearty Winter Kale salad can be enjoyed as an entree any time of day, or year. I wanted to keep this recipe simple to really let the Nature's Path Maple Almond Grain-free granola shine in the photos, but I usually also add beans and a whole grain to make my salad really filling. The massaged kale is essentially the canvas to which you add all the color, texture, and flavor.
Speaking of texture, something crunchy is a must on salads. For years I've been adding toasted pumpkin seeds, occasionally candied nuts (like these Harissa almonds), or crispy chickpeas (or other beans). I had tried adding regular granola, but it didn't hit like nuts and seeds do. That was, until I discovered grain-free granola! I only have positive reviews for Nature's Path Maple Almond Grain-free granola. It's crunchy, perfectly sweet, and the bag is full of big clusters––which I absolutely love in a salad and for all day snacking. The granola is a blend of almonds, pumpkin seeds, chia seeds, coconut, and it's sweetened with coconut sugar and maple syrup. I make sure to sprinkle enough on my salad so that I have some in every bite. 
Whether you already adore salads, or want to start liking them, this recipe is for you. Just make sure to massage your kale well so that it's tender and not bitter. If you are totally new to salads, you might want to try making it with baby kale or a blend of baby kale, arugula, and/or spinach––all greens that are tender and don't require massaging. The dressing for this salad is inspired by my dad's famous nutritional yeast dressing and it makes all veggie haters lick their plates, so you can trust it. 
Love a good salad? Check out my video below for tips on how to create an amazing salad every time.
Also, check out these other great entree salad recipes: Roasted Beet & Potato Salad, Sunflower Seed Caesar Salad, Roasted Sweet Potato & Cauliflower Salad, Maple Mustard Tempeh Salad.
Winter Kale Salad
The key to making a perfect tender kale salad is to slice it very thinly, no more than ¼" or ⅛". I use sweet potatoes and cauliflower in this salad, but you can use whatever veggies you have on hand that you'd like to roast, or air fry. Add beans and/or whole grains like farro or quinoa to bulk up the salad even more!
Ingredients
1

sweet potato

cubed

1

head cauliflower

chopped

2

tbsp

oil

½

tsp

sea salt

1

tsp

smoked paprika

1

tsp

garlic powder

1

bunch kale

curly, lacinato, whatever will do, about 8 large leaves, very thinly sliced

½

cup

Nature's Path Maple Almond Grain-free Granola

½

cup

pomegranate seeds
Nutritional Yeast Dressing
¼

cup

apple cider vinegar

⅓

cup

extra virgin olive oil

2

tbsp

dijon mustard

2

tbsp

nutritional yeast + more to taste if you'd like

1-2

tbsp

maple syrup

½

tsp

sea salt
Instructions
Preheat the oven to 375°.

Toss the sweet potato and cauliflower (separately) with 1 tbsp of oil each, then sprinkle the salt, paprika, and garlic powder over them.

Spread evenly onto baking sheets and roast until tender. The sweet potatoes will take about 35-40 minutes, and the cauliflower should take 30-35 minutes.

To make the dressing, add all of the dressing ingredients to a jar with a lid and shake until creamy. Add more maple syrup or olive oil to taste if needed.

In a large bowl massage the kale with about ½ of the dressing.

Add the roasted vegetables and toss.

Plate and top with grain-free granola and pomegranate seeds.