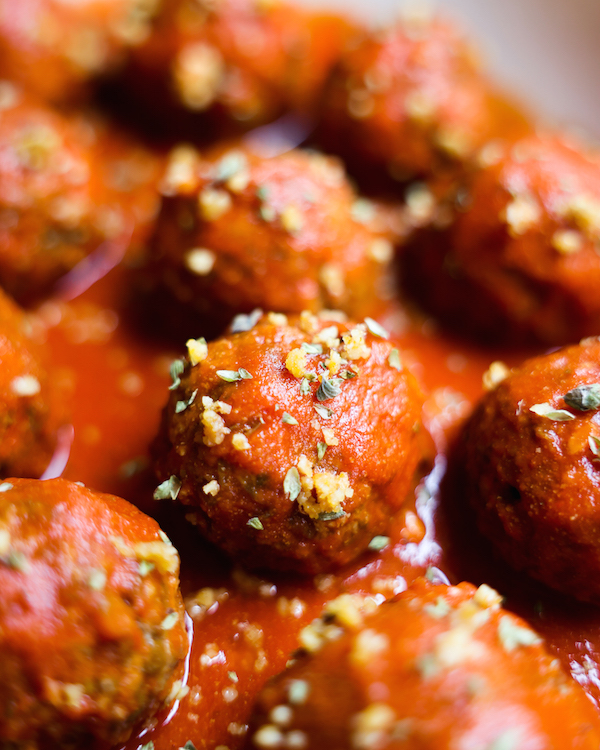 As a private chef in NYC, these delicious vegan meatballs were one of my most requested meals from clients. They are nutritious, hearty, and totally delicious. They're also very easy to make, and require no special equipment. When I make these, my family and I very rarely have any leftovers. They're that good. Lick-the-plate amazing! Luckily, they freeze well, so don't hesitate to double the recipe. You very likely have all of the necessary ingredients already, so let's get to that recipe.

The ingredients don't lie!
Lentils are the main ingredient in these vegan meatballs. They're one of my favorite foods because they are so nutritious, filling, and versatile. Lentils can be used to replace meat in a wide variety of recipes, including these lentil meatballs. Like meat they are high in protein, making them the perfect hearty replacement. Lentils are so much better than meat because not only are they full of protein, they're also a wonderful source of fiber (meat has zero fiber). 
I use ground flaxseed as an egg replacer. Mixed with water, flaxseed expands and turns gelatinous, and has the power to bind ingredients. You won't taste the flax in the final meatballs, but it does add heart healthy omega-3s, as well as more fiber and protein. 
Nutritional yeast adds satisfying umami richness and savoriness. This one ingredient will take a vegan meatball from good to amazing! Look for it at your local grocery store in the spice section. I'm a big fan of nutritional yeast, aka nooch, so I buy mine in bulk. Nutritional yeast is actually very nutritious. It is an inactive yeast that is high in protein, and fortified with B vitamins.
Why you'll love these vegan meatballs
Crazy delicious!
Firm and meaty texture
Simple nutritious ingredients
Oil-free
Easy-to-make
No equipment required
Great for meal prep, & freezable

How to make vegan meatballs
Make your flax "egg" first. Simply combine ground flaxseed and water in a small bowl, and set it aside to thicken for about 5 minutes while you prep the other ingredients. 
Start with cooked green lentils. Green lentils or brown lentils are my favorite choice for this recipe because they are soft, but not mushy. Red lentils are too mushy, and black or French lentils are not soft enough. Cook 1 cup of lentils and allow them to cool before using in this recipe for best results. You should have about 2 cups of cooked lentils for the meatballs. I usually make these vegan meatballs with leftover lentils, or with lentils I cook in the morning in my Instant Pot. 
In a mixing bowl, combine the lentils, minced garlic, nutritional yeast, and other ingredients. If your lentils are very soft you might want to let the batter sit in the fridge to firm before forming the meatballs. If your lentils are very firm or undercooked, they may not stick well. Pulse half of the batter in a food ––if you have one–– the help it stick together. 
Form the lentil mixture into meatballs and cook!
Since getting an air fryer, it has become my favorite way to cook these lentil meatballs. Air fry them at 350° for 10 minutes, and dinner is served. Alternatively, you could bake them in the oven, pan fry, or cook in tomato sauce.
Serve the meatballs with your favorite tomato sauce, over mashed potatoes, with pasta, in a vegan meatball sub, or over a salad. 
Other meaty lentil recipes you'll love:
Better-than-Chipotle Burrito Bowl
The Best Vegan Lentil Meatballs
While no tools are necessary to make these yummy vegan meatballs, you will need a food processor to make the walnut miso parmesan if you choose.[br] Toss the meatballs in a tomato sauce before serving with pasta, or you can cook the meatballs in the sauce.
Ingredients
Lentil Meatballs

2

tbsp

ground flaxseed

mixed with ⅓ cup water

1

clove

minced garlic

2

cups

cooked green lentils

brown lentils work too. Cook them until soft, but not overly mushy

¼

cup

nutritional yeast

½

tsp

fennel seed

2

tbsp

fresh parsley

finely chopped

Pinch

of dried or fresh thyme

1

tsp

sea salt

1

tsp

black pepper

1/2-1

tsp

crushed red chili flakes

½-⅔

cup

breadcrumbs

Walnut Parmesan

1

cup

walnuts

toasted or raw

¼

cup

nutritional yeast

1

tbsp

mellow miso
Instructions
Preheat the oven to 350° and line two baking sheets with parchment paper. If you plan on cooking them in an airfryer or on the stove, you can skip this part.

Combine the flaxseed and water and set aside to thicken for 5 minutes.

Combine the other meatball ingredients in a mixing bowl. Add the flax "egg", and stir well to blend all of the ingredients. If the batter isn't coming together, use your clean hands to mix.

Form the lentil mixture into balls. Each should be about 2 tablespoons.

If baking: Place them onto one baking sheet and bake for 20-30 minutes, until they are slightly browned on the outside and tender inside.

If cooking in an airfryer: fill the air fryer basket, keeping 1" between meatballs. Cook on 350° for 10 minutes.

Walnut Parmesan

Place the ingredients into a food processor and pulse until a chunky crumble is remaining.

Transfer to a serving bowl to serve over the spaghetti.