This post is sponsored by Barilla. We teamed up to introduce you to their new line of one-ingredient legume pastas made from chickpeas or red lentils. If you love pasta, and you love getting the most nutrition out of every meal, then you're going to love their new legume pastas, and this Spicy Pasta Arrabbiata.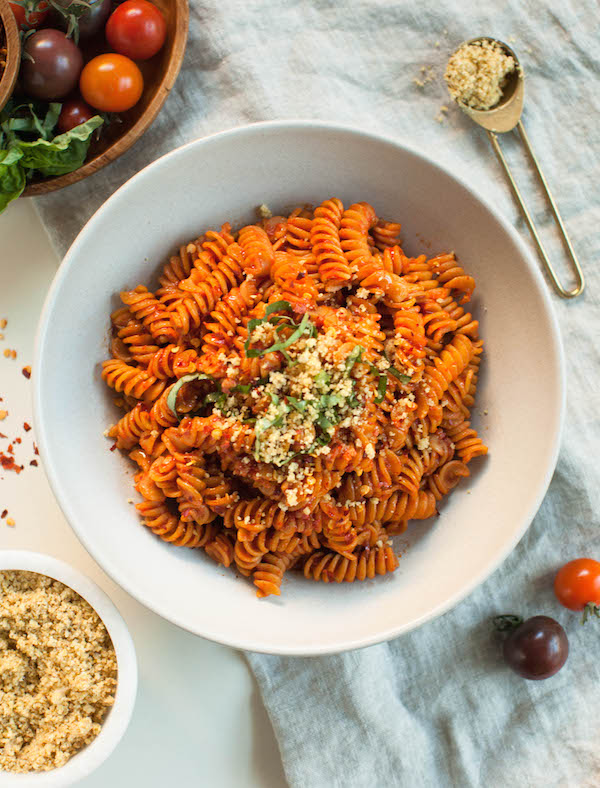 I first fell in love with pasta arrabbiata when I worked at an Italian restaurant in Atlanta my first year out of high school. After each shift, I'd sit down to a big bowl of their pasta arrabbiata with their freshly made gemelli, rigatoni, or penne. Whenever I get a craving for pasta, it's that spicy, garlicky arrabbiata tomato sauce that I yearn for the most. Luckily, pasta arrabbiata is super easy to make at home. Instead of serving it with traditional pasta, I toss it with one of the new legume pastas from Barilla for the perfect nourishing meal.
My whole pregnancy I've been much less interested in food. I don't know what that means really: Will my baby not be a foodie like his/her mama? Or am I just getting all of my nutrients so no need for cravings? Whatever the case, it has been a new experience for me. Pre-pregnancy I was always thinking about food, and looking forward to cooking. The closest thing I've had to a craving this pregnancy has been a pretty standard (for me) craving for fresh fruit. The other complicating factor is that I do still want my food to be super delicious and interesting…I just don't feel like making it myself.
Because of my lack of interest in food I've had to rely on fast and easy, yet delicious, recipes like pasta, chili, curry, noodles, and Buddha bowls. And because I require even more calories and nutrients than usual, I've made sure to make each of those easy meals extra nutritious. For example, I've swapped my wheat pasta for the one-ingredient chickpea and red lentil pastas from Barilla. This new Barilla legume pasta has all of the delicious taste of wheat pasta, with all the fiber, protein, iron, potassium, and b vitamins found in beans. It helps keep me fuller and nourished for longer, so I don't have to wonder what should I eat? so often!
This spicy pasta arrabbiata can be bulked up even more by adding roasted vegetables––butternut squash, broccoli, kale, and mushrooms are my favorites. Top it with some vegan parmesan for a nice cheesy kick. If you meal plan (like I should…), then you'll love that this pasta can easily be reheated and enjoyed throughout the week.  
You can find the Barilla Legume pasta on Amazon, and at select grocery stores nationwide. The pastas come in four varieties: Chickpea Rotini, Chickpea Casarecce, Red Lentil Penne, and Red Lentil Rotini. Have fun exploring them all, and keep returning to my blog for more recipe ideas! For more on the new pastas from Barilla, visit www.barilla.com/legume.
Spicy Pasta Arrabbiata
Since I've been more sensitive to spicy foods, I use just 1 teaspoon of red chili flakes. Feel free to keep it mild like I do, or make the sauce extra spicy by adding 2 teaspoons of chili flakes. You can always add more to taste if you want it even hotter.
This recipe makes about double the sauce you'll need for one box of pasta. I recommend freezing the rest for the next time you're craving pasta. If you don't want to hold onto extras, simply cut this arrabbiata sauce recipe in half.
Ingredients
1

box Barilla Red Lentil Penne

2

tablespoons

grapeseed oil

5

cloves

garlic

minced

2 14.5-

oz

cans plain tomato sauce

1-2

teaspoons

red chili flakes

1

teaspoon

oregano

1

teaspoon

sugar

Sea salt to taste
Walnut Parmesan
½

cup

walnuts

toasted or raw

2

tablespoons

nutritional yeast

½

teaspoon

mellow miso

¼

teaspoon

salt
Instructions
In a saucepan warm the oil over medium heat.

Add the minced garlic, and sauté until it turns slightly golden. Be careful not to burn it.

Add the tomato sauce, and stir. Then add in the red chili flakes, oregano, and sugar. Stir well.

Gently simmer on medium-low heat for 20 minutes with the lid ajar on the saucepan.

Season to taste with salt.

To make the pasta: boil 4 quarts of salted water, add pasta and boil for 6-7 minutes for al dente pasta (I add 1-2 more minutes because I like a softer pasta). Drain well, then toss immediately with a drizzle of extra virgin olive oil in the colander.

Toss the pasta with half of the arrabbiata sauce. Save the remaining sauce for the next time. It keeps well in the freezer.
Walnut Parmesan Instructions
Place the ingredients into a food processor and pulse until a chunky crumble is remaining.

Sprinkle over your pasta before eating.
Check out my other recipes made with Barilla legume pasta here.