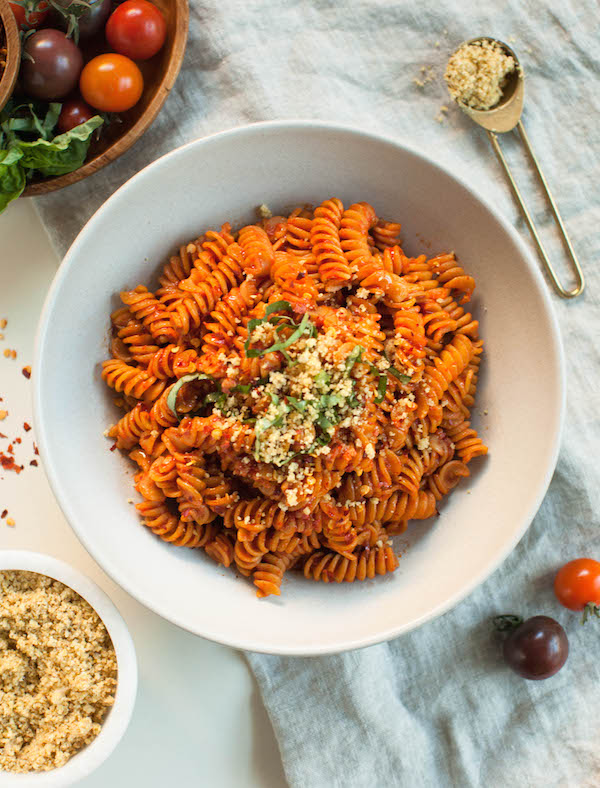 Pasta craving? I've got you covered with this simple and delicious spicy pasta arrabiata! I love that it is light yet filling, full of flavor, and it works great for meal prep days––so easy to make! Top it with vegan walnut parmesan (recipe below) and fresh herbs and you've got yourself an amazingly delicious vegan pasta arrabiata!
I first fell in love with pasta arrabbiata when I worked at an Italian restaurant in Atlanta my first year out of high school. After each shift, I'd sit down to a big bowl of their pasta arrabbiata with their freshly made gemelli, rigatoni, or penne. Whenever I get a craving for pasta, it's that spicy, garlicky arrabbiata tomato sauce that I yearn for the most. Luckily, pasta arrabbiata is super easy to make at home. 
What is arrabiata sauce?
Arrabiata sauce is a luscious and spicy tomato sauce made with fresh or canned tomatoes, dry red chili flakes, and lots of garlic. In Italian, arrabiata means angry, which is an apt name for this spicy red sauce. Arrabiata is usually served on penne pasta, though any pasta can be used. For the photos I happened to use a red chickpea rotini. Arrabiata sauce can make almost any pasta taste amazing!

How to make arrabiata
I usually make my arrabiata sauce with canned tomato sauce. It's certainly a shortcut to using fresh tomatoes, and it tastes just as delicious. Using tomato sauce allows you to cut the cook time down significantly, and gives you the freedom to make this glorious sauce even when tomatoes are not in season. 
Sauté a generous amount of minced garlic in olive oil. 

Add a pinch of chili flakes directly to the oil to fry for 10-30 seconds (be careful not to burn it). This will spice the oil, and give the finished arrabiata sauce even more flavor.

Add tomato sauce (or fresh tomatoes), then add sugar, oregano, and the remaining chili flakes.

If you use tomato sauce, you'll need to cook it for just 20 minutes. Season with salt, toss your pasta, and enjoy!

Don't skip the walnut parmesan (recipe below). It's super easy to make, and keeps well in the fridge for weeks. Add it to everything, including this pasta.
Pasta Arrabiata variations
Add extra veggies: To add a little more bulk to this recipe, I sometimes like to roast or sauté any veggies I have on hand and toss them into the pasta at the end. Some of my favorites to add are mushrooms, broccoli rabe, and/or kale.
Add vegan "meat": Feeling like going a little extra on this one? Try cooking the sauce with some vegan ground meat or adding in some vegan sausage at the end. Those meaty flavors and textures go so well with the spicy and light sauce. 
Pasta variations: Any pasta you have will work with this recipe, but feel free to try out different types! Use your favorite gluten-free versions or make it more of a complete meal with a legume pasta (like chickpea or lentil). The end result will be delicious no matter what!
Edit the heat: Use more or less dry red chili flakes depending on how spicy you like your arrabiata.
Want more vegan pasta recipes? Check these out!
Spicy Pasta Arrabiata
Easy vegan pasta arrabiata with a luscious and spicy tomato sauce.
Ingredients
1

box penne pasta

or any other short pasta

2

tablespoons

extra virgin olive oil

5

cloves

garlic

minced

2 14.5-

oz

cans plain tomato sauce

1-2

teaspoons

red chili flakes

+ more to taste

1

teaspoon

dry oregano

1

teaspoon

cane sugar

Sea salt to taste
Walnut Parmesan
1

cup

walnuts

toasted or raw

1/4

tbsp

nutritional yeast

1

tbsp

mellow miso
Instructions
In a saucepan warm the oil over medium heat.

Add the minced garlic, and a pinch of red chili flakes. Sauté until the garlic turns slightly golden. Be careful not to burn it!

Add the tomato sauce, and stir. Then add in the red chili flakes, oregano, and sugar. Stir well.

Gently simmer on medium-low heat for 20 minutes with the lid ajar on the saucepan.

Season to taste with salt.

To make the pasta: boil 4 quarts of salted water, add pasta and boil for 6-7 minutes for al dente pasta (I add 1-2 more minutes because I like a softer pasta). Drain well, then toss immediately with a drizzle of extra virgin olive oil in the colander.

Toss the pasta with half of the arrabiata sauce. Save the remaining sauce for the next time. It keeps well in the freezer.
Walnut Parmesan Instructions
Place the ingredients into a food processor and pulse until you have a nutty crumble.

Sprinkle over your pasta then serve.