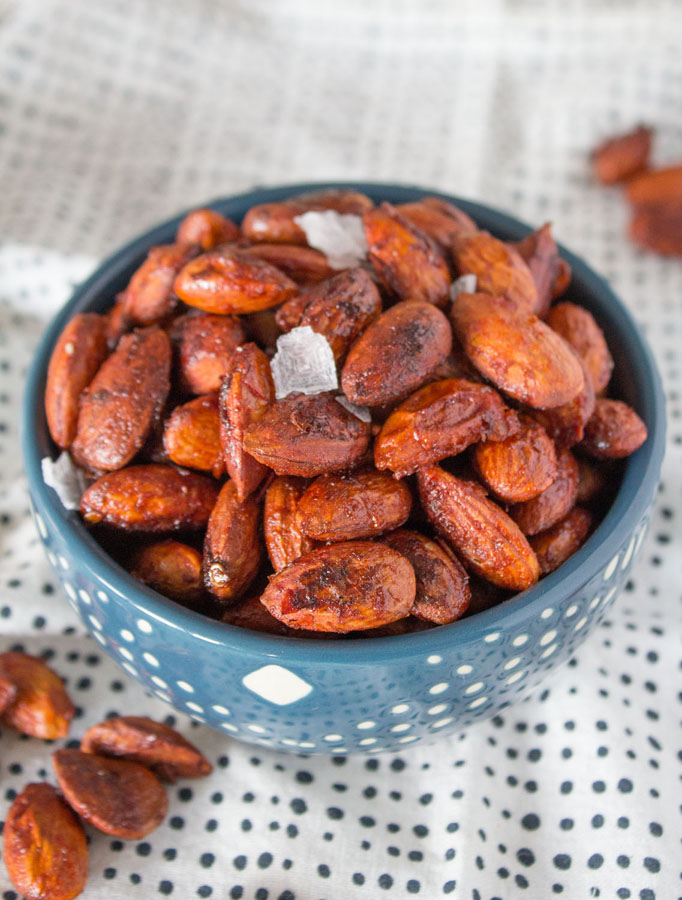 I'm addicted. I mean I cannot stop eating these harissa almonds. What am I going to do?!? Hey, at least they're a healthy snack…
Last weekend I hosted dinner at my apartment. It was the inaugural event of what I'm calling my "Little Harlem Kitchen". The plan is to host bi-weekly or monthly dinners. Good conversation, good food, and good vegan vibes. The theme of the first dinner was Southern Soul.
Almost all black Americans (aside from more recent immigrants) have roots in the South, and though my immediate family isn't from that region, I grew up there, and my Nana's "soul" food is what I grew up eating and adoring. Southern food is the epitome of comfort. It's the manifestation of love on your plate; It's flavorful, nourishing, and delicious! It's also the furthest thing from vegan, in most people's minds. However, using cruelty-free ingredients to recreate and re-imagine Southern dishes is not only healthier, to me it's a more complete expression of love <3
That night I served: Sweet Potato Bisque with cornbread croutons, and crispy baby kale, Potato Salad + raw greens with dill vinaigrette and spicy pecans (which inspired today's recipe!), Crispy Cauliflower and Waffles with stewed collards (just like my Nana makes them, though with a secret spice to replace the meat), and an apple crisp with ginger cherry sauce. It was a proud night for me! I expect that future dinners at my place (#littleharlemkitchen) will be Southern inspired too.
Okay! Back to these addictive almonds and their harissa goodness! I really love harissa, and have even used it in a recipe for the blog before. I most often use this spicy pepper sauce on legumes, and on grains. Sometimes even in hummus. However, after making the spicy pecans for my dinner last weekend with sriracha, I knew that my harissa would go very very well with the surplus of almonds I had in my kitchen cupboard.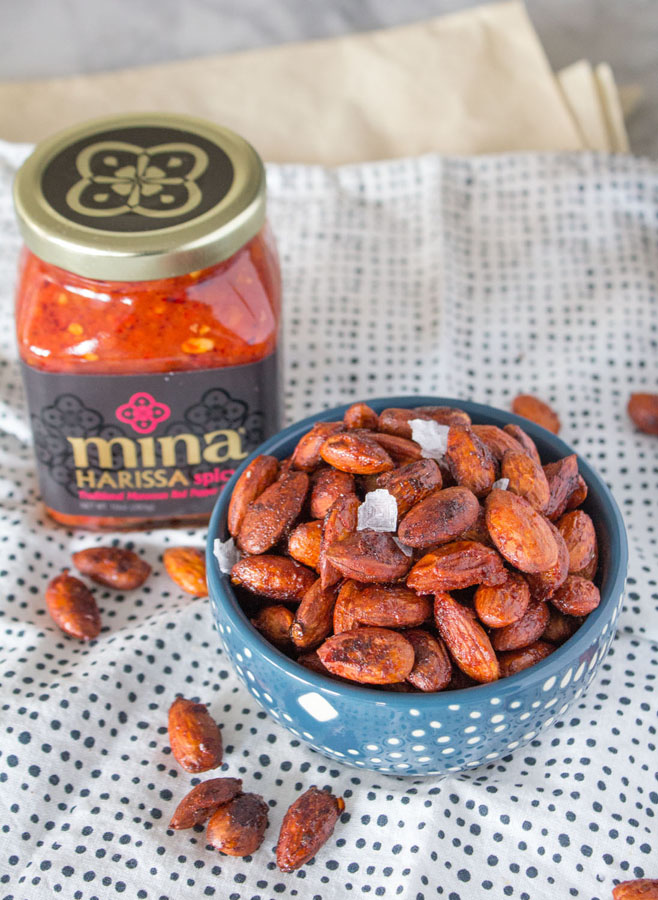 This recipe is insanely easy to make. Stir together your harissa, maple syrup, and sea salt, toss in the almonds. Spread them on a baking sheet, and before you know it your whole house smells like heaven, and you've got a very healthy (and addictive) snack.
Harissa Roasted Almonds
This recipe will indeed work with any type of nut, or a mix. Next time I plan on using pecans 🙂
Ingredients
3

tbsp

Mina harissa

I used this one

3

tbsp

grade B maple syrup

1

tsp

Maldon sea salt

preferred or coarse sea salt

2 1/2

cups

raw almonds
Instructions
Preheat oven to 350° and line a baking sheet with parchment paper.

In a medium mixing bowl, stir together the harissa and maple syrup.

Add in the almonds, and stir well to coat.

Spread the almonds over the baking sheet in an even layer.

Sprinkle the sea salt over the nuts.

Roast for 10 minutes. Then remove to stir nuts.

Continue roasting another 10. Then remove from the oven to cool and harden.