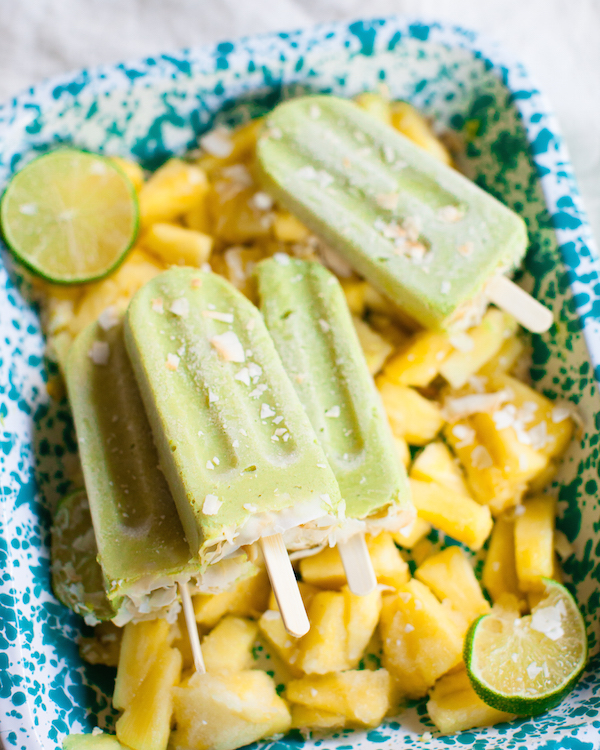 Everybody keeps talking about how summer is almost over. Not here in Los Angeles. On the contrary, it feels like summer is just heating up here. Since moving to LA 3 summers ago, we've experienced the hottest days between September and October. We're lucky to have central air and ceiling fans, plenty of juicy fruit, and the ocean to stay cool. But summer just isn't complete without popsicles!
Watch how these avocado pineapple popsicles are made!
I stopped buying popsicles when I realized how easy they are to make at home. You can blend up just about any fruit and pour it into some popsicle molds for a simple frozen treat. Blend the right combination and you can have something worthy of being sold in the finest frozen food aisles. These Avocado Pineapple Popsicles are totally that. They're not your average frozen pops, but they are just as easy to make. With just 5 ingredients, how could you not make these? The blended avocado makes these Avocado Pineapple popsicles creamy, like ice cream. And I love that I can use beaten up and bruised avocado to make this––that way they don't have to go to waste. These are also a great way to use overripe pineapple! Healthy fats and healthy sugars make for a healthy way to cool down this summer 😉
Full disclosure, sometimes this creamy avocado pineapple blend doesn't make it to the popsicle mold. It's one of my favorite smoothie combinations too!!
Avocado Pineapple Popsicles
Ingredients
2

cups

ripe pineapple

about half a whole fruit

1

ripe avocado

1

tablespoon

agave

1

fresh lime

1/4

cup

toasted coconut shreds
Instructions
Into a blender combine the pineapple, avocado, agave, and the juice of 1/2 the lime (about 1 to 1 1/2 tablespoons). Blend until creamy.

Pour into 6 popsicle molds.

Top with toasted coconut shreds.

Freeze overnight.