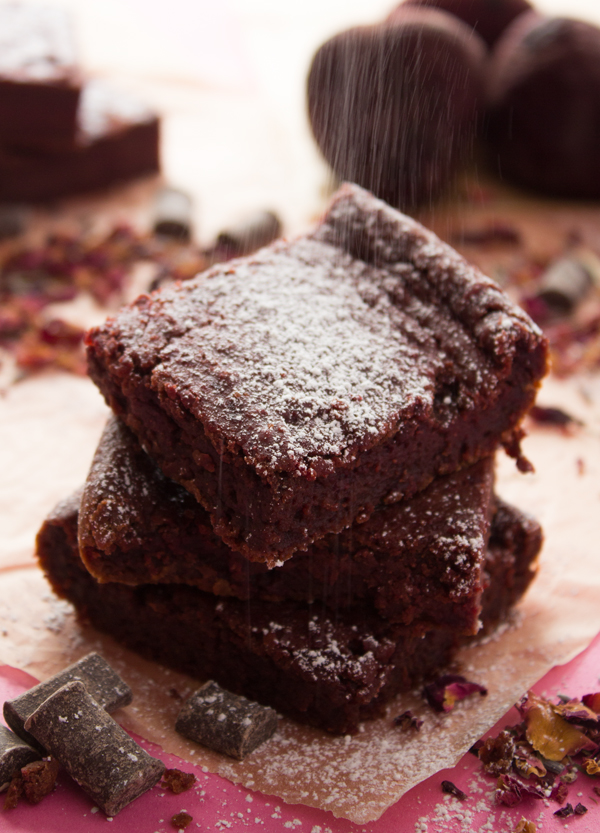 Hey love bug! Valentine's Day is here 💗 This year I'm going to be my own Valentine. Shhhh, don't tell my man 😉 Come tomorrow morning I'll be making these delicious beet brownies for myself once again. Beets are the perfect Valentine's Day food because they full of heart healthy phytonutrients and iron, and they're red!! They give these moist and gooey brownies a gorgeous red hue without overwhelming their chocolatey richness.
To make these vegan brownies I used the VeganEgg product by Follow Your Heart. It's crazy! This product replicates animal eggs in everything from quiche to scrambles to brownies. Stranger still, it smells like eggs. Luckily that sulfur smell doesn't stick around after all of the ingredients are combined and the brownies baked. I'm so excited about all of the new vegan foods that replicate animal products––like the Beyond Burger (check out my video review). Though some vegans disagree with replicating animal products I think its awesome that animal eaters now have compassionate options and are eating fewer animal products. These products also seem to make transitioning to a vegan diet a lot easier for people. If it's going to get folks to eat fewer animals and stick with a vegan diet I am all for it. If you cannot get your hands on the VeganEgg try this recipe using a flax egg. I haven't tried it yet, but it should work just fine.
Be your own Valentine and make these special Beet Brownies for yourself. Treat yourself with love, gratitude, and respect today and every day 🌹 You are worth it 😘
Vegan Beet Brownies
I didn't try this recipe with another vegan "egg" sub. If you cannot find VeganEgg try it with 4 tbsp ground flax seed and 1/2 cup water to make a big vegan flax "egg".
Ingredients
2

beets

1/2 lb, boiled for 45 minutes until tender

1

cup

vegan dark chocolate chips

1/2

cup

vegan butter or coconut oil

1 1/4

cup

all purpose flour

1 1/2

teaspoon

baking powder

1/4

teaspoon

salt

1/2

cup

VeganEgg powder

by Follow Your Heart

2

cups

ice cold water

1/2

cup

brown sugar

1/2

cup

vegan white sugar

1

teaspoon

vanilla extract
Instructions
Preheat oven to 350° then grease and flour a baking dish (9x14" or 10x15")

Melt the chocolate chips and vegan butter in a double boiler, and whisk until creamy.

Remove it from the heat and set aside to cool.

Peel the beets and chop.

In a small mixing bowl combine the flour, baking powder, and salt. Whisk until combined. Set aside.

Place the beets into a food processor and blend until almost pureed. Set aside.

Place the VeganEgg powder in a large mixing bowl or mixer and add the cold water. Whisk vigorously until creamy and no lumps remain.

Beat in the sugar and vanilla.

Add the melted beets and chocolate, and continue to whisk until creamy.

Slowly stir in the flour.

Pour the batter into the prepared baking dish, then bake for 55 minutes.

A toothpick inserted after you remove it from the oven may come out still slightly wet. Allow the brownies at least 30 minutes to cool before cutting. They're best when cooled completely, for up to an hour before serving.