Thanks to iHerb for sponsoring this 5 Ingredient Vegan recipes video and blog post! New iHerb customers can get a discount off your order at http://bit.ly/spsiherb and can also use Promo Code, WELCOME5 to get an additional $5 off your order of $40 or more ✨ Want more 5 Ingredient Vegan recipes? Check out this post with 3 more recipes, and download my 5 Ingredient Vegan recipes e-book.

I love making my own sauces and dressings from scratch. Getting creative in the kitchen is one of the main ways I express myself.
But listen, I eat three meals a day—every single one of them can't be an arts & crafts project. I don't always feel the creative juices, and even when I do, I don't always have time to let them flow.
But tell that to my tummy and my taste buds! They always expect to be delighted. When I want to impress them but I don't have the bandwidth to put an elaborate meal together, that's when I turn to these simple but delicious 5 ingredient vegan recipes.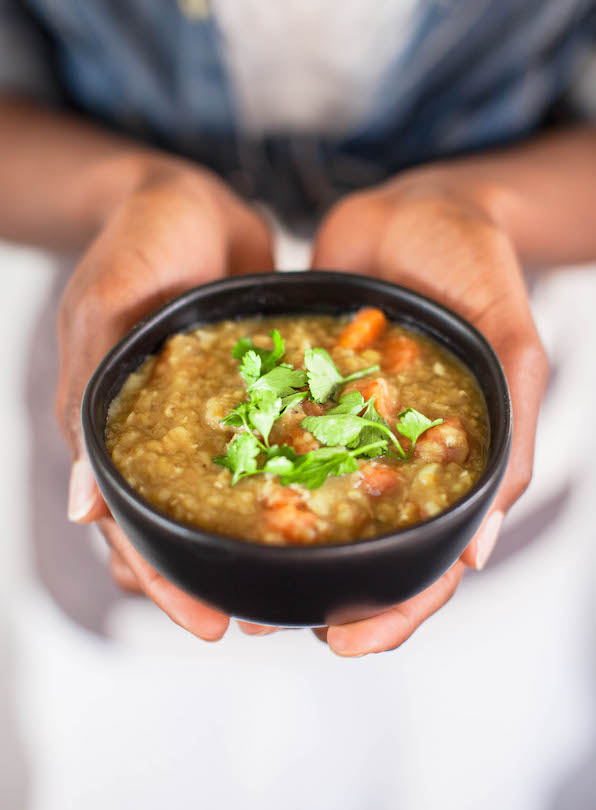 Buying a yummy pre-made sauce saves me a lot of time and energy. For the stuffed sweet potatoes, I used an Indonesian satay sauce I ordered from iHerb.com. In that same shipment I also ordered a teriyaki sauce that made putting together a tasty broccoli, rice, & tofu bowl a breeze.
Watch the video above and you can see how incredibly easy it was for me to put these recipes together. These will be perfect quick and dirty lunches and dinners for me and my boo. You could even feed any of these to a big family—just double or triple the recipe as needed.
If you're still eating junk food for lunch and takeout for dinner, you're running out of excuses! You can put together quick, flavorful, healthy dishes using just 5 ingredients. You don't even have to do any planning or make any decisions—everything you need is right here in this blogpost you're reading! Just scroll down 😉
Indonesian Satay Stuffed Sweet Potatoes | 5 Ingredient Vegan Recipes
This delicious 5 ingredient vegan recipe can be taken to the next level by adding fried shallots. Don't worry, they're still part of the 5 ingredients, as long as you don't count the oil 🙂 To fry shallots warm about 1 cup of a high heat oil, and add thinly sliced shallot slices or rounds from 2 shallots. Fry until they turn golden, then transfer them to a paper towel lined plate. Continue with the remaining shallots. Careful not to overcrowd the pan or burn them. As they cool on the plate they will crisp up. Use them to top the stuffed sweet potatoes.
Ingredients
2 large sweet potatoes
1 shallot, diced
1 15-oz can of chickpeas
½ head cauliflower, diced
1 packet of Tiger Tiger Indonesian Satay Simmer Sauce, or 1½ cups of a different simmer sauce
Bonus: add cilantro to garnish and serve with fresh lime.
Instructions
Preheat oven to 375°, and line a baking sheet with parchment paper. Cut the sweet potatoes in half lenghtwise, and rub a thin layer of oil onto them. Bake for 45 minutes, or until tender. Microwave instructions: to save time and avoid turning on the oven you can microwave the sweet potatoes instead. Poke holes in the whole sweet potatoes, and wrap them with damp paper towel. Microwave for 7-9 minutes, or until tender.
Warm ¼ cup of water in a skillet or frying pan, and add the shallots. Sauté for about 1 minute, or until they soften and the water starts to dissolve. Add the chickpeas, cauliflower, satay simmer sauce, and ¼ cup of water.
Cook for 20 minutes covered on medium heat until the cauliflower is tender.
Mash the center of the sweet potatoes, and fill with the chickpeas and cauliflower. Top with fried shallots (instructions in summary).
Carrot Red Lentil Soup | 5 Ingredient Vegan Recipes
This tasty 5 ingredient vegan recipe is also oil-free! It's also grain-free, so if you'd like to bulk it up and make it a meal, serve this soup along with the tofu teriyaki, or with a whole grain or pita.
Instructions
Warm ¼ cup of water in a skillet or frying pan, and add the garlic. Sauté for about 30 seconds, or until they soften and the water starts to dissolve. Add the carrots, red lentils, and 5 cups of water. Bring to a simmer.
Cook with lid ajar for 30 minutes, or until the carrots and lentils are tender. Add more water to thin if necessary
Add the bouillon paste and cumin, and cook another 5 minutes.
Season to taste with more bouillon.
Tofu Teriyaki "Fried" Rice | 5 Ingredient Vegan Recipes
This tofu teriyaki "fried" rice is actually oil-free. I'm trying to limit the amount of oil used in all of these 5 ingredient vegan recipes because oil has no nutritional value, and is an empty calorie. Sautéing in water is an easy and healthy alternative to using oil. However, if you'd like to use oil you can do that too.
Instructions
Warm ¼ cup of water in a skillet or frying pan, and add the onions. Sauté for about 1 minute, or until they soften and the water starts to dissolve. Add the tofu, broccoli, rice, and teriyaki sauce. Cover the pot, pot and cook for 20 minutes on medium-low. Stir halfway through to make sure it isn't burning.
Season with more teriyaki sauce to taste, then serve.