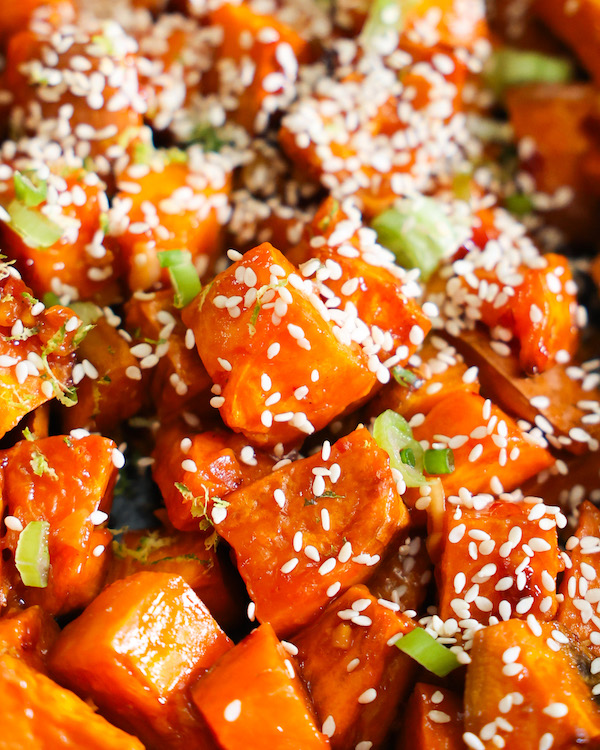 I have three words for you: salty, sweet, spicy. These Chili Lime Glazed Sweet Potatoes are all that and more. You won't believe how easy it is to make this recipe. Add these yummy glazed sweet potatoes to your holiday menu for a standout side dish; almost like candied yams, but spicy! Enjoy them all year with weeknight dinner, or add them to your meal prep rotation. One thing is for sure, this recipe is a keeper!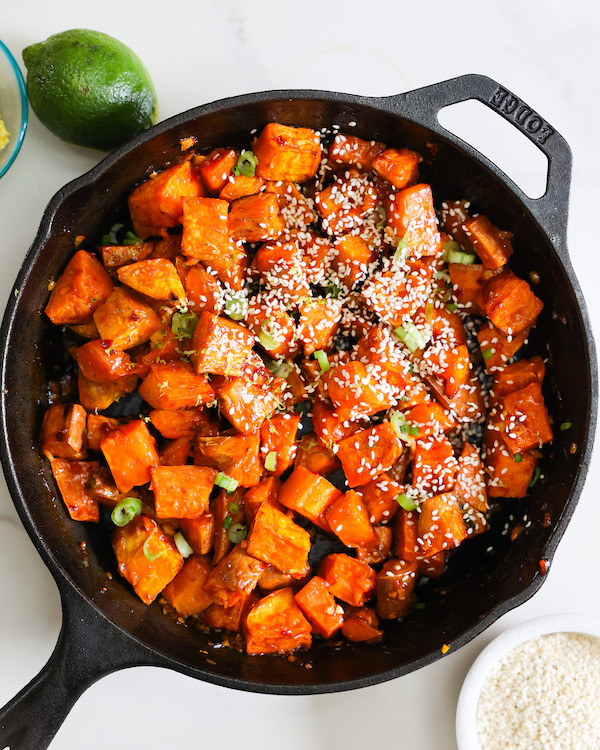 You already know how much I love sweet potatoes. I'm always thinking about new ways to prepare them, and the options are endless. What can't you do with sweet potatoes? I was inspired to make a holiday recipe with sweet potatoes that was different from your usual sweet potato Thanksgiving side: loaded with butter and brown sugar. I love that these chili lime glazed sweet potatoes are spicy, savory, and sweet. The flavors are a match made in heaven, and pair surprisingly well with holiday classics. But these tender sweet potatoes aren't just great for the holidays; enjoy them all year whenever you're craving a spicy bite.
Why we love it
Spicy, sweet, and savory all at once
Easy to make
Crowd pleaser
Nutritious
Versatile side dish
Star ingredients
Sweet potatoes are the star of this show
My favorite vegetable is so wonderfully versatile. Healthy too! Sweet potatoes are a fantastic source of fiber, beta-carotene, vitamin C, and lots more. For this simple recipe I roast the sweet potatoes, and while they are in the oven, throw together this quick chili lime glaze. This recipe was inspired by candied yams (soul food style, so without the marshmallows), and the sticky glazed sweet potatoes I get at a Korean food hall in NYC.
Chili Garlic Sauce
I use the classic Huy Fong chili garlic sauce that is available at most grocery stores in the US. It's spicy but not over powering, and pairs well in more complex sauces. If you can't find this ingredient locally, order some online or use another brand.
A lot of Lime
Ever feel like a dish is missing something? It's well salted and seasoned, but something just isn't right? Add a little acid and your problem is solved. Lime adds tartness and tang while balancing out the sweet and salty flavors.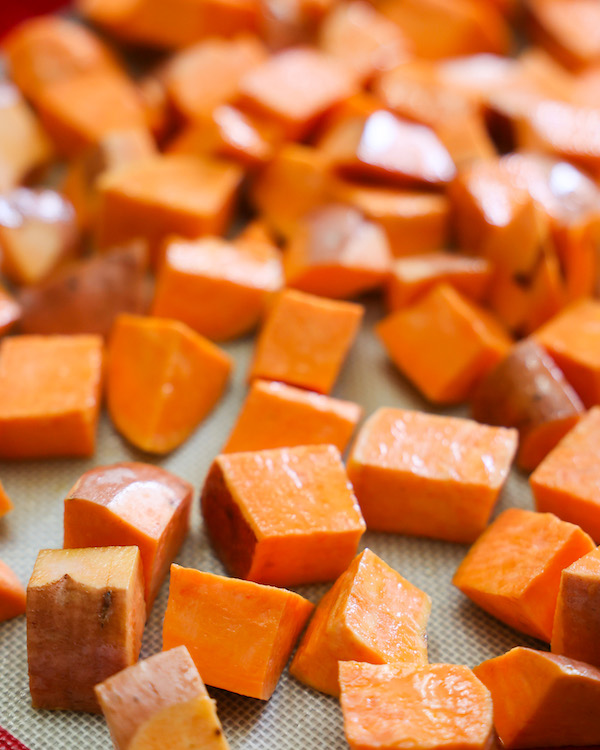 How to make glazed sweet potatoes
Step one
I begin this recipe by roasting the sweet potatoes in a little oil and salt. For the tastiest sweet potatoes it is important to roast them for at least 45 minutes (depending on the size they're cut) to get some caramelizing of sugars and crispiness on the edges. Once they're golden, fragrant, and fork tender the potatoes are done.
Step two
While the sweet potatoes bake make the glaze. Sauté garlic and ginger in sesame oil before adding the liquid ingredients. Stir in the cornstarch and water to thicken and create a sticky glaze for the potatoes.
Step three
Toss the roasted sweet potatoes in the chili lime glaze. Garnish with sesame seeds and green onions. Serve hot!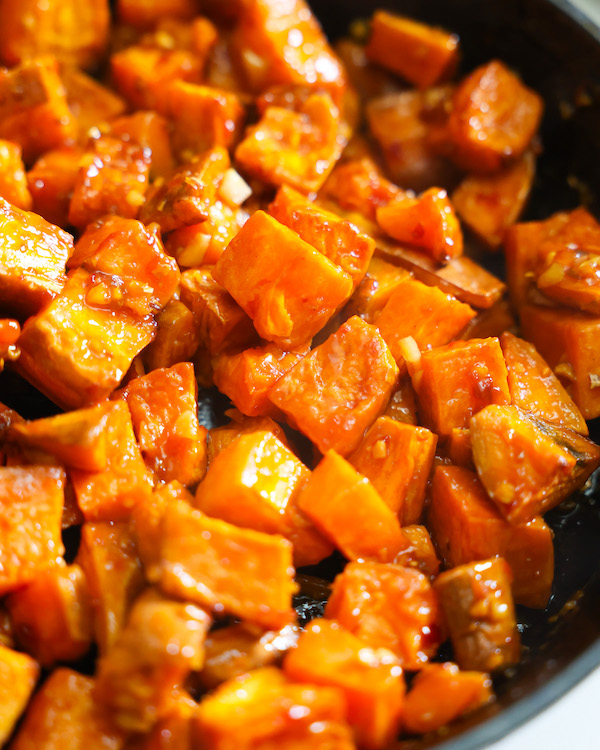 Tips for the perfect sweet potatoes
Partially peel the potatoes instead of removing all of the skin. The skin is where many of the nutrients are. Just give the sweet potatoes a good scrubbing before you slice them.
Prep and measure your glaze ingredients before you begin the sauce. You want to avoid burning the garlic and evaporating the liquids before the glaze is complete. I estimate it will only take you 5 minutes to make, so be prepped and ready.
Use freshly squeezed lime juice. Store-bought lime juice pales in comparison. If squeezing citrus isn't your thing, get yourself a citrus squeeze or citrus reamer.
Roast the sweet potatoes until they are tender with golden brown edges. Bonus points if you have some sugars escaping the sides of your sweet potato slices. More flavor!
For this recipe in particular––but really this applies to most––roasting is better than boiling. When you roast the sweet potatoes you bring out more natural sweetness, nuttiness, and earthy goodness. There are times when it is helpful to parboil sweet potatoes (like for candied yams, aka candied sweet potatoes), but this is not one of them.
This recipe is so easy to make you can keep it covered with foil and warm in the oven at 250° until you're ready to serve it. Any leftovers can be reheated in the microwave, on the stove over medium heat, or in the toaster oven.
If you plan on serving the sweet potatoes in something like a platter or casserole dish you can make the marinade in a small saucepan. I made mine in a cast iron skillet because I wanted to serve the potatoes in there as well.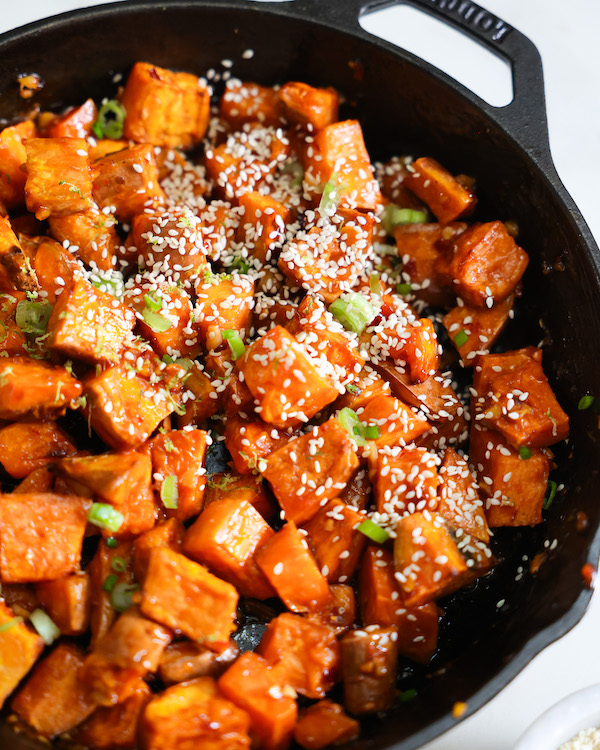 Simple swaps
Japanese or Caribbean sweet potatoes work well too. They are starchier and even sweeter. I slightly prefer the orange sweet potatoes because they're softer and creamier.
Use this delicious glaze on any roasted root vegetables.
How to store glazed sweet potatoes
Store leftovers in the refrigerator for up to 5 days. If you'd like to freeze this dish, freeze the roasted sweet potatoes and chili lime glaze separately. Once the ingredients thaw, toss them to coat in a skillet.
More superb sweet potato recipes for the holidays
Sweet Potato Bisque with Crispy Rosemary White Beans
Wild Rice Stuffed Sweet Potatoes
Mushroom & Leek Stuffed Sweet Potatoes
Orange Miso Glazed Sweet Potatoes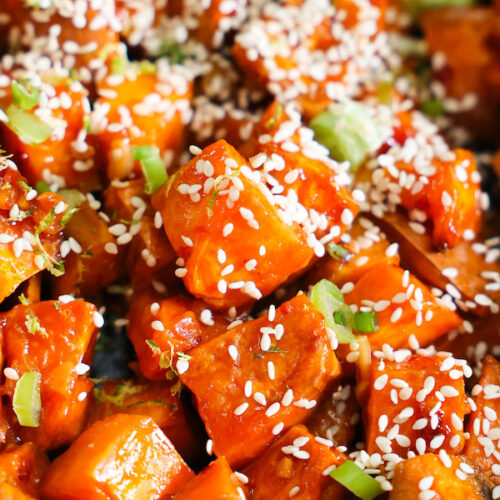 Chili Lime Glazed Sweet Potatoes
Chili Lime Glazed Sweet Potatoes are salty, sweet, spicy, and super delicious. Serve them on your holiday table, or enjoy all year.
Ingredients
4

medium sweet potatoes

peeled and sliced into 1" cubes

2

tablespoons

sesame oil

6

tablespoons

water

1/2

tablespoon

cornstarch

4

cloves

garlic

minced

1

tablespoons

fresh ginger

minced

2

tablespoons

garlic chili sauce

2

tablespoons

fresh lime juice

2

tablespoons

soy sauce

1

tablespoons

sugar

2

tablespoons

sesame seeds

for ganish

Green onion for ganish

1

lime for zesting
Instructions
Preheat your oven to 375° and line a baking dish with parchment paper. Toss the cubed sweet potatoes with 1 tablespoon of sesame oil and spread evenly onto the baking sheet. Roast for 45 minutes, or until the potatoes are tender and golden around the edges.

While the sweet potatoes are roasting, prepare the chili lime sauce.

In a small bowl combine the cornstarch and water. Use a fork or small whisk to mix and break up any clumps. Set aside.

In a skillet or sauce pan (depending on how you plan to serve the potatoes), warm 1 tablespoon of sesame oil on medium heat. Add the garlic and ginger to sauté for 30 seconds, or until fragrant and slightly golden.

To the pan: add the chili garlic sauce, lime juice, soy sauce, and sugar. Stir and bring to a simmer.

Then pour in the water and cornstarch mixture, and stir again. Simmer on medium-low until it has thickened; about 1 minute. Remove from the heat.

When the sweet potatoes are out of the oven, toss them with the chili lime sauce.

Garnish the glazed sweet potatoes with lime zest, sesame seeds, and green onion. Serve hot.
Notes
Sweet potatoes can be fully or partially peeled. Many of the sweet potato's nutrients are concentrated in the skin, so consider partially peeling them for added benefit.
I toss the sweet potatoes directly in the skillet. If you prepare the sauce in a saucepan, plan to toss the sweet potatoes and sauce in a large mixing bowl before plating.