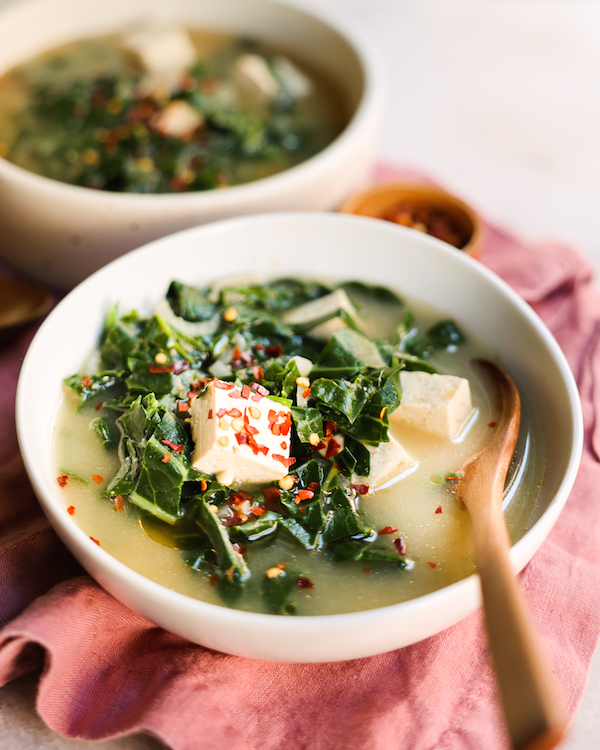 Miso soup is not just to be enjoyed at Japanese restaurants, you can easily make this savory nutritious soup at home. Allow me to reintroduce a wonderful vintage Sweet Potato Soul recipe: Collard Miso Soup! I originally created and posted this recipe way back in 2011 and it's still one of my favorites. With just a few ingredients, this warming soup is so easy to make. If you've never made miso soup this is the perfect recipe to start with. Keep reading to learn about why this soup is so healthy, which miso to buy, and how to preserve the nutrients (including good bacteria) in your miso!

What is miso?
Before we get into the recipe, let's talk more about miso. Miso is a versatile and nutritious paste of fermented soybeans, though other types of beans and grains can be used as well. Overall the flavor of miso is salty and savory, but different varieties have unique flavors and colors.
To make miso soy beans are cooked, mashed, and inoculated with a rice koji––a mold that assists in fermenting the beans and giving it its signature flavor. The inoculated soybeans are packed tightly in a jar, and kept in a cool dark place for 6 months. After 6 months you have a delicious beautiful miso paste that is bursting with rich umami flavor and nutrients.
Watch the video below to see how easy collard miso soup is to make!
☀︎
What kind of miso should I buy?
The type of miso you'll want to buy depends on the recipe. There are two main types of miso, each with their own unique flavors: white miso and red miso. White miso is typically made with soy beans and has a more delicate flavor. Red miso is typically made with soy beans and barley and has a much more robust flavor. I might use white miso in miso soup (like this recipe), and red miso in a mushroom gravy.
There are many types of miso though. There is also yellow miso, awase miso (a blend of white and red), sweet miso, hatcho miso, chickpea miso, and more. White miso, yellow miso, or mellow miso are great to start with if you are new to this condiment, and are just as versatile as any miso. One of my favorite uses for white miso is Orange Miso Glazed Sweet Potatoes.
I usually buy miso at Sprouts or Whole Foods. You can also find it at your local Japanese grocery store, or online. When buying miso I like to make sure it is organic. It should be refrigerated. Shelf stable miso does not contain the same nutrients and healthy bacteria.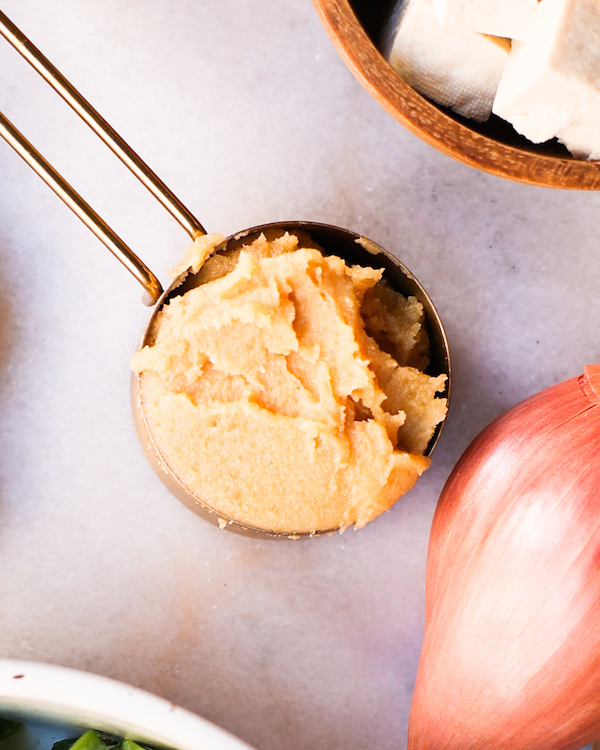 The benefits of miso soup
Because it is a fermented product, miso is high in beneficial bacteria and enzymes. Like other soy foods, miso is high in isoflavones which are antioxidants and anti-inflammatory compounds. It is rich in manganese, vitamin K, and protein. It also contains a good amount of zinc and copper. Miso is high in salt––it's added to the mix at the start of fermentation––so you may want to miso soup in moderation if you are on a low-sodium diet.
Even when I was a picky eater I loved miso! My first exposure to it was miso soup at a local sushi restaurant my mom loved. I could go through bowls of miso soup, enjoying the flavor as well as the added seaweed and soft tofu. Homemade miso soup is more nutritious because you can control the amount of sodium, and be careful to not destroy the beneficial bacteria found in miso paste.
Miso is a probiotic food and contains good bacteria that is sensitive to heat. To preserve the good bacteria, my old boss taught me to dissolve the miso paste in a cup of hot water before adding it to the soup. Wait until the soup has been removed from the heat and is cool enough to eat––but still pleasantly hot––before adding the miso.
For this recipe I use collard greens in place of seaweed because it makes for a heartier miso soup. Collard greens are high in fiber, protein, vitamin K, beta carotene, calcium, and vitamin C.
How to make miso soup
Miso soup is so easy to make. Bring your water to a boil then add garlic and scallions (I used shallots for the soup pictured). Let that simmer for 5 minutes then add the collard greens, chili flakes, and tofu. Cook that for 5-8 minutes before removing it from the heat and stirring in soy sauce and sesame oil. Like I mentioned before, you'll want to dissolve the miso paste in hot water before stirring it into the soup. From start to finish miso soup takes as little as 15 minutes to make.
I like to cut my collard greens in thin ribbons. Cut this way the greens get very tender without having to overcook them, and give the sensation of eating noodles 🙂
Can I make it in the Instant Pot?
You can surely make miso soup in the Instant Pot (IP). However, to avoid overcooking the collard greens set the IP to pressure cook for 0 minutes, and do a quick steam release as soon as the pressure has built. Add the miso later.
Now that we know all about miso, let's get to that recipe!
Collard Miso Soup
I hope you enjoy this recipe! I wouldn't recommend freezing it, but it can be enjoyed for up to 5 days. Reheat it on the stove top or in the microwave––though expect to lose some of the good bacteria.
Ingredients
5

cups

of water + 1 cup hot water

1

clove

garlic

minced

1/2

tbsp

fresh ginger

grated

2

scallions

white part separated and sliced, green tops sliced for garnish

1/2

bunch collard greens

rolled and cut into 1/2 inch ribbons (4-5 cups)

1/2

block firm tofu

1 cup, cubed

2

tsp

crushed red chili flakes

1/4

cup

white

yellow, or mellow Miso Paste

1

tsp

soy sauce

plus more to taste

1

tsp

toasted sesame oil
Instructions
In a large pot bring 5 cups of water to a boil, then add the garlic, ginger, and white part of scallions. Reduce heat to medium-low, and simmer for 5 minutes.

Add the collard greens, tofu, and chili flakes. Cover the pot and cook another 5-8 minutes, until the collards are tender. Remove from the heat.

In a bowl combine 1 cup of hot water and the miso, Stir until it has dissolved.

Add the miso water to the pot, and stir well.

Season with soy sauce and sesame oil. Add more miso and/or soy sauce to taste.

Serve hot, topped with a few sliced scallions and a couple drops of toasted sesame oil.